Sahara Saves the Day! Unleash the Exquisite Taste of the Mediterranean!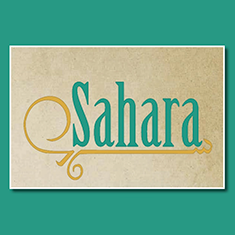 By Mary Meldrum
ZEANA ATTISHA IS MARRIED TO SAAD ATTISHA, AND THEY OWN THE OAK PARK STAPLE, SAHARA RESTAURANT.
Her husband started the operation in 1980 in Ferndale at 9 Mile and Woodward. He was there for about three or four years before moving to 9 Mile and Coolidge in Oak Park, then moving again in 2010 to 10 Mile. Sahara has been in Oak Park for 36 years and their current location for the last ten years. That is the 40-year history of a local family-owned restaurant.

SAHARA IS VERY WELL-KNOWN IN THE COMMUNITY, especially among our Chaldean neighbors. Sahara's menu features very traditional Mediterranean dishes. Some of the dishes are proprietary, like the stews and some soups.
Saad, his brother and his mom have all worked in the restaurant, and Zeana works there as well.
With a business finance degree, she handles bookkeeping and paperwork and also supervises the staff. After a fire in 2010, she took more of a hands-on role at the restaurant.
She also helped with a campaign to bring liquor licenses to Oak Park, working to get the matter on the ballot. Thanks to her efforts, Sahara now serves beer, wine and liquor, and now anyone can now apply for a liquor license.
This has opened up opportunities for Oak Park; now the city can attract hotels and other restaurants and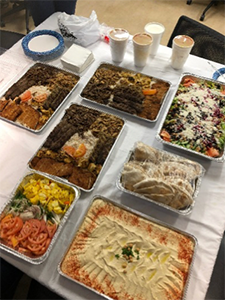 venues.
ZEANA SAYS THAT THE BIGGEST PROBLEM RIGHT NOW FOR SAHARA IS THE LACK OF EMPLOYEES.
Their carryout business is still strong. Sahara has restaurants in Oak Park, and one in Sterling Heights for 16 years, and now they are building one in Detroit at the Little Caesars world headquarters building. They used to have a facility in Farmington on 13 and Orchard Lake until 2015.
"Sahara is run off of our special recipes. We have a Sahara Market in Warren, and we go down to Eastern Market for some of our fresh foods."
THE PANDEMIC HAS PUT A NEW STRAIN ON SAHARA. They have been forced to quickly transform their business. There is no more food-sharing.
Right now, the restaurant can only seat a maximum of ten people at a table.
"A lot of our food was served on trays, but not during COVID-19. Our restaurant took an 80 percent hit at the beginning of the coronavirus outbreak. A lot of servers have not come back. We have no more than 50 percent capacity right now."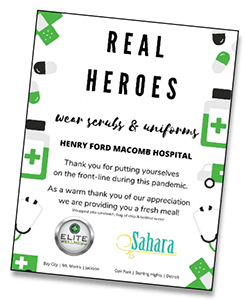 "I don't think things will get back to normal until maybe next year."
Zeana expressed some problems with acquiring coins from her bank, purchasing certain liquors, and hiring new staff. "We have made multiple attempts at ordering certain liquors, and there is a very limited amount of some, like expensive tequila. I am not sure why, but it is a problem."
Now, they generously donate meals to hospitals, doctors offices, and other healthcare workers!
If you are interested in working at a Sahara restaurant, reach out to them for an interview.
24770 Coolidge Hwy, Oak Park | 248-399-7744