Letting Your Inner Nerd Out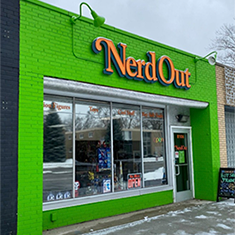 By Colton Dale
MANY DRIVEN, DEDICATED ENTREPRENEURS WERE PLANNING TO OPEN STORES, RESTAURANTS AND other businesses just before COVID-19.
When the pandemic hit, we were all forced to stay home, effectively halting most commerce, big and small. This, in turn, stopped many prospective business owners from ever opening, putting their hopes and dreams on hold as well as slowing job creation. Other, somewhat luckier entrepreneurs were able to open their ventures just before the novel coronavirus reached American shores, not knowing what was to come.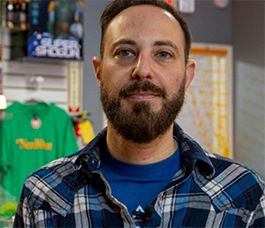 ONE OF THOSE ENTREPRENEURS IS RANDY HERKOWITZ. In mid-Fall of 2019, before the term COVID-19 was on anyone's radar, Randy opened up a cool and unique retail store called NerdOut Toys on Nine Mile Rd, near the City's eastern border with Ferndale. By Christmastime, business was booming.
Randy's toy shop originated as a hobby. Buying, selling, and collecting vintage and antique toys is a passion that began in his basement but eventually outgrew hobby status. That's when he knew he needed to look for a brick-and-mortar location nearby that could service other collectors and hobbyists whom he'd built relationships with over the years. He settled on Oak Park because of the location and amenities, as well as his appreciation for the fact that the City has been investing in its commercial corridors. Herkowitz and other nearby business owners are primary beneficiaries of the recently completed Nine Mile Redesign project.
"I think it's great. It's centrally-located. It's near Ferndale, Berkley, Southfield, Detroit. And it's a very diverse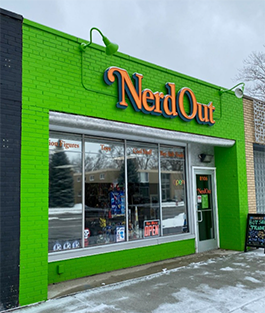 area that's growing," Herkowitz said. "The whole transition to Oak Park was great. Everyone was great help. They let me know if there was anything I needed and helped me achieve the goals I wanted to achieve."
MANY OF THE THINGS YOU FIND AT NERDOUT TOYS WILL BRING YOU FEELINGS of happiness, amusement, and especially nostalgia. From action figures to PEZ dispensers and even a few vinyl records, NerdOut has gained traction as being both a place to regain interest in old toys and hobbies, as well as a place to take a metaphorical walk down memory lane. According to NerdOut's website, they nerd out on just about everything, including "witches, droids, star fighters, creatures, wizards, supervillains, robots, barbarians, aliens, cyborgs, warriors, monsters, superheroes, spaceships and all other things fantastical!"
On PEZ dispensers in particular, Herkowitz explains "Most of the ones I have are from the '90s to the early 2000s. The no-feet stuff from the '60s gets really expensive, really hard to get. If it comes in, it just flies off the shelf." Like so many other items on his shelves, they range in age from several decades old to brand new. Kids and "kids" of any age will undoubtedly find something you like when you walk in.

If you have any familiarity with toy collecting, you probably have heard of Herkowitz. He has a reputation for being one of the most knowledgeable collectors around. He's hosted several local toy shows and conventions in years past, including one at Go Comedy! Improv Theater in Ferndale.
As with so many others, the pandemic hit Randy and his store hard. Still, he has remained flexible and adaptable in order to weather this storm the best he can. Nevertheless, he and all of Oak Park's small business owners rely on community members to patronize them in order to stay afloat and continue serving our city and region.
"You gotta shop local, there's a lot of good stores here and the growth is incredible," said Herkowitz in closing.
Shop local, support Oak Park's small businesses, and help grow your local economy! Visit NerdOut Toys at 8106 W Nine Mile Rd, Oak Park, MI 48237. Learn more at www.nerdouttoys.com.