Unexpected Craft Brewing Company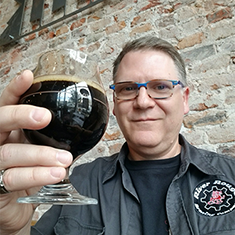 By Jennifer Goeddeke
EDWARD STENCEL IS THE LIVELY, EXTROVERTED FOUNDER OF THE POPULAR RIVER ROUGE BREWING COMPANY, situated in Royal Oak and opened in May 2015. In 2019, Stencel was awarded a prestigious $100,000 grant from the Michigan Department of Agriculture & Rural Development (MDARD) to open a new brewery. Overall, the MDARD has awarded $1.8 million in grants to 20 projects, with the goal of encouraging private investment in Michigan. And now, before the new year, Stencel is set to open the highly-anticipated Unexpected Craft Brewing Company at 14401 W. 11 Mile Road, in Oak Park.
NATURALLY, STENCEL HAS BEEN HARD AT WORK ensuring the new brewery/tasting room will be ready for its launch!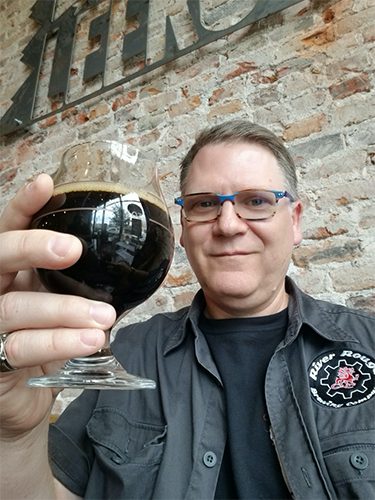 Stencel has an interesting educational/career background. He attended the U of M in Dearborn, attaining a BA in economics. His initial career was within the automotive industry. Subsequently, Stencel studied to earn a masters in TV and film production and became involved with show/movie production in Hollywood for several years, "from Taco Bell to Star Trek…even Tim Burton movies!" Stencel's work involved extensive worldwide travel; Europe, Hong Kong, Japan, to name a few.
From early on in his adult life, Stencel describes having a keen interest in beer and brewing. As a young man, he recalls forming a sizeable beer can collection. Throughout his time in the movie industry, Stencel describes, "frequenting quite a few different breweries," with a particular fondness for darker beers. Back in his home-brewing days, he formulated a Guinness-inspired recipe named: Stencel Stout which became a huge favorite with his friends.
One of Stencel's favorite breweries was the Intergalactic Brewery in San Diego, owned by a young gentleman called Alex Van Horn. Stencel and Van Horn quickly became good friends to the point where they would often brew together over the weekends, and Van Horn effectively became his hands-on instructor in the art of brewing. Another favorite brew locale was the AleSmith, also in San Diego and owned by Peter Zien. Both Zien and Van Horn became important mentors.
Brewing came naturally to Stencel. From selling some of his own brews through Intergalactic and trying out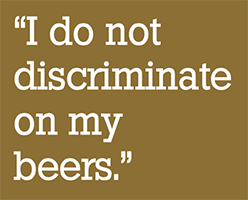 his own different recipes, he came to realize, "Maybe this is something I can do full-time!"
In the timespan of 2007 to 2010, the movie company Stencel represented struggled financially, so he made the big decision to move back to Michigan. Our governor at that time had created lucrative incentives for the movie industry. But, as Stencel recalls, that all changed fairly quickly.
IT WAS TIME TO MAKE A FULL COMMITMENT to his passion for brewing. So Stencel found a space in Royal Oak and, with the help of some friends and family, it became the River Rouge Brewing Company. But, due to the limited space, Stencel was soon searching for another local space to expand. Finally, in July 2018, Stencel found the current great locale in Oak Park.
With the grand opening any time now, I asked how a night out at Unexpected Craft BC might look. Stencel explained there will be various drinks to choose from, in addition to signature beers, including: wine, cider, hard seltzer and at least 30 different taps. Light snacks will be sold, and he also plans to keep the location "food-truck friendly" for Thursday, Friday and Saturday nights. Additionally, Stencel mentioned he would like to partner-up with local restaurants, in order to provide a greater choice in food items. A further goal is to host some musical entertainment outside, on certain nights. He is a firm believer in the way a brew pub can bring people from all over the world together, as he has already witnessed at his River Rouge BC.
We are looking forward to the opening of this great addition to the city of Oak Park!
The River Rouge Brewing Company is located at 406 E 4th St, Royal Oak.
www.riverrougebrew.com,
248.802.0555
The Unexpected Craft Brewing Company is located at
14401 W. 11 Mile Road, Oak Park and is
set to open before year-end
Edward@riverrougebrew.com