Pizza, Pasta, Burgers & More at Berkley's Top Restaurants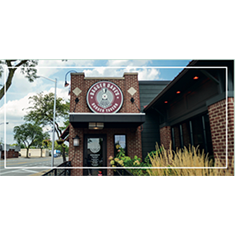 Story: Ingrid Sjostrand | Photos: David McNair
THERE MUST BE SOMETHING IN THE WATER – or the food – that makes Berkley restaurants flourish. For a city of only 2.6 square miles it's unusual to have so many successful restaurants, but the local eateries continue to defy the odds.
Two restaurants in particular have thrived in Berkley: Crispelli's and Bagger Dave's. Both source local product for their food, focus on adapting to their customer needs and have expanded to multiple locations due to their success in Berkley.
CRISPELLI'S

CRISPELLI'S, LOCATED AT 28939 WOODWARD AVE, has felt the support of city residents from the minute they opened their doors. Director of Operations Ron Nussbaum shares the story of their opening in February 2012.
"We had paper up in all the windows, we took it down at 4:30 P.M., and by 5:15 P.M. we had a wait – all we did was take the paper off," he says. "We're thinking 'if someone comes in we can practice,' but it turned into chaos within minutes. We thought no one would notice, but the first couple tables came in and started calling friends, telling them we were open."
The fast-casual restaurant is best known for its gourmet pizza, but they also specialize in Italian classics and fresh-made artisanal bread. The style of "fast-casual" is somewhat unique to the area, allowing guests to order and watch their pizza made in front of them.
THE FAST-CASUAL PART REALLY SET US APART. And the speed – we still try to get food out in five minutes," Nussbaum says. "When you order, by the time you're done paying your pizza is almost ready. It's good food, made from scratch in under five minutes."
Due to the continued success of the Berkley location, the Crispelli's brand has grown into a bakery in Royal Oak, restaurants in West Bloomfield and Troy, a food truck that made its first appearance at Berkley Street Art Fest this past summer and a new location in Clarkston, set to open in October 2020. All of this expansion hasn't slowed the Berkley location one bit.
"This store continues to grow and it's the most amazing thing I've ever seen," Nussbaum says. "Restaurants don't grow for seven or eight years straight; it just isn't normal. Every day I find someone that says they have never been here before."
(248) 591-3300 | 28939 Woodward Ave, Berkley Sun 11a-9p | Mon-Thur 11a-10p | Fri-Sat 11a-11p
BAGGER DAVE'S

ORIGINALLY STARTED AS A FRANCHISEE OF BUFFALO WILD WINGS IN 2008, Bagger Dave's Burger Tavern has matured into a restaurant truly focused on customer satisfaction. From where they source their food to the daily specials and discounts, Regional Managing Partner Aaron Van Kuren says it's evolved into a much different experience.
"Three to four years ago we stabilized the menu, did some different things with our main items, expanded shareables, signature burgers and craft cocktails, and have gotten really good feedback," he says. "Our mission statement is 'Making regulars,' and it's really all about making every guest feel welcome."
Located at 2972 Coolidge Hwy, one of the main ways Bagger Dave's works to keep patrons coming back are their menu specials. On top of monthly specials like "buy-one-get-one burgers" and "two for $10 appetizers," there are also everyday deals throughout the week. Matt Blankenship, owner/operator of the Berkley location, details some below.
"We have daily specials, like our $6.95 Great American cheeseburger Tuesday, and kids meals are half off on Wednesdays and Sundays," Blankenship says. "Thursdays are all-day happy hour – we have a really aggressively-priced happy- hour menu. We have something pretty much every day."
EVEN WITH DAILY DISCOUNTED PRICES, Bagger Dave's doesn't skimp on quality. Their ingredients are locally-sourced and fresh, including turkey burgers brought in from Grand Rapids.
"We don't have walk-in freezers. We prep every day, we make our own sauces, we have local craft sodas, local draft beer," Blankenship says. "I think that's what separates us. We're more local and in tune. We want to be the neighborhood go-to restaurant."
"Eighty to 85 percent of the menu we get is from Michigan or the Midwest. We want to support the community by not only buying the products in the area but being one of those places that people want to go to get something fresh," Van Kuren adds.
Bagger Dave's has grown to include eight restaurants across the Midwest with five locations in Michigan, two in Ohio and one in Indiana. Although they've grown, they haven't forgotten where they came from and appreciate the Berkley community, even offering discounts to local businesses.
"It's a very tight-knit community. We're just a small piece of the pie here and we enjoy taking part in it," Van Kuren says. "It's a very diverse area. We love each and every person that comes in."
(248) 543-3283 | 2972 Coolidge Hwy, Berkley Sun-Tues 11a-10p | Wed-Thu 11a-11p | Fri-Sat 11a-12p