Berkley Eyewear Makes it Easy to Look (and See!) Your Best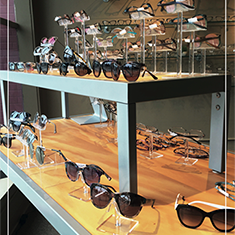 Story & Photos By Lisa Howard
TEN YEARS AGO, A SMALL SHOP CALLED BERKLEY EYEWEAR opened on Coolidge near Wiltshire. Lisa Gilbert was the driving force behind the store – she had worked in the optometry field for nearly three decades – but, soon after, her husband Andy found himself working there, too.
Seeing as his dad, cousin, and brother-in-law are optometrists, it wasn't a stretch for him to join the family trend. The couple opened a separate shop called Local Sunglass Company just down the street by Dorothea to also offer sunglasses, and eventually they built out the second location and merged the two arms of their business. Today, they offer eye exams as well as a carefully curated collection of glasses and sunglasses.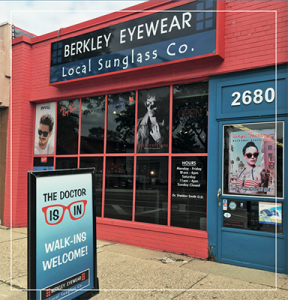 "We can't be everything to everybody, but we try to be everything we can to the local community," Andy says. He and Lisa focus on offering high- quality lenses and frames for reasonable prices whether people have vision insurance or not. Unlike many of the bargain-basement glasses you find at big-box stores, at Berkley Eyewear their lenses are made with a protective scratch- resistant coating that makes them much more durable.
And Lisa is always on the lookout for stylish frames. "There are also big differences between single-vision lenses and progressive-lens technology," Andy explains. "For one thing, you don't see a line with high-quality, progressive lenses."
As he and Lisa have tailored their collection over the years to suit their customers' needs, they've come to specialize in frames for petite women. Andy points out that it can be difficult for small- framed women to find glasses that fit well and are age-appropriate. "They don't want to have to shop in the kids section and wind up with glasses that don't quite fit and aren't the kind of patterns or colors they want," he says. While bright blue frames with lime-green dots might be fun for kids to wear, it isn't exactly a flattering look for an upscale night out on the town. Likewise, if you're a man who finds himself shopping in the big-and- tall section, the standard glasses selection might not work for you, either.
NO MATTER WHAT KIND OF STYLE YOU'RE LOOKING FOR, you'll find glasses ranging from $90 to $450. "Our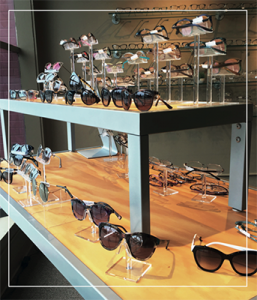 meat-and-potatoes is within the $150 to $200 range because that's a reasonable amount for a pair of good-quality, fashionable frames," says Andy.
Their eye exams are equally reasonable – for those without insurance and paying in cash, an eyeglasses exam is $65 and an exam for contacts is $95. Either way, the exam includes looking at the eye health of the patient. A lot of people don't realize it, but regular eye exams are greatly beneficial because optometrists can spot a lot of chronic problems early on (diabetes, high blood pressure), when it's much easier to manage or correct the issue. Another bonus? Rather than using the dreaded "puff test," the optometrist uses a tonometer to check for glaucoma.
ALONG WITH RUNNING THE SHOP WITH LISA, Andy is involved in many other aspects of Berkley life, from serving on the DDA Board and marketing committee to sponsoring the Berkley Street Art Fest. Andy thinks the art fest in particular has been an exciting event. It began in 2017 on Dorothea in the municipal lot right behind Andy and Lisa's shop and then expanded onto Coolidge the following year, drawing several thousand attendees in the process.
"I still remember the first year the fest happened," Andy recalls. "I walked out of my back door and saw people milling around and making and admiring art, and I just thought it was fantastic!" One attendee he talked to that day said that he had lived in Berkley for 20 years but had never noticed Berkley Eyewear before. A few weeks later, that same person became a customer. As Andy sees it, that's the whole point of having events like the Street Art Fest: To introduce people to the shops along Coolidge.
After the Street Art Fest was established Andy rejoined the Berkley Area Chamber, and it's also why he now participates in various other civic organizations in the city, too. He advises business owners and residents alike to get involved – it's a fun way to help the city grow.
ASIDE FROM ATTRACTING MORE CUSTOMERS, another bonus of having a big annual event on Coolidge is the increased interactions between near-by business owners, from newcomers like Ullman's Health & Beauty and Toadvine Books to established merchants like Nova Chiropractic. "The Street Art Fest has brought together businesses who may not have otherwise interacted much, especially as the event keeps growing and getting bigger and better," says Andy.
That, plus increased support from the Chamber and the DDA, has led to a feeling of positive momentum along the Coolidge corridor, with several businesses using the DDA grant façade program to renovate and improve their storefronts (Andy is one; he's hoping to get his new look before it snows). Ongoing regular events like Ladies Night Out also create buzz and lead to long-term customers.
"At the end of the day, Berkley is a fun little town," says Andy, adding that he's seen the area go from not exactly bustling when he opened in 2010 to now being one of the focal shopping districts in the city. "I like hanging out right smack in the middle of Coolidge – it feels like everybody is friends."

2680 Coolidge Hwy, Berkley
(248) 629-6410
Monday – Friday: 10 AM – 6 PM Saturday: 11 AM – 4 PM
Sundays: Closed