The Wedding Shoppe and Jenna In White Bring Bridal Bliss to Berkley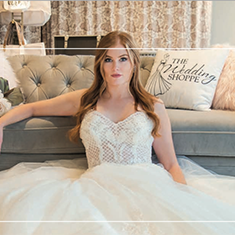 By Ingrid Sjostrand
Some wouldn't think of Berkley as the go-to place for brides-to-be, but two of Metro Detroit's top wedding shops are located within the city's 2.62-square-mile radius and both offer a unique, customer-focused experience for their brides.
THE WEDDING SHOPPE
ACCOMMODATING A BRIDE'S NEEDS was the number one priority for Michelle McFarland when she opened The Wedding Shoppe in 1999. Recently married herself and a full-time employee at the headquarters of a German steel company in Detroit, she saw first- hand how inconvenient planning a wedding could be for a working woman.
"I worked long hours and would get stuck in rush-hour traffic. By the time I got home everything was closed. I ended up having to do everything on Saturdays because stores were closed Sunday too," she says. "One thing that was really important in opening my store was being available to brides. Right now, we're open seven days a week to accommodate their needs."
Flexible hours were just the first step in putting the bride's needs first. McFarland expanded from accessories to dresses in 2008 and hired twelve expert stylists to help create the perfect experience for her clients.
"Everything in our store is hand-selected. We work with design houses from all over the world and we bring wedding dresses to the U.S. that aren't available here," she says. "We are a high-volume store that focuses on giving the bride an intimate experience."
WHEN THE WEDDING SHOPPE relocated from Woodward Ave. to 2186 Coolidge Hwy., McFarland took it a step further by creating the "Private Viewing Experience™" – nine custom-built, private bridal suites to allow an intimate experience for brides-to-be and their families.
"Brides get their own suite to enjoy their experience with a stylist. They might have an idea of what to try on and what style they like but until you put a dress on your body you have no idea what is going to look good," McFarland says. "Our stylists are trained to listen to the words you are saying, and also the words you are not saying, to help you choose the perfect dress."
After nearly 20 years of successful business, McFarland gives credit to her team of stylists, seamstresses, receiving, administration and all those that have helped The Wedding Shoppe succeed.
"I truly, honestly believe it centers around the people we hire and select to be on our team. Without them, there is nothing. Without the stylists being as amazing as they are, brides would not want to come here," McFarland says.
JENNA IN WHITE
JENNA EL-ZAATARI IS INNOVATING THE BRIDAL INDUSTRY. With experience in both production and retail, she and her team are designing wedding dresses that are unique and different from what is prevalent in the US market.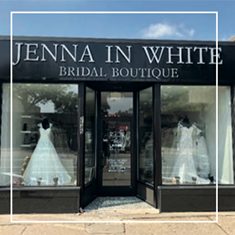 First introduced to the wedding industry at age 21 by her mother-in- law, a gown designer and store owner in Lebanon, El-Zaatari was inspired to make her own mark in bridal fashion.
By 2012 she established Jenna in White, located at 2685 Coolidge Hwy. since 2014, and launched her Jenna in White line.
"This line is our own, unique, and is not available anywhere else in the US. We also carry other designer lines such as Casablanca, Amaré, and Sophia Tolli," El-Zaatari says. "When the bride comes into our store it's all about her; we strive for magic for the bride and the family."
El-Zaatari and her staff have worked to take the stress out of shopping for a wedding dress and create an environment for great memories.
"We are very upbeat in the way we operate. The vibe is always exciting and fun," El-Zaatari says. "Our entire team functions in accordance with that, to make sure the bride finds the dress she loves while simultaneously having an amazing experience."
THIS ATMOSPHERE EXTENDS beyond just the store. Jenna in White has made it a priority to be a part of the community, even working with radio station Channel 95.5 FM to do regular dress giveaways with Shannon Murphy of Mojo in the Morning, and has collaborated with the Berkley Chamber of Commerce as well.
"We share elements of that experience with the community, so it's really more about creating a bridal culture," El-Zaatari says. "Metro Detroit is a very vibrant area, and the whole process becomes not only about us but about the entire culture and community."
"I love being part of every bride's shopping; It's very rewarding," she says. "I take every single bride's experience very personally."