Community Involvement Is Key To Vibe Credit Union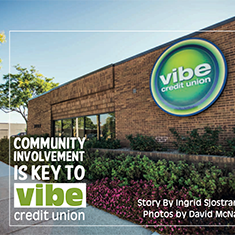 Story By Ingrid Sjostrand | Photos By David McNair
People don't usually think of "charitable" and "altruistic" as adjectives to describe their banking establishments, but Vibe Credit Union isn't your typical financial institution. While most credit unions are run by members and qualify as non-profits, Vibe takes it a step further in caring for its members and the communities it serves. Allan McMorris, President, explains the philosophy behind the company.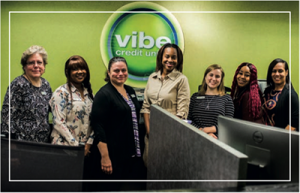 "WE ARE A NOT-FOR-PROFIT FINANCIAL INSTITUTION, and we invest our profits back into our membership to provide convenient technology, better rates on loans and deposits, and more locations," McMorris says. "We are in business to improve the financial lives of people in our communities."
Community involvement is common at all 16 Vibe Credit Union branches and is essential to the company's philosophy.
Linda Smith, Marketing Manager, explains Vibe's commitment to the community. "We want to give back to the communities we serve," Smith says. "We support over 100 local organizations each year and we offer financial education classes at local high schools."
The charitable contributions of Vibe Credit Union extend past local branch involvement, too. There are two organizations they consider "Charities of Choice," which receive ongoing contributions: The Salvation Army's Bed & Bread Club and the Pancreatic Cancer Action Network (PanCAN).
"We have been supporting the Bed & Bread Club since the 1980s when we welcomed them as a partner. We donate ten dollars for every member referral, and our staff has volunteered in their kitchen and on their food trucks," Smith says. "We have been a top fundraiser for PanCAN PurpleStride fundraiser for many years. Because our employees have lost loved ones to pancreatic cancer, we enjoy holding fundraisers throughout the year to support PanCAN."
Through longstanding relationships with charities and a commitment to being active in branch communities, Vibe Credit Union is constantly working to be the best for its members and its employees.
THE BERKLEY BRANCH, LOCATED AT 3082 COOLIDGE HWY., is one of Vibe's busiest
branches. Tamara Powell, Berkley branch manager, serves as treasurer for the Berkley Chamber of Commerce – just one of the ways Vibe Credit Union takes community involvement to the next level.
"Our staff has enjoyed serving the Berkley community since 2007. Berkley's friendly residents and business owners make this community a great place to do business," Powell says. "We love participating in local festivals and programs like the Berkley Street Art Festival and the Berkley Library Summer Reading program."
"WE ARE ALWAYS LOOKING FOR OPPORTUNITIES to add better products and services, as well as more branches, to better serve our members," Smith says. "It is our goal to deliver an exceptional experience every time we connect with our members. Vibe is also a great place to work. We have a company culture that values, respects, and celebrates each team member."
First established in 1936 as the Telephone Employees Credit Union with just ten employees, the company grew over the next 77 years and changed its name to Vibe Credit Union in 2013 to honor the "sound waves of the past."
"Anyone living or working in the Lower Peninsula of Michigan is now eligible to become a member of Vibe Credit Union. In 2018, we partnered with Oakland County Credit Union, which was founded in 1953 as Oakland County Employees Credit Union," McMorris says. "Over 83 years, our assets have grown from a humble $100 to nearly $1 billion. We now serve over 65,000 members with 14 branch locations and two 'eCenters' in Metro Detroit."
Vibe Credit Union's two eCenters are located in the busy downtown development districts of Ferndale and Royal Oak. Although eCenters don't have traditional tellers, Vibe staff is onsite to assist people with opening accounts, applying for loans, and using the multi-functional ATM.
3082 Coolidge Hwy, Berkley MI 48072 (248) 735-9500
Mon-Thur 9:00 AM – 5:00 PM Fri 9:00 AM – 6:00 PM
Sat 9:00 AM – 12:00 PM