Vitrine Gallery & Gifts: Displaying Treasures From Artists Around The World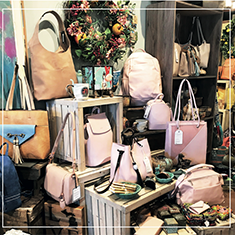 By Sara E. Teller
VITRINE GALLERY & GIFTS OPENED IN DECEMBER 2017. The Berkley location was perfect because it included both a studio and retail space, according to owner Susan Rogal.
"We jumped on it," she said. "Later, I would understand more fully the incredible sense of community in Berkley. I have been in retail for almost 40 years, and it's rare to find men shoppers, couples shopping together, just happy shoppers. Every hour of every day there are lovely people in here."
The name of the store is a French word meaning "a glass display case filled with treasures," she explained, and it was inspired by a shabby chic antique hutch Rogal found with a glass front. This would also be incorporated into Vitrine's logo.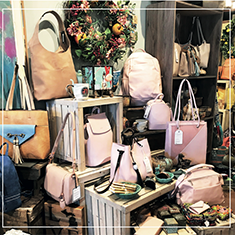 In the retail space, shoppers can explore a multitude of treasures, including clothing, accessories, housewares, food, and other goodies made by artists and artisans. Vitrine also features garden accessories, handcrafted baskets, and a spa area with many handmade soaps and bath bombs. SERV, Ten Thousand Villages, and many others are on display, with products also available for purchase online.
ROGAL SAID, "THE STORE IS FOR LOCAL ARTISTS, artisans, potters, jewelers, and crafters. We feature many local artists and foods, soap artists, pens, and many other products each month. We have Wee Bee Jammin' jams and Sanders Chocolates. The shop has also become the flagship store for Kari Hughes' Buy the Change line. We have an art show once a month, and we also curate the art through the Berkley Public Library, which offers even more exposure."
She added, "It's really a trip around the world, and we bring in new stuff once a month. Our vegan handbag line has quite a following. We searched the world for a wonderful collection with phenomenal prices. Many people buy more than one!"
To add to the eclectic and one-of-a- kind ambiance, there is a door at the back that annexes to Holy Cannoli's Bakery which fills Vitrine with incredible bakery smells and allows guests to experience both businesses at once. The studio also serves as Rogal's workspace for her other endeavor, Artwear Detroit, a company that transfers local artwork onto items available at Vitrine and elsewhere. The company's mission is to support regional artists and their contribution to Detroit's legacy.
ROGAL BELIEVES IN A "DO GOOD, FEEL GOOD" mantra and remembers as a child her mother sponsoring children in developing countries through World Vision.
"She would always have their pictures on the wall and would refer to them as her other children," she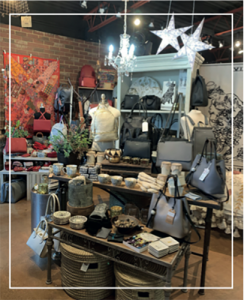 remembered fondly. "Now that she's passed, I wanted to do something for her – offer a memorial gift – and I also wanted to do something extra to show how much we care. This became a very personal journey."
She added, "We decided to have some of our profits go towards sponsoring six kids in Haiti, all from the same village. And, eventually the goal is to support ten. Doing it this way, we can extend our resources to the entire area, supporting healthcare, clean water, safety and education. It goes towards the whole community."
Through Vitrine and Artwear Detroit, Rogal is truly able to exemplify her personal mission of giving back. "It's my hope that as the world gets smaller with resources like the Internet we'll all begin to realize we can make a difference."
Vitrine is especially event-driven throughout the summer, participating in the Street Art Fest and hosting various pop-ups featuring a rotation of artists. Rogal said that Small Business Saturday, held on November 30, 2019, will also be an especially big day for all Berkley businesses.
For more information, visit Vitrine at 2758 Coolidge Hwy,
thevitrinegallery.com, or call 248-629-7329.