Huntington Woods and Berkley Offer " Active, Alive and Thriving" Libraries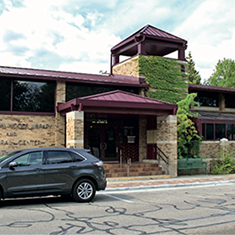 By Sara E. Teller
MATT CHURCH HAS BEEN THE DIRECTOR OF THE BERKLEY PUBLIC LIBRARY since September 2013. It's a position that has given him the opportunity to maximize the Library's resources and connect with residents.
Church said, "It is a great honor to service the Berkley community through the Library. In the past several years I've worked with the Library team to expand our offerings in both collections and programming. We have seen an increase in circulation and program attendance. People view the Library as an essential hub in the community. As a Berkley resident, I am grateful to live and work in the same community."
Contrary to what some may believe, he said the Library is still alive and well in the digital age. Church explains, "People sometimes ask if libraries are going away or if people even use the Library anymore. I encourage you to stop in to see for yourself the number of people using our space to study or work, utilize
our computers or connect to our Wi-Fi, or the groups of children checking out books from the youth room. This Library is active, alive, and thriving!"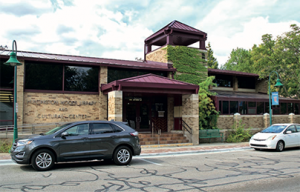 BERKLEY'S SPACE REGULARLY TEAMS UP WITH THE BERKLEY AREA CHAMBER OF COMMERCE, the Downtown Development Authority, Berkley First, the Tri-Community Coalition and more to offer a variety of activities for patrons. The Library has also collaborated with Berkley schools to ensure there are materials in their collection that support students' curriculum needs.
"We now offer music concerts, evening story times, robotics workshops, and more," Church said, adding that craft programs for teens and history lectures are also available. In late Fall, a Santa mailbox is placed out front, which Church said was "redesigned and repainted last year" by "one of Santa's elves."
Local business Vitrine Gallery & Gifts brings a different artist's works into the Library each month. "This has been a fun partnership that highlights a local business while making our space more interesting and inviting," Church said. The Library also has a robust online presence with downloadable books, audiobooks, comics, movies, television shows, and magazines. He added that the "usage of online services has doubled in the last five years."
THE HUNTINGTON WOODS LIBRARY ALSO HAS A WEALTH OF FUN ACTIVITIES AND PROGRAMS planned for Fall 2019 and into 2020, according to Director/Adult Services Anne Hage, including an ongoing book discussion group, a social justice book group, adult coloring classes, knitting workshops, music classes, and more. Some events to be on the lookout for:
HERE COMES THE RAIN AGAIN! will be held October 19 and 26, 11:30 A.M., and allow patrons to design their own custom-painted umbrellas.
WRAPPED & BEADED SERVING PIECES will take place on November 16 and 23 at 11:30 A.M. and offer an opportunity to repurpose humdrum serving pieces into colorful works of art.
Just in time for the Christmas holiday, BOARD GAME ART VOLUME 2, to be held on December 14 from 11:30 A.M. to 1:30 P.M., will allow residents to design a handcrafted tic-tac-toe board using wood and decorative paper while sipping hot cocoa and sampling cookies.
All programs are sponsored by the Friends of the Library and are offered free of charge, although registration is recommended.
The Huntington Woods Library is also home to the well-known, one-of-a-kind Woods Gallery, which since 1984 has been a space for hundreds of area artists to share their diverse works of art with the community. The gallery's mission is "to create opportunities for our community to experience a wide variety of creative arts for display and for sale."
The origins date back to the founding of the Huntington Woods Art League in 1961. The League founded an annual art festival featuring both amateur and professional artists, and in 1984 they teamed with the Friends of the Library to sponsor Russell Keeter in a one-man exhibit in the basement's Hardy Room. This exhibit inspired the development of the Woods Gallery in the same room, and the Library has showcased a rotation of artists on a continual basis ever since.
Unique services available with a Huntington Woods Library membership include the ability of patrons to use their card to access a collection of over 30,000 movies for free with Kanopy and the ability to receive discounted memberships, tickets, parking, and dining at many area venues through the TLN Tickets & More program.
For more information on all the services offered at the Huntington Woods Library, call 248-543- 9720 or contact Anne Hage at
ahage@huntingtonwoodslib.org.