Helping The Community Through Fashion & Fun Finds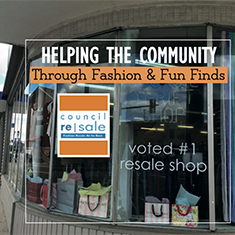 Story & Photos By Lisa Howard
In 1934, the National Council of Jewish Women, Michigan opened the shop to raise funds for its community service projects and advocacy work. This year marks the store's 85th anniversary of supporting its mission to improve the quality of lives by safeguarding individual rights and freedoms. "It's a win/win situation," says Liana Spiegel, marketing coordinator at the NCJW/MI offices. "By shopping or donating to council re|sale, you're purchasing items at great prices as well as directly benefitting and supporting women, children, and families in need."
The store collects donated high-end clothing by designers, as well as everyday casual clothes and shoes, and then sells them to their enthusiastic shoppers: DIY seekers, students, parents, seniors, busy professionals and anyone who appreciates a resale treasure trove. You'll also find books and records in their library room and glassware, china, and appliances in their home accessories room.
TWICE A YEAR, COUNCIL RE|SALE has a showcase sale, at the end of August for the new fall/winter arrivals and another in time for spring/summer items. Throughout the months of November and December, shoppers also stumble into surprise sales. (Tip: Check the council re|sale Facebook page to find out about those surprises!)
The end of the year is also the time when the store has its donation drive, and the staff and volunteers are happy to accept donated items. If you're thinking about revamping your wardrobe or redecorating your house, your gently used items could go to council re|sale to help build a stronger community and celebrate 85 years of serving those in need!
3297 12 Mile Rd, Berkley MI 48072 Open till 6:00 P.M. | 248-548-6664