Everything That Shimmers & Glimmers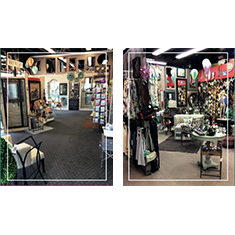 Story & Photos By Lisa Howard
BACK IN 1969, A LITTLE SHOP NAMED ALCO GLASS & MIRROR opened at the corner of 12 Mile and Griffith. From its initial beginnings, the shop began diversifying its offerings, expanding until it outgrew its first home and relocated to the corner of 12 Mile and Greenfield in 1991.
Today, the store boasts a large two-story showroom and deals in hundreds of textured glasses for all kinds of applications, from shower doors to tabletops to mirrors. Everything is custom-made, in many cases still by hand, and Alco can repair windows and screens that most shops won't touch.
"We have a wide variety of customers, from first-time homeowners to 30-year homeowners looking to renovate or replace bathrooms and kitchens or just add some new accessories to their décor," says Kim Daguanno, daughter of the original owner and the current office manager. "We have an extensive showroom of mirrors, home accent furniture, and kitchen and bath items. Plus, we carry personal items like jewelry and men's products."
AS ALCO CELEBRATES ITS 50TH ANNIVERSARY this year, the store continues to bring in more and more unique goods, up to and including baby items and furniture pieces. From its original glass-and-mirror roots, the store has also become a combination home décor and gift shop. Kim points especially to the home accent accessories as being their stand-out items. "There's a lot to see here," she says. "Coming into the store inspires people and gives them ideas on how to freshen up their homes."
Alco is thrilled to be part of the current revival going on in Berkley, Kim says – not only do she and all of the other employees appreciate the support of the community and their customers, they also appreciate the support of their fellow independent businesses. "We now have a third generation here at Alco," she says, "and we will continue to grow and add new products. We're proud that our gift shop is one-of-a-kind."
4195 12 Mile Rd, Berkley MI 48072 248-547-1214 | Open until 5:00 P.M.