Berkley Area Chamber of Commerce: Creating Connections Across Communities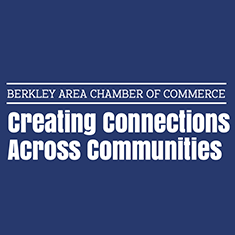 By Sara E. Teller
THE BERKLEY AREA CHAMBER OF COMMERCE HAS 150 MEMBERS IN BERKLEY, HUNTINGTON
WOODS, AND NORTH OAK PARK. Members include restaurants, retail stores, professional business services, real estate agents, financial, insurance, and legal services, education and health and wellness providers, non-profit organizations, auto care companies, home-based businesses, wedding service providers, salons, and more.
The Chamber and its members are dedicated to creating and sustaining a positive business climate by connecting with each other, local governments, and the community. Darlene Rothman, Executive Director, and RoseAnn Nicolai, Events & Operations Manager, have been with the Berkley Area Chamber since 2012.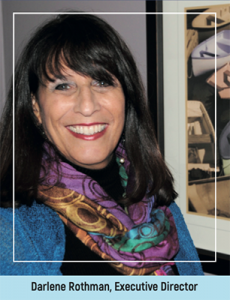 "I've been the Executive Director for over seven years," explained Rothman. "I was a Huntington Woods resident for over 27 years and was upset when the economy was affecting local businesses in Berkley. These businesses do a lot to support the community, and it was important for the community to support them during challenging times. When the job opportunity arose to work for the Berkley Area Chamber, I was excited to do what I could to help."
Of her position, Nicolai said, "I have an event planning and association management company, and I have been a resident of Berkley since 1997. So, when an opportunity came up to work on events within the city where I live, I jumped at the opportunity. A year later the Chamber asked my company to take over the administrative tasks so Darlene could focus on recruiting new members and helping our current members."
Understanding the importance of investing in local businesses, Nicolai added, "I believe having a thriving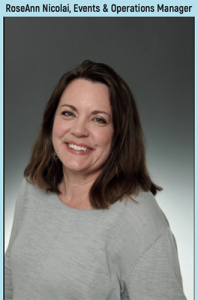 business community is an important component of making Berkley a great place to live. Local businesses are the ones who are more likely to donate to local causes and groups. They have an investment in the community. So, helping these businesses thrive is important."
The Berkley Area Chamber is responsible for many fun, annual activities, some of which include:
THE BERKLEY ART BASH, the 2nd Saturday in June. Chaired by April McCrumb, owner of Catching Fireflies and Yellow Door Art, this fair attracts crowds of over RoseAnn Nicolai, Events 10,000 people who come to find hip handmade wares from over 150 artists and makers, listen to live music, eat great food, and participate in children's activities.
THE BERKLEY STREET ART FEST, the second Saturday in July. Commissioned artists create murals on various spaces, and children and adults have the opportunity to create their own chalk art. Street performers and musicians are also there to entertain throughout the day.
THE BERKLEY PUB CRAWL, late August. This event highlights Berkley's bars and restaurants.
THE STATE OF THE CITIES BREAKFAST, the 4th Friday in October. This event offers an opportunity for local government entities to report out to the community the accomplishments and issues from the past year as well as touch on what is forthcoming.
Rothman said, "As a team, we've increased the positive aspects of the community, so more [businesses] can grow and prosper. So many wonderful members go above and beyond to help create events, marketing concepts, and volunteer."
The Chamber's Board of Directors is grateful to all those who participate, companies and residents alike. Rothman said, "Most [members] are small business owners who do it all and still do what they can to help the greater good of the community. We have wonderful business owners, managers, and employees who create a warm and inviting atmosphere in Berkley and beyond." She recognizes that residents also contribute to the Chamber's mission, saying, "The residents are very loyal in supporting local businesses, which is what makes new businesses gravitate here. Strengthening downtown Berkley helps retain residents and attract new residents. Having the Berkley School District so strong is a major anchor to the entire mix. Public Safety makes sure the community is safe. It's a win-win for all."
The Berkley Area Chamber of Commerce offers Explore Berkley gift certificates to thirty local businesses, which can be purchased at berkleychamber.com and through the Berkley Education Foundation, berkleyedfoundation.org. Businesses and organizations can also join the Chamber and have access to all of its benefits by registering online. For more information, call 248.414.9157.