Beyond the Menu: Making a Restaurant into Gathering Space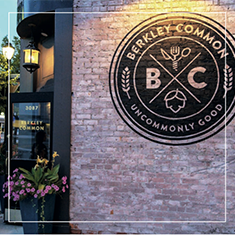 By Lisa Howard
WHEN SISTERS KATIE KUTSCHER AND CHRISTINE GROSS OPENED BERKLEY COMMON in 2017, one of the things they wanted to do was to create a common space for the community.
As Katie points out, "It's part of our name." They wanted a place where people could bring their kids and families, a place with healthy bar food options that women and men would enjoy equally.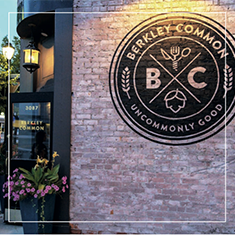 Their combined efforts resulted in a community-minded restaurant that serves American food with a global twist. (They offer plenty of vegan and gluten-free dishes, too.) Case in point: Their most popular item is the Korean Cauliflower Wings with house-made kimchi and BBQ sauce. "We really focus on fresh ingredients and a scratch kitchen," says Katie. "We have zero food storage space, so the ingredients arrive every day."
Christine adds that the same holds true for their cocktails – they're created with ingredients like hand- made bitters and freshly-pressed ginger. And, just like the food menu, the cocktail menu is rotated seasonally, with new menus in fall and spring. Along with cocktails, Berkley Common also has 22 beers on tap (all from Michigan!) and includes two nitro taps in the mix.
THE RESTAURANT BUSINESS IS NOT FOR THE FAINT OF HEART, but the sisters have a synergy that makes them a great team. Christine, a CPA, does "the nerdy stuff" while Katie manages the staff and plans the menus. That said, she points out that the specials they run give their chefs a lot of creative freedom. "Anybody here who walks through the door has maximum creative development potential, because they're adding to what we do," she says. "If their idea is successful, we're thrilled! It's a collaborative business, and we're always looking for good people to grow with us." The sisters are also happy to say that 80 percent of their employees are from Berkley.
One of their ideas from the beginning has naturally unfolded into a key aspect of their business: Creating an event space where they can host everything from bridal showers to networking events to class reunions. They've even had musical groups rehearse in the second-story space.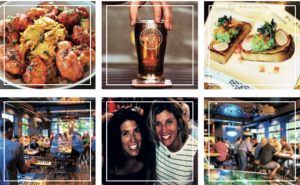 They hold fundraising events, too, like the guest bartender series where the group picks the charity they want to support and Berkley Common gives part of the proceeds and all of the tips to that charity. A recent fundraising event for Cure JM (juvenile myositis) raised $1,200; on October 25 they'll be hosting a guest bartender fundraiser for breast cancer.
During their peak season, they've had as many as 25 events in a single month in the upper space. Katie thinks that's because the demand served the space. "There aren't that many venues in this immediate area that will take a party of 40 or 50," she says. "We have done private dinners for groups of 20 people and can fit up to 80. It's a very versatile space."
BEFORE THE SISTERS OPENED BERKLEY COMMONS, Katie had been running two beverage establishments in NYC, but she decided to move back to Metro-Detroit and open her own restaurant. It took a while to find the right location, renovate the building (the tin ceiling is still there, though!), and then get it staffed and open.
"My favorite part about all of this has been seeing our business and building change as Berkley has changed," Katie says. Chris agrees. "Seeing how so many motivated, smart, and fun business owners and residents are committed to growing the city is great," she chimes in. "It's really fun to be part of everything."
3087 12 Mile Rd.
Berkeley MI 48072
248.67.0795
Mon- Closed
Tues – Friday – 4pm – Close
Sat & Sun – 11am – Close
facebook.com/berkeleycommon