Republica Is One-Of-A-Kind With Few Family Favorites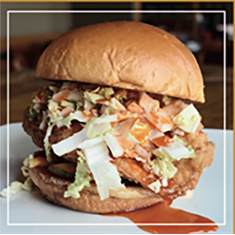 By Sara E. Teller
WHEN 36-YEAR-OLD PETRO DRAKOPOULOS DECIDED TO OPEN REPUBLICA in Downtown Berkley in 2013, he already had years of experience in the restaurant industry under his belt.
"My wife's family owned Mitch's in the Keego Harbor area. They opened in 1949. I also had 21 years of restaurant experience myself," he explained. "I helped open Texas de Brazil in Detroit."
Drakopoulos knew he wanted to start his own restaurant, and the spot in Berkley was ideal. "A lot of people

asked if it would be like Mitch's, but the nostalgia tied to a restaurant can be more important than the restaurant itself. And nowadays people are looking to be more health-conscious," he explained, adding that Mitch's was known for large portions of comfort food. "I wanted to start a healthy dining place with vegan and gluten-free options."
Drakopoulos, who's originally from the Chicago area, said Berkley reminded him of the Northwest Chicago suburbs where he grew up – a small- town feel with conveniences close by. He said, "I wanted to open a gastropub, which has a completely different meaning here than it does in Chicago or New York. The concept would be cool and unique, and the meals would consist of fresh ingredients but be approachable at the same
time."
WHEN COMING UP WITH REPUBLICA'S MENU the family decided to infuse just a few favorites from Mitch's to keep its memory alive, including its legendary ribs and family pasta. Drakopoulos' mother-in-law is also a dietician and helped put together the one-of-a-kind "from- scratch kitchen" with "fresh ingredients," he said,
saying, "She puts arugula and antioxidants in everything. After eating here, people can really understand the difference between a freshly- cooked meal and a freezer-to-fryer meal."
The restaurant's menu consists of small plates, burgers and sandwiches, soups, salads, entrees (even for the kids) and everything in between with options that meet a variety of dietary needs. Gluten-free and vegan dishes are highlighted along with organic bites and a note that all of Republica's salad dressings are "made in-house and free of refined sugar and artificial ingredients."
"Our bartender has also come up with drinks that are gluten-free and have less sugar," Drakopoulos said, adding that Republica offers space for special events as well as off-site catering and party planning.
He credits the restaurant's successful six-year run – and counting – largely to Berkley's supportive community, explaining, "Berkley has a great school system and people just want to be here. I really love the sense of community. It's often said, 'it takes a village' and Berkley is that village. I also have some regulars that come once a week from Grosse Pointe, so people come from all over. But Berkley and Huntington Woods have been especially supportive. The Chamber of Commerce holds meeting here, as do other organizations."
FOR DRAKOPOULOS, BEING A RESTAURANT ENTREPRENEUR is a part of a long-standing family tradition. He believes Republica represents this, explaining, "We're a family-run establishment. There's always an ownership presence – whether patrons want to talk to my mother-in-law or watch me buzzing around, dropping plates."
He also owns Brujo Tacos and Tappas, part of the restaurant collective and beer hall inside the Detroit Shipping Company, which is a high-traffic eatery especially on the weekends with thousands stopping by. He is an active participant in the Berkley community and enjoys entering its Soup & Chili Cook-off.
Republica is located at 1999 Coolidge Hwy and is open for lunch and dinner, 12:00 P.M. to 9:00 P.M. Monday through Thursday, Fridays and Saturdays 12:00 P.M. to 10:00 P.M., and Sundays 12:00 P.M. to 8:00 P.M. Carry out is offered online through GrubHub. For more information, call 248.268.3175.