Coco Fairfield's Fresh Food for the Whole Family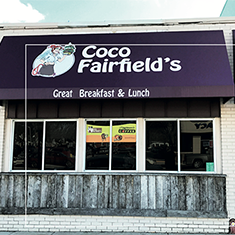 By Sara E. Teller
COCO FAIRFIELD'S IS A BREAKFAST-AND-LUNCH DINER with classic eats like Belgian waffles, pancakes, omelettes, and fresh soup, sandwiches, and salads. They not only offer traditional favorites, just about everything on the menu can be made gluten-free.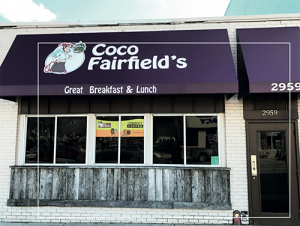 Nicole Miller, who owns the restaurant along with her husband, Marty, said, "It had long been Marty's dream to have a little local sandwich restaurant, and together we opened Coco Fairfield's in August 2013. When the recession hit and displaced him from his auto- motive maintenance career, it was the start of the dream becoming a reality. We decided to take the plunge."
In their search for a "cute little downtown area," Miller said they just knew Berkley was the spot. "Marty likes to say that Berkley chose us. It just reached out and pulled us in!" she said. "We couldn't wait to open and be a part of this great little community."
Coco's food is always top-notch and made to order, and the owners source many items from other Michigan-based companies.
"We don't have deep fryers or microwave ovens," explained Miller. "Everything is made to order and cooked fresh. We buy our maple syrup from Doodle's Sugarbush located in Blanchard MI. We serve Zingerman's coffee locally roasted in Ann Arbor. Our meats are nitrate- free, and we use organic mixed greens in our salads."
A BERKLEY FAVORITE FOR THE PAST SIX YEARS, the restaurant has many regulars as well as those looking

for a destina- tion spot while passing through. Miller said, "We love our customers and clearly would not be what we are without them! We have a lot of regulars, mostly from Berkley and the surrounding areas, but also a good amount from further out like Bloomfield and Farmington. We've even heard we have a following from the Grand Rapids area. Seems some people came in to eat while they were in town…now if people are coming to the Metro Detroit area, they come to eat at Coco's."
Part of creating such a warm and welcoming atmosphere means the staff treats every customer like family and the menu and vibe are all consistent with a community feel.
"Serving great food is only one part," Miller explained. "We have the atmosphere and community that set us apart. And the community is the most fulfilling part of being a restaurant owner."
Coco Fairfield's is an active member of the Berkley Area Chamber of Commerce and helps to sponsor the Berkley Street Art Fest. The restaurant also regularly supports Berkley schools and many student teams through fundraisers and other events, as well as the Huntington Woods Men's Club annual auction and Women's League annual home tour. Miller is currently the Chamber president (through the end of 2020) and spends her time volunteering at local activities around town like the Art Bash, Pub Crawl and the Irish
Festival.
"Our staff loves helping people and and supporting the community as it grows and evolves with the ever-changing businesses."
COCO'S WILL SOON BE EXPANDING to a new, larger building off of 12 Mile. The added space will accommodate its growing customer base and allow the restaurant to offer patio seating in the back.
"We should get approval of our plans any time now and able to start the renovation," Miller said. "It's going to be great! We hope to be complete by fourth quarter 2019."
Coco Fairfield's is open from 7:00 A.M. to 3:00 P.M., Tuesday through Sunday. It is closed on Mondays. For more information, call 248-399- COCO (2626) during normal business hours. A menu can be found online at www.cocofairfields.com/menu