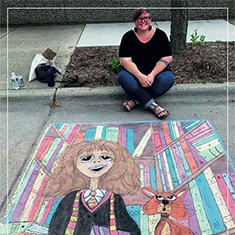 Photos By Ashley Poirer & Rich Young
The Berkley Street Art Fest started in 2017 and focuses on creating art in the streets of Berkley with chalk and murals. Bridget Mahrle, chair of the Berkley Street Art Fest committee, has worked with a committee of community volunteers, businesses and Chamber staff for the past three years to create this festival that takes place on the second Saturday in July.
On the second Saturday in June, the Art Bash shuts down 12 Mile Road between Kipling and Buckingham Avenues and over 150 artists and makers sell their products. April McCrumb, co- owner of Catching Fireflies and Yellow Door Market, founded the festival with photographer and former Chamber member Maureen Monte.
"Maureen did it for a few years and was moving on with her business, so she left me in charge. I was a good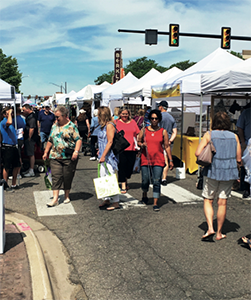 fit for the job. I did art fairs for many years and had connections with artists," McCrumb says. "I took it on and grew it to what it is today. We started the first year with 50-to-70 artists and now are at 150."
The free event attracts over 10,000 people each year and invites a variety of artists to appeal to visitors' every interest, everything from jewelers and authors to candlemakers.
"WE TRY TO SEEK OUT DIFFERENT TALENT. WE GO TO A LOT OF ART FAIRS and find things that are appealing in price and style," McCrumb says. "Everyone can come and bring a few treasures home without breaking the bank."
The entertainment extends past art lovers to include fun for pets and kids too.
"We always want Art Bash to be family-friendly. We are very intentional about bringing in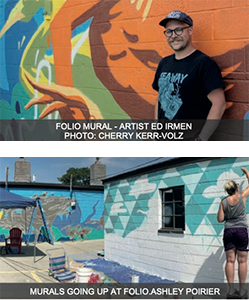 inflatables, face painting, kids crafts – anything kids would enjoy," McCrumb says. "We are pet- friendly too – you can bring your dog and vendors sell dog treats, collars, cat treats and infused catnip."
McCrumb runs the Berkley Art Bash alongside RoseAnn Nicolai, events and operations manager for Berkley Area Chamber of Commerce, who is also involved in the Berkley Street Art Fest. Artists interested in participating can apply for the 2020 Art Bash starting January 1st at berkleyartbash.com.
"I presented the concept after discovering the West Michigan Chalk Art event. I felt it would be a wonderful event to bring to Berkley's Coolidge Shopping District to bring more awareness to the new and established businesses," Mahrle says. "Our first year was held in a newly-developed parking area behind Sugar Kisses, Peggendott Designs and Berkley Eyewear stores." Darlene Rothman, Executive Director of the Berkley Area Chamber of Commerce, visited other chalk festivals in Michigan to discover the best format for the Berkley community.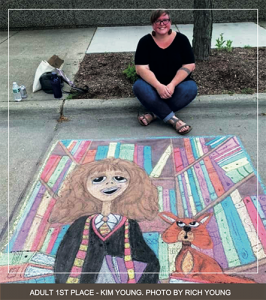 THE STREET ART FEST NOW DRAWS CROWDS OF OVER 6,000 and that success has led to the City shutting down Coolidge Hwy. from Catalpa to Wiltshire for the event. More than 30 chalk artists of varying levels of aptitude compete, and muralists create permanent pieces on walls throughout the Berkley Business District.
"To date, we have installed 18 permanent murals located throughout the City," Mahrle says. "The Berkley Street Art Fest also has artists and other vendor booths, food trucks and family activities where attendees can create art."
Vibe Credit Union, a major sponsor, presented the 2019 event. Atomic Dawg hosted the beer tent, a first for 2019, and flame-eating jugglers and other street entertainers performed. The event attracts world- famous artists including David Zinn, Ann Arbor-based 3D chalk artist, who has presented at each event since 2017.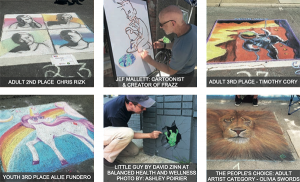 "This year's event was even more special because Berkley became one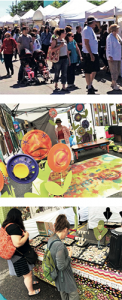 of six cities worldwide that has permanent artwork created by Zinn on local buildings; Balanced Health & Wellness and the Berkley Public Library," Mahrle says.
For information about the 2020 event, visit www.berkleystreetartfest.com. Both the Street Art Fest and the Berkley Art Bash have helped to highlight the creative talents of Berkley residents and increase business for retailers and restaurants along two main intersections in the City.