Berkley's Superintendent Dennis McDavid Wants Students To Feel Inspired & Empowered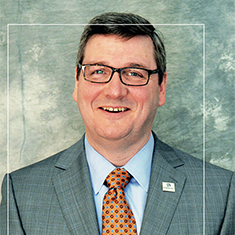 By Sara E. Teller
DENNIS MCDAVID IS SUPERINTENDENT for the Berkley School District. He has served in his current role since 2012 and has been with the District since he was hired in 2005 as an English teacher at Berkley High School.
He joined Berkley schools after working for thirteen years in the private sector at well- known companies such as Chevrolet and OnStar. McDavid held a leadership position at OnStar just prior to making a complete career switch and returning to college to pursue a teaching degree.
McDavid earned his certificate at Arizona State University and his master's degree in educational leadership from Oakland University in Rochester, Michigan. He briefly worked at Phoenix North High School in Phoenix, Arizona, before transitioning to Berkley schools.
In 2007, McDavid was asked to make the move from teacher to principal at Berkly High School, a position in which he could put to use his previous experience leading teams. While McDavid was serving as principal, he contributed to many noticeable improvements at Berkley High, and for the District as a whole, including improving high school achievement scores and enhancing the Professional Learning Communities (PLC) model. PLC is a systems- based approach to school improvement in which educators are organized into teams and each team is responsible for its part in working with other groups to achieve district-wide goals.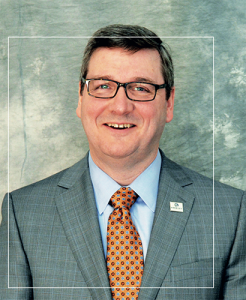 In the Fall of 2009, McDavid assumed the role of Director of Schools & Human Resources, and in March 2012 he was named Superintendent. As Superintendent, McDavid currently oversees the daily operations and sets the tone and tenor of the district. His work has primarily been focused on improving educational outcomes for all students and creating pathways for each child to be successful. This includes attracting and retaining only the most talented and qualified teachers and administrators to be part of the Berkley team.
McDavid said, "We prepare our students to be creative, curious, confident, and critical thinkers. Berkley students enjoy the multitude of experiences and successes because of the overwhelming community support, the fantastic work of their great teachers and administrators and the rich and vibrant environments that parents create. We believe we are all in this together for the benefit of all our children."
MCDAVID BELIEVES IN MAKING SURE students "feel inspired, empowered, and are given the tools to become leaders." He also believes "all students should feel loved and know that they belong in the classrooms, hallways, groups, teams, and in the Berkley Schools
community."
McDavid added, "We have a commitment that our students' experience is within the context of a safe and nurturing environment where high achievement includes academic excellence, opportunities for language, fine arts, athletics, enriching experiences and the development of personal skills for lifelong success."
An open line of communication is kept post-graduation, he said, and recently, the superintendent shared with those in the District, "Remember that whatever you do and wherever you go, there is a group of people in this district who believe in you, who love you and are supporting you in all that you do."
MCDAVID KNOWS THAT THE SUCCESS OF BERKLEY SCHOOLS is made possible by all staff members and is the product of the "continual commitment of each staff member to take risks, to strive for continuous improvement, and to set positive examples and develop relationships with students, each other and the community."
In 2007, McDavid was named Berkley School District Teacher of the Year, and in 2018, he was one of four people in the nation to be named a Kennedy Center/Stephen Sondheim Inspirational Teacher. He is a member of the Michigan Association of School Administrators (MASA), the American Association of School Administrators School Superintendents Association, the Association of Supervision and Curriculum Development (ASCD), the Oakland County Superintendents Association (OCSA), and the Oakland Schools Legislative Committee.