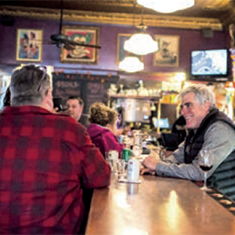 By Sherry Wells
Photos by David McNair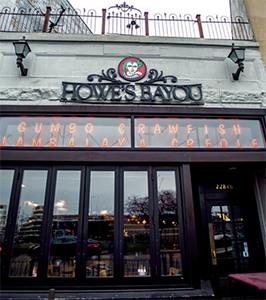 I FIRST MET DEAN BACH, AKA "DINO" OF DINO'S LOUNGE, when he personally delivered food he was donating to the Relay for Life Survivors & Caregivers Tent as part of his efforts to give back to the community. As a bar owner, I expected he'd still be in bed after working into the wee hours. I was a member of the Ferndale Rotary Club at the time, which sponsored the tent. Dino also provided food for a Rotary fundraising dinner, personally bringing it too.
As did Michael Hennes, owner of Howe's Bayou. Mike rushed in, wearing a long, starched-white apron that covered him from neck to almost ankles. He was there to see whether more of his entree was needed.
BOTH BACH AND HENNES HAVE BEEN INVOLVED WITH FERNDALE'S DOWNTOWN DEVELOPMENT AUTHORITY for over ten years, with Bach becoming chair in 2015. Hennes has also served on city committees and task forces.
For the last several years, Hennes has not only donated the entire dinner for the Peace Action annual Peace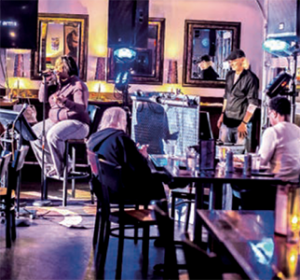 Builders Award banquet, he and his partner, Patricia Barker, have been personally serving it as well.
Hennes also merits a nod for keeping some of Ferndale's familiar streetpersons busy and fed, with odd jobs to earn a meal.
I learned that Hennes visits New Orleans once or twice a year to stay current on the cuisine. Any excuse will do!
Dino's introduced me to grilled corn on the cob. Yum! The grill master that day was Dino himself. I told him how much I admired his community involvement.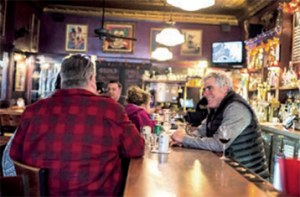 "Well, my CPA keeps telling me I overdo it," he shrugged.
Yet he hasn't seemed to have cut back. Wounded Warriors has been high on his list, informing the public himself about the need. Dino has provided space for non-profit events in his second local spot, the M-Brew, including in the lower video arcade room. Both have provided cosponsorships and gift certificates for fundraisers.
MY THIRD FAVORITE FERNDALE BAR OWNER IS JEFF KING OF THE IMPERIAL and Public House. I frequently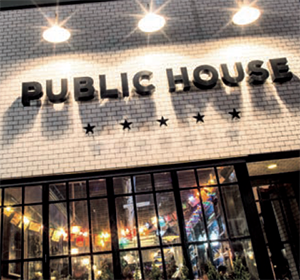 walk by the back of his Public House and noticed that recorded music playing in their patio could only be heard when I was within five feet at most of its perimeters. I walked in to tell him or a manager how much I appreciated that. "He gave us strict orders to keep the music level down so it can be heard only in the patio," his bookkeeper told me. Rex, his manager at the Imperial, said music is to be "Enjoyed, not overheard" by customers and neighbors.
Jeff recently chose the Disabled American Veterans to benefit from one of his many "ten percent of the day's proceeds" events. Although local organizations are his priority, his annual Cinco de Mayo Skateboard Auction has aided hurricane relief for Mexico and Puerto Rico.
His next idea is Twelve Days of Christmas, starting December 12, with each of 12 beers – at Public House, or 12 cocktails – at The Imperial, representing a different charity and $1 a drink going to that charity.
These three members of our community set the bar and keep raising it for good business blended with community involvement.