Ferndale's Marching Band/Color Guard Compete at State & National Level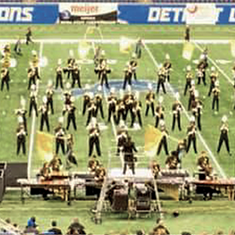 By Sara Teller
THE FERNDALE HIGH SCHOOL GOLDEN EAGLE MARCHING BAND has been a participant and state finalist in the Michigan Competing Bands Association (MCBA) for over three decades.
"A competitive marching band at this level means that they create and perform a show much akin to a theater production throughout the summer and fall," explained Elon Jamison, Ferndale Schools' Director of Bands. "A competitive band is distinguished from a 'half-time band' that primarily performs at home football games, though they may do a competition or two."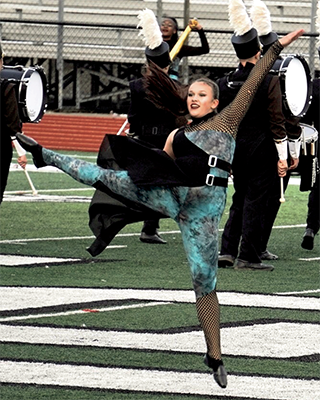 This year, Ferndale schools had Sean Forbes, a deaf rapper from Detroit, show the band how to properly sign his song, 'Watch These Hands' during its show entitled 'The Sounds of Silence.' The performance consisted of four movements that led to a second-place finish at the annual MCBA State Finals.
JAMISON SUMMARIZED THE SEQUENCE. "The first movement explored the 'silence' created in Beethoven's head caused by severe tinnitus as he composed and performed in the latter half of his life," he said. "The second part used several different lullabies to put the band to 'sleep' – another form of silence. "The third movement was all based around Forbes' song, 'Watch These Hands,' and served the concept in two ways. The first was to attempt to make the marching band accessible to the deaf and hard-of-hearing community.
The second way was to give our hearing audience the silence that occurs when marching bands are rehearsing but not playing. The last part of our show was a treatment of the Simon and Garfunkel classic, 'The Sound of Silence.'" Jamison added that "it takes a village" to make sure band members have time to rehearse and compete. Many parents volunteer in a variety of capacities including serving lunch at weekend rehearsals and laundering the band's uniforms. They also volunteer to be part of the pit and prop crews.
"Another big job," Jamison said, "is being a camp chaperone, which means traveling to Interlochen for a week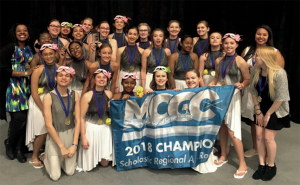 in August, and living with a dozen teenagers, keeping them physically and emotionally healthy and well-rested, so they can rehearse nine hours a day to learn that year's show."
MUCH LIKE OUR BAND, FERNDALE'S WINTER GUARD is also a force to be reckoned with, and it's back after a "decade hiatus," according to instructor Jennifer Batsios. The team is comprised of more than 24 Ferndale students, grades 8-12, and competes in the Michigan Color Guard Circuit (MCGC).
"The team placed first in its competitive class in 2018 and rose to a higher competitive class for the 2019 season," Batsios said. "For the 2020 season, the Ferndale Winter Guard will compete not only in MCGC in the next competitive class level, Scholastic A, but will be returning to the national circuit, Winter Guard International (WGI), where it will compete with more than 130 teams from around the country."
Ferndale's Winter Guard begins rehearsing in November and competing in January. "The team will compete throughout Metro Detroit in preparation for state championships at Saginaw Valley State University at the end of March," Batsios explained.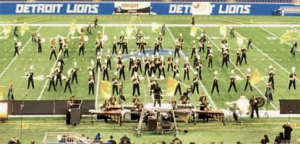 "Following state championships, the team will head to Dayton, Ohio to compete in Winter Guard International World Championships in April." WGI is an extensive organization. There are more than 33,000 participants at the regional level and more than 16,000 participants at the Sport of the Arts World Championships.
Batsios is incredibly proud of the guard, saying, "The students continue to amaze me with their dedication and level of performance!"
For information about Ferndale's band, contact Elon Jamison, elon.jamison@ferndaleschools.org.
For information on the color guard, contact Jennifer Batsios, theferndalecolorguard@gmail.com.