LifeLab Kids: Using Music, Art & More to Help Kids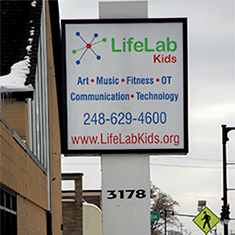 By Sara Teller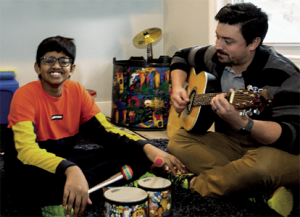 JAI REDDY WANTED TO CREATE A COMMUNITY WHERE CHILDREN OF ALL ABILITIES, including his 12-year-old autistic son Arjun, felt comfortable learning and engaging. A community that provided support beyond traditional therapy options and allowed students to utilize whatever methods might best benefit them.
This led to the concept for LifeLab Kids in 2017 and, over the past two years, Reddy has worked tirelessly to develop the nonprofit, recruit experts in several differing therapy fields and remodel a 1950s church at 3178 Hilton Rd. into a state-of-the-art learning facility, which opened in February 2019.
"Basically, this place provides kids with a multitude of options that nurture their interests outside of the regular clinical therapy that's available and quite popular out there," Reddy says. "It's not that everything we are doing is non-existent, it's that you have to go out and find them in different places with a lot of driving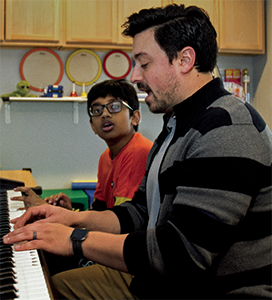 around."
THE FOCUS AREAS OF LIFELAB KIDS ARE RECREATIONAL, speech, music, art, occupational and technology therapies and life skills. Each of these specialties has its own dedicated space within the building. Mathew Bessette, MA, MT-BC, music therapist at LifeLab Kids, walks through each of the areas – starting with the music therapy room.
"Using music, I can find motivation within the student to work on things that are hard. It's more motivating because of the activity you are doing and the reward of what you are producing," he says. "Having a lot of instruments in that room gives us all kinds of different tools."
There is a full gym used for recreational therapy and "building play and leisure skills" and an occupational therapy room for working on fine motor functions and sensory matters. The art therapy room contains three pottery wheels, a kiln and an entire plexiglass wall for finger painting.
"We have a giant space dedicated to art therapy. Bridgette Crockett (Counselor) is our art therapist, as well," Bessette says. "She works a lot in emotion expression and uses art as her medium."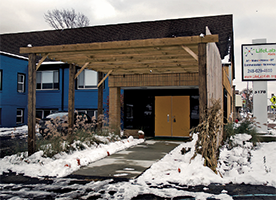 THE MAJORITY OF THE DOWNSTAIRS SPACE AT LIFELAB KIDS is dedicated to life skills and technology and was designed to emulate an apartment.
"We have kids that need work on activities of daily living skills," Bessette says. "If they need to stepwise learn how to do laundry, we have laundry machines. Or if they need to learn how to cook, there is a full kitchen and a dishwasher."
Technology has been incorporated into the living room space and has a separate room dedicated to augmented and virtual reality (VR).
The expertise and collaboration of the therapists were one of the most important aspects of opening LifeLab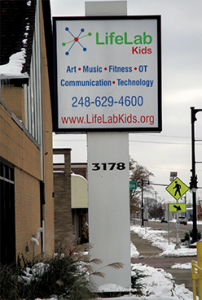 Kids. There are nine therapists on staff now and that makes things happen at LifeLab Kids. Reddy is also conscious of the number of students they can take on, not wanting to exceed more than 60-70 students for the year of 2020.
Reddy says the next year will be focused on stabilizing programs and beginning their outdoor facilities. Their next open house will be December 13th and will feature holiday and Christmas sensory-friendly activities. All are welcome to check out the space and meet the team.
Families interested in touring or enrolling in LifeLab Kids can reach out by phone at 248-629-4600 or email contactus@lifelabkids.org.