The Case of Karim Khamarko, Family Man & Business Owner, Remains Open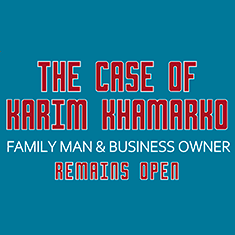 By Sara E. Teller
My dad, brother, and sister all worked at the video store," recalled Khamarko's daughter, Candace Samona of Southfield. "When the dollar store opened, my dad, mom, and I all worked there."
Everyone was fond of the well-known business owner, who, in 2010, at just 64-years-old, was tragically taken away in an instant when he was shot and killed in an armed robbery.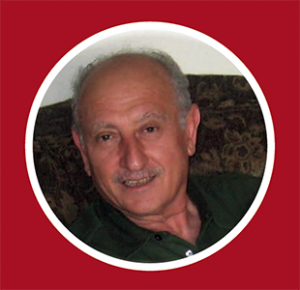 A press release from the Ferndale Police Department reads in part, "On November 26, 2010 at approximately 9:00 P.M. Ferndale police responded to the Dollar Club Plus at 2750 Hilton Road, Ferndale, Michigan. A witness called 911 to report the owner of the store, Karim Khamarko, 64, of Southfield, Michigan, was laying on the floor of the business bleeding and having trouble breathing…Officers discovered Khamarko had been shot several times and was gravely injured…Ferndale Fire/Rescue transported Khamarko to William Beaumont Hospital-Royal Oak where he died."
Just like that, the kind-hearted father and grandfather of three, was gone.
"My dad was the best person," Samona said fondly. "He was a loving dad, married to my mom for 34 years and, at the time he passed, had three grandchildren. He now has six."
Every night, before he closed the store, Samona said Khamarko would call his grandkids and ask them what kind of balloon they wanted him to bring home. She called him "the best grandpa."
KHAMARKO WORKED JUST AS HARD AS HE DID AT HIS BUSINESS when he was home, too, ensuring he always kept his family happy.
"My mom and dad were best friends," Samona said. "I got married five years ago and feel so lucky to have had an example of what a marriage should be." It is a shame, she added, that her parents' bond was severed so suddenly.
The case has remained an open investigation for nearly a decade, a police press release stating, "Detectives followed up on many tips and leads throughout the initial phase of the investigation but unfortunately, none of them led to the identification or arrest of a suspect. Since 2010, this case has remained open and detectives have periodically re-examined the case file in hopes of discovering new information that would bring the killer of Karim Khamarko to justice."
Then, in late October 2019, Ferndale officers, following a tip, apprehended a 48-year-old male from Romulus, and immediately asked for an arrest warrant for murder from the Oakland County Prosecutor's Office. Old wounds resurfaced for Khamarko's loved ones.
Yet, soon after, the case stalled again. On Friday, November 1, according to the report, officers "were notified by the Oakland County Prosecutor's Office that the case we submitted to them concerning the murder of Ferndale business owner Karim Khamarko did not contain sufficient evidence for them to issue an arrest warrant at this time." Without the prosecutor's blessing, the man was released.
POLICE CHIEF VINCE PALAZZOLO, ON BEHALF OF THE DEPARTMENT, offered hope, "We appreciate the careful consideration of our Prosecutor's office as they spent hours examining the evidence our detectives brought them. We are ever mindful of the interplay of checks-and-balances designed into our criminal justice system that seeks to ensure the fair application of due process for those accused of crimes." The case remains an "open and active investigation."
"It's hard to explain," Samona said of how the family is holding up. "Because the pain is there all the time. It never goes away." Regarding the new development, she said they had "mixed emotions" adding, "We would like to thank the residents of Ferndale and the police department for being so supportive over the years."