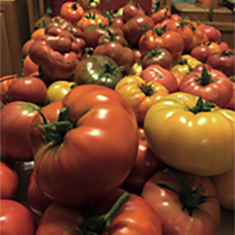 WHETHER YOU HAVE AN ESTABLISHED GARDEN, A HOPEFUL STRIP OF DIRT WAITING FOR YOUR TROWEL, OR JUST A POT OR TWO, you can grow easy-to-care-for plants to brighten your yard and your plate. You can also skip spraying your lawn and harvest delicious edibles from it instead. (Not applying pesticides is better for bees and other pollinators, plus you'll save money and won't be contributing to pesticide run- off flowing into city water systems.)
When pondering what to plant, non-invasive native species are always a good idea since they'll thrive all on their own. Noninvasive imported plants work well, too, assuming that they're suited to our hardiness zone. In most of Oakland County, that's Zone 6, with a few areas being Zone 5.
LETTUCE
Although lots of veggies are relatively easy to grow, lettuce is by far the easiest, especially if you'd like to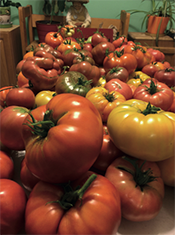 grow something from seed. Unlike tomatoes and beans and peppers, lettuce doesn't need any kind of support structure, and it doesn't need as much sun, either. One caveat: lettuce needs to be protected from voracious bunnies!
An outdoor bistro table or chair makes an excellent lettuceperch, or you can use an outdoor plant stand to get your lettuce off the ground and away from marauding rabbits. (If you have a surplus of large pots, turn one upside down and put another one on top of it — filling it with dirt should make it stable enough to plant your lettuce in.) Fencing in your lettuce also works, but another advantage of using pots is that you can move your lettuce from one spot to another if it seems to be getting too much or too little sun.
Lettuce comes in many shapes and shades: closed-head varieties (crisphead, iceberg), looseleaf (red leaf, green leaf), and in between (romaine, bibb), and in hues from pale green to deep red. The more loosely the lettuce grows, the more nutrients it contains — a greater number of exposed leaves means the plant has to have a stronger immune system to defend itself from bugs and fungi that try to attack it. Deeper reddish hues also offer more nutrients in terms of anthocyanin content, which is a pigment that functions as an antioxidant. Another nutritional bonus: Lettuce is high in anti-inflammatory omega-3 fats. The flavors and textures of different varieties of lettuce vary, but they're all easy to grow.
HERBS
Like lettuce, herbs also grow well in pots. Large-leafed herbs like basil and mint also have especially high amounts of anti-inflammatory omega-3 fats. (And come in many different varieties! Purple ruffled basil, anyone? Or how about chocolate mint?) In terms of culinary applications, you just can't beat fresh herbs that you can snip whenever you like. Plus, you can dry them at the end of the season to enjoy your garden bounty even in the winter months.
FLOWERS
If you're looking for something pretty and practical, plant edible flowers like nasturtium, violets, pansies, and roses. Flowers from herbs and alliums are also edible and often stunning in their own right, so even if you don't eat them, you can enjoy looking at them. (And chives are possibly the most hands-off perennial plant you can have.) Herbal flowers like lemon balm, lavender, are particularly beloved by bees, too.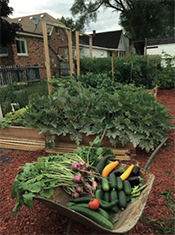 LAWNS
The biodiversity of an unsprayed lawn is stunning, and a lot of it is edible: Dandelions (the flowers, leaves, and roots), red clover flowers, wood sorrel leaves (wood sorrel kind of looks like shamrocks and is tangy with vitamin C), violets, plantains (aka psyllium in health food stores), purslane (an incredible source of omega-3s), and many more valuable "weeds."
Don't spray your lawn — eat it!