Busy Bs: BNektar's Fascinating & Delicious Line Of Meads, Ciders, And Beers Have People Buzzing…. And Buzzed.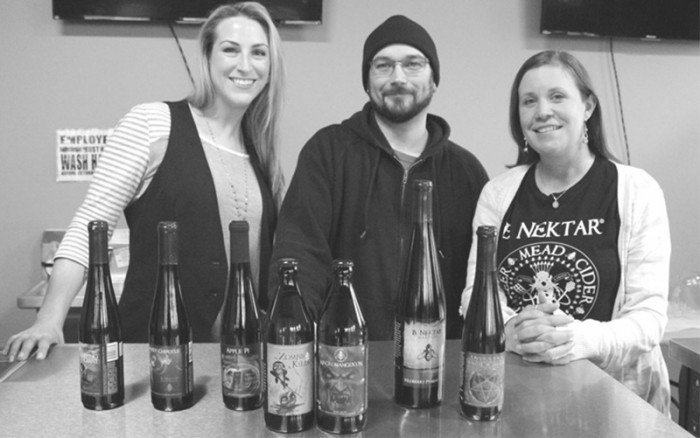 Story by Jeff Lilly | Portrait of Kerri, Paul, and Miranda by Jeff Lilly | Other photos courtesy of BNektar
Drive along Wanda Street, on Ferndale's East side, to Jarvis Street. There, among the aging industrial buildings, a beehive of activity has taken root. BNektar has been brewing exquisite alcoholic potables since 2006; mead (an alcoholic beverage made from fermented honey,) wines, and recently, small batches of beer. A spacious and comfortable tap room is open five nights a week, serving the company's products and offering bottles for sale.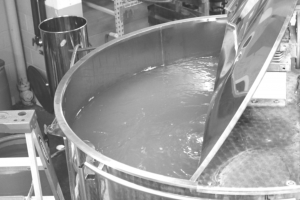 BNektar's beginnings were humble enough: Ferndalian friends experimenting, brewing mead in their basement. Brad and Kerri Dahlhofer and Paul Zimmerman, however, had no idea what they were uncorking at first.
"I was home-brewing with Brad in his basement." Paul (now director of product development) recalls. "But (selling it) was Kerri's idea."
"I don't think they thought I was serious, at first." Kerri laughs.
Out of a job at the time, Kerri decided to take the leap. After heavily researching liquor laws and licensing, the search was on for a place to call home.
"We were originally looking to open in Royal Oak," Kerri says. But a newspaper article mistakenly stated that they were looking in Ferndale. "So the City contacted us and said…'Hey, we've heard of you.'"
The City of Ferndale helped them to find a space and assisted with the intricacies of the paperwork, and the facility opened its doors in August of 2008.
Originally housed in one 1100-square-foot building, BNektar now boasts 16,000 square feet of floor space at the main building, plus the beautiful and spacious tap room, plus a second facility under development down the street that, once it comes online, will triple BNektar's capacity.
So how does a meadery that begins in a basement get their products noticed in what's become an extremely
competetive microbrew environment?
"We're in 23 states now, as well as several countries in Europe." Says Miranda Johnson, BNektar's marketing director (her business card titles her "Ambassador of Buzz"). "We look at markets that actually want us. We work with our distributors.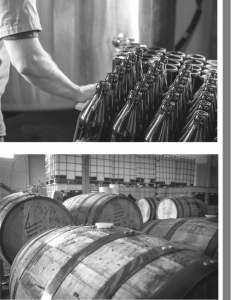 Plus, we offer something that's unique." But the biggest weapon seems to be word-of-mouth, and the enthusiasm of the people running the many web sites dedicated to the appreciation and review of potent potables. "We get e-mails from everywhere. The cool thing is…people going to visit their aunt in the Carolinas, and they're like, 'They have Zombie Killer (BNektar's flagship cider) and I live in Iowa. Where do I get this?' and they call me. It allows us to engage with future customers."
"There's also a lot of trading." Kerri chimes in. "People get unique brews from different areas, and then they trade with people in other areas who have stuff that we can't get… word spreads." BNektar had reviews of their products coming in from Belgium, for example, before any of their products were offered for sale there.
BNektar began with six different flavors of mead. Now, at any time, there are at least 20 flavors available in the tap room, and they're always adding new ones. Paul gets a question about their flavor experiments.
"I don't usually want to make a mead with just one thing… I want some more depth to it," He explains. Part of the inspiration comes from a love of cooking in general and knowing what flavors go together.
Necromangocon, for example, is a mead brewed with mango and black pepper, which is "a classic combination." The naming seems to be half the fun; you can also try "Kill all the Golfers" (a black tea and lemon-juice mead) or "The Dude's Rug" (a hard cider with chai spices) among many other choices.
Sometimes the experiments backfire, or run into unforeseen straits. Paul recounts the story of a certain mead that ran into trouble when the supply of citrus used to flavor it first fluctuated wildly in quality, then dried up altogether. Though he loved the results, "I have no desire to make (that one) again!"
With BNektar's expansion, will this whole industrial area east of the train tracks soon become a sort of Alcohol Alley? The three busy Bs laugh a bit, then smile in a way that tells me that the thought has already occurred to them…so let's raise our glasses high, to the future!
BNektar's Taproom is located at 1511 Jarvis Street in Ferndale. Patrons are encouraged to bring their own food. Tipping is not allowed; BNektar pays its workers a living wage. The Taproom is open Thursday through Monday.
—-
Check their web site for operating hours and for more information: www.bnektar.com
If slightly happened with our health, we believe there is a solution to any maladies in a cure. What medicines do patients purchase online? Viagra which is used to treat impotence and other states united to erectile malfunction. Learn more about "sildenafil". What people talk about "viagra stories"? The most substantial aspect you must look for is "sildenafil citrate". Such problems commonly signal other problems: low libido or erectile disfunction can be the symptom a strong soundness problem such as heart trouble. Causes of sexual disfunction include injury to the penis. Chronic disease, several medicaments, and a state called Peyronie's disease can also cause sexual malfunction. Even though this physic is not for use in women, it is not known whether this curing passes into breast milk.