Home
Culture
Dave Mesrey: Writer, Detroit Historian, Preservationist, Volunteer and Ferndale President
Dave Mesrey: Writer, Detroit Historian, Preservationist, Volunteer and Ferndale President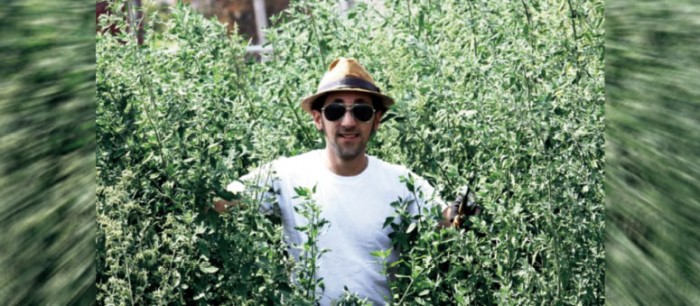 Story by David Wesley
Photos by Bernie Laframboise
Dave Mesrey is one of the many torches in Detroit helping to keep the city alight and colorful. His work is appreciated but not noted nearly enough to show the gratitude he deserves for his efforts. He's a great reflection and representative of the city: he's gone through bleak times and weathered the storms of change to prove things like cities and lives can be destroyed but never defeated. At 47, Dave Mesrey has become something of a local presence in the last few years with his work at Metro Times and at Navin Field. His past is shrouded in mystery, but I managed to pull the curtain back on his persona — with his permission of course.
David confesses to Ferndale Friends on his first run-ins with Metro Times: "I'd been reading it off and on since about 1989. I was a fan of Curt Guyette's and Michael Jackman's work, as well as Larry Gabriel, Jack Lessenberry, and the great music writer Brian Smith. I knew I wasn't in their league, but I thought maybe I could trick 'em into hiring me as their copy boy. It worked! From 2013-2015, I got to work alongside some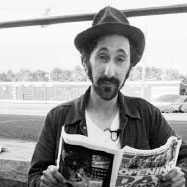 major young talent like Ryan Felton and Lee DeVito. Prior to that, I even got to work in their Greektown office for a spell. In the '90s I studied creative writing at WMU under Jaimy Gordon, who went on to win the National Book Award for Fiction in 2010. I've got a story about her, but it's not for print.
Currently, I'm working on a short story for inclusion in Aaron Foley's new Detroit neighborhood anthology for the Rust Belt Press. Aaron asked me, and I was honored. I lived for 24 years in Detroit's Morningside neighborhood on the Far East side. I've got a lot of stories from my old neighborhood. I've never really had to travel far to find a good story.
When his history in downtown Detroit is mentioned, I ask him about his work at historic Navin Field. "Navin Field​ is the historic name of Tiger Stadium, which opened at the corner of Michigan and Trumbull on April 20, 1912.  Ty Cobb scored the Tigers' first run by stealing home in the bottom of the first, but it was actually another guy who scored the very first run there in the top of the first inning: none other than Shoeless Joe Jackson. That's why I like to say Navin Field is the real field of dreams.
"Six years ago, a local mailman named Tom Derry founded the Navin Field Grounds Crew, an all-volunteer group that restored and maintained historic Navin Field after Tiger Stadium was demolished in 2009. I thought Tom had the right idea, and I still do. He's been a real inspiration for all of us. For six years, Tom led the effort to preserve the Tiger Stadium site and restore it to playing condition. It was really a labor of love.
In addition to my volunteer work with the Navin Field Grounds Crew, I'm a freelance writer and producer, and recently helped produce a segment for Channel 4 about Motown, Marvin Gaye, and his landmark album, WHAT'S GOING ON. I also interviewed former Detroit Lion Lem Barney for a piece in Metro Times. I also throw a birthday party every year for the late, great Mark 'The Bird' Fidrych in Corktown. We call it the Bird Bash."
Dave has the candor and color of a rainbow and our chat pinballs from subject to subject. Ferndale pops into the conversation quickly, between bumpers of beers at Anita's Kitchen. "I lived in Ferndale for four years, and I loved it. I like shopping at the Food Patch, I always take my bike to the Ferndale Bike Shop, and I love eating here at Anita's. Joe and Jen Wegryzyn make you feel like family. I also have a penchant for sheltering wayward creatures. I've long been something of a wayward creature myself. To that end, I've turned my house into a mini animal rescue. It's still a work in progress. Aren't we all?
Our mutual writing projects come up, and he tells about a historical piece he's working on about the history of the Hazel Park Racetrack. In 1980 his father died of a heart attack in the back of the grandstand. "The track has always been a magnet for me. Ever since my father first took me there in 1974. There's something really spellbinding about the track for me. I've never been to Santa Anita or Churchill Downs. Hazel Park is the only track for me." He says he will have been in the grandstand for opening day. "I wouldn't miss it for the world." he says.
As we wrap up our talk, and Woodward streaks and shines beside us with rush-hour traffic ten feet away, he gives me a parting punchline of good faith, "If you were to ask me what I want to be when I grow up, I'd probably say, 'Good question. I'm still trying to figure that out.'"
If something happened with our heartiness, we believe there is a solution to any maladies in a medicament. What medicines do patients purchase online? Viagra which is used to treat emasculation and other states connected to erectile disfunction. Learn more about "sildenafil". What folk talk about "viagra stories"? The most substantial aspect you must look for is "sildenafil citrate". Such problems commonly signal other problems: low libido or erectile dysfunction can be the symptom a strong heartiness problem such as heart trouble. Causes of sexual disfunction include injury to the penis. Chronic disease, several medicaments, and a condition called Peyronie's disease can also cause sexual dysfunction. Even though this medicine is not for use in women, it is not known whether this treatment passes into breast milk.