Offstreet Skateboarding Coming to Ferndale!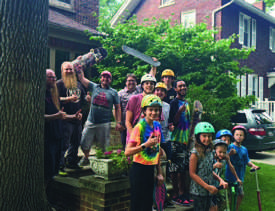 By Sarah Teller
THE CITY OF FERNDALE WILL SOON BE THE PROUD HOME OF A NEW SKATEPARK, courtesy of a
$250,000 grant received from the Tony Hawk Foundation.
Ferndale was one of six of this summer's chosen recipients, and the skatepark will be the first of its kind in the community. The Built to Play Skatepark Program, a result of a partnership between the Tony Hawk Foundation (THF) and the Ralph C. Wilson, Jr. Foundation (RCW), launched in the Spring with a goal of providing free community spots particularly centered around area youth. RCW serves the Western New York and Southeast Michigan regions.
"We found out there was a grant available only a couple of weeks before the deadline," said resident Brad Dahlhofer, co-owner of B. Nektar Meadery.
"The Ferndale Parks & Recreation Department and I worked on drafting the application, and got it submit-ted just in time. I'm not sure exactly how they decided who would be selected, but I'm very excited and honored that Ferndale was chosen." He added of the proposed location, "The park will be at Wilson Park, on the site of the former street hockey rink."
The skate park will be a space for skaters of all ages and skill levels to enjoy. "We are already discussing summer skatepark lessons and camps for the kids," Dahlhofer said. "It is so important to give kids a space to skate other than the streets, parking lots, and sidewalks. It's much safer because they don't risk getting hit by cars, or potentially harming pedestrians while they skate. While we don't have an official timeline, our goal is to have the project awarded in time to break ground in the Spring."
OTHER MICHIGAN COMMUNITIES SELECTED for $250,000 grants included Detroit, Port Huron, Ypsilanti, and Port Huron. Ferndale's leadership team, specifically, was instrumental in bringing the park to residents.
"This would never have been possible without the support of the City. The City Council, Department of Public Works, and the Parks & Recreation Department have been fantastic to work with," Dahlhofer said. "The City and community came out in full force when the Hawk Foundation had their Skatepark Summit last month. We have also had a ton of support from Ferndale's local skateboard shop, Detroit City Skateboards."
There is a community design meeting scheduled for 7:00 PM on August 29th at B. Nektar Meadery, 1511 Jarvis, Ferndale. "There, we will discuss what kind of skating elements the community would like to have at our new park," said Dahlhofer. "These suggestions will be shared with the potential park designers and builders who will then bid on the project." Those who cannot attend are encouraged to join the Friends of Ferndale MI Skatepark group on Facebook to offer any suggestions. For more information, Ferndale Parks & Recreation can be reached at 248-546-6767.