Little Lotus Wellness: Yoga, Meditation & Health Workshops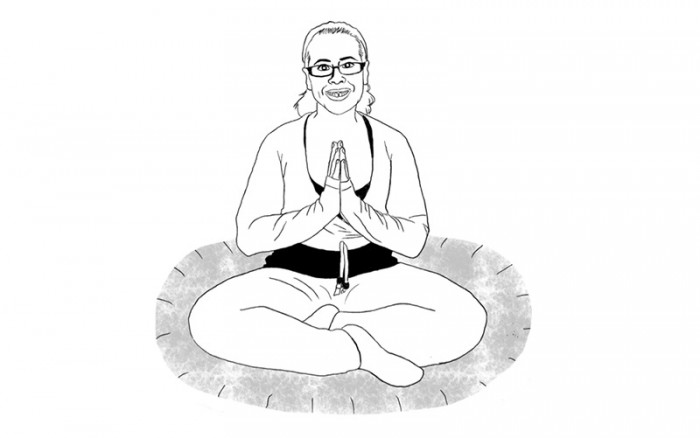 Story by Malissa Martin
Heather Cutlip, owner of Little Lotus Wellness, says that yoga is a brain training exercise that "forces your mind and body to be calm in a stressful situation." Cutlip began doing yoga as a way to cope with her stressful job as a restaurant manager. The benefits of yoga, she said, led her down the path to discover the world of wellness. "It really does start to apply to your everyday life. So you can kind of take it off the mat and learn to be more reflective instead of more reactive."
Later, she enrolled at Irene's Myomassology Institute in Southfield where she received her license in massage therapy. Soon after, she began looking for a space to start her business. Friends suggested Cutlip check out 195 West 9 Mile. "As soon as I found this location, it totally made the decision for me," Cutlip said. Originally from the East Side of Detroit, Cutlip said she always loved Ferndale. "I just got the vision in my head right away and said, 'okay, this is it,' and everything just flowed really easy from there."
Little Lotus Wellness opened in May 2014, and business has been growing thanks to word-of-mouth. "I think intimacy is what draws a lot of people here." Cutlip said. The average number of students per class is five, but the studio can hold eight per session. In addition to Cutlip, there are four other instructors at Little Lotus. The Yoga Basics and Yin Yoga classes are the most popular at Little Lotus right now. Cutlip iintroduced a new class in January at her studio called Rebel Warrior, which she describes as "yoga on steroids." Classes change seasonally to provide a variety of options for students.
Creating a calming atmosphere for each session is very important at Little Lotus. Music, candles, dim lighting, and a small bamboo fountain are just a few of the tools Cutlip uses to construct a stress-free environment for students."We wear all these labels every day. So when people come into class it's time to start shedding these labels. Just get down to you. In here you're not a co-worker, you're not a mother, you're not a husband or a wife. You just kind of focus on yourself." Cutlip explained.
Yoga classes and massages can be purchased in packages. Yoga packages come in sets of 5, 10, and 15 classes. There's also an unlimited yoga package available for $99 a month.
Private yoga group classes for bachelorette parties, office parties, and more are now available and can be catered to the group's needs. A meditation class meets every Sunday at 11:00 A.M. The class is free, but donations are appreciated. In addition to yoga and massages, Cutlip has many guests from the wellness community, such as life and health coaches, performing workshops at Little Lotus. Other workshops include intro to essential oils, mala bead making, and stress reduction. There's also movie night, once a month, where a film about yoga is shown in relation to its history, new practices, health benefits, and more.
—-
Contact Little Lotus Wellness at 586-344-6587 or check out the website at www.littlelotuswellness.com for more information.
If some happened with our heartiness, we believe there is a solution to any maladies in a medicament. What medicines do patients purchase online? Viagra which is used to treat impotence and other states coupled to erectile dysfunction. Learn more about "sildenafil". What people talk about "viagra stories"? The most vital aspect you have to look for is "sildenafil citrate". Such problems commonly signal other problems: low libido or erectile dysfunction can be the symptom a strong soundness problem such as core trouble. Causes of sexual dysfunction turn on injury to the penis. Chronic disease, several medicaments, and a status called Peyronie's disease can also cause sexual dysfunction. Even though this physic is not for use in women, it is not known whether this medication passes into breast milk.