Closing an Iconic Track : Hazel Park Bids Farewell to its Raceway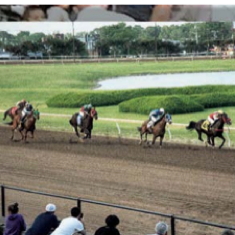 Story By Sara E. Teller
Photos by Wes Brooks
TO SAY THE HAZEL PARK RACEWAY, which initially opened its doors to the public in 1949, will be missed by the City and its residents is an understatement. The track ultimately closed in April of this year due to financial difficulties, leaving behind nostalgic memories for many longtime members of the community.
"The Race Track was an iconic, signature business for the City of Hazel Park," explained Hazel Park City Manager, Ed Klobucher. "It was what [the city was] most known for throughout the state and region. For many years after it opened, the track and the City had a symbiotic relationship, and in the '50s, the revenue racing generated made up roughly 50 percent of the City's general fund."
However, this changed significantly along with the times. "That percentage, over time, declined, and very substantially in recent years. It's been a shame to see," he said.
Klobucher called the track a "casualty of Michigan legislation" adding, "In 2004, casinos paid for a ballot initiative to limit other types of gaming, and it passed." Many foreshadowed back then that this would ultimately lead to the downfall of horse racing in the state.
Over
the years, the City of Hazel Park would host events at the track and Council members would be invited to attend Kentucky Derby day, which Klobucher said, "was a great, fun day" for all who went. "We would from time to time have special events at the race track, and work with them on a cooperative basis to do annual activities such as the fireworks and our Promise Zone dinners. The Promise Zone is a program that helps students pay for their first two years of college. We worked well together."
He feels the fireworks and Kentucky Derby day are two events that will no doubt be missed the most. "I was very disappointed to hear the track would be closing right before Derby day," he said.
He did mention that Ashley Capital, who has bought the site, offered to host fireworks, but added, "While I want to thank them for the kind gesture, it just can't happen in its current state."
Klobucher's experience at the Raceway dates back much further than his time in office, and he is certainly among those who will always view the track and the fond memories he's had there as a big part of his life.
"My parents would visit the track when I was a kid, and sometimes my brother and I were able to go. We'd head over there on Sunday afternoons with them and watch the thoroughbreds. One day, my mom hit a trifecta. She had walked down there with the neighbor ladies and came back excited to tell us she'd won," he reminisced. "I spent time quite a bit of time at the track myself as a kid and as a young adult. I, too, hit a trifecta at 18 and remember the joy of cashing in that ticket."
He explained that horse racing was so popular in the 1970s, "You used to see the roads around the Raceway all chained off. That's how many people would go. It was the only legalized form of gambling for many years – before the lottery, then the casinos and the Internet."
While the City's 2018 revenue will take a bit of a hit with the closing of the raceway, Klobucher is hopeful that future plans for the site will make up for the temporary dip. "Ashley Capital, the company that bought the area on which the northwest Tri-County Commerce Center was developed, purchased the remaining property at the track. There is a plan for two new industrial facilities. The company has been very successful so far, and the Center has done a lot of good for the community," Ed explained. "We've attracted Amazon and LG Electronics. Drawing in LG is very exciting. They are going to be the exclusive builder of the batteries for the new Chevy electronic vehicles and will be doing this in Hazel Park."
The new facilities only bring more promise to the city. "They will bring new opportunities to Hazel Park and create jobs for residents. The project will increase the city's tax base overall."
However, nothing can replace the Hazel Park Raceway. Klobucher said, "If I'd had a magic wand to wave that would have saved the raceway and built the facilities, I would have used it. It's very sad to see it go."