Come One, Come All : Lexus Velodrome Will Soon Open to Riders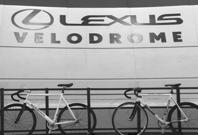 By Sara E. Teller
THE LEXUS VELODROME, LOCATED AT TOLAN PLAYFIELD On the corner of I-75 and Mack Ave., will host its first event on December 9th, and opening to the general public in mid-January 2018. (A velodrome is an arena for bicycle riding and racing.)
"We really want to teach people to ride. We wanted a multi-sport facility that would take people to the next level," said Jon Hughes of Downtown Ferndale Bikes. "In California, someone can easily train year-round.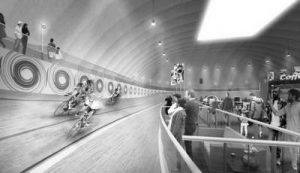 That's harder to do here in Michigan because it's cold for so many months out of the year. We wanted a place where people can come and work out that's safe and clean. And, it's indoors, so whether it's raining, snowing or 80 degrees, it doesn't matter. They don't have to worry about traffic in there, either."
Hughes is the son of Rochester Hills' Dale Hughes, who has constructed more than 20 velodromes around the world, including those in China, Sri Lanka, Korea and Europe, as well as Chicago, Cleveland and, now, in Detroit. "My dad built the first track back in the '70s. It was a portable velodrome," Hughes explained. "Then in 1996, his bid to do the Atlanta Olympic track was accepted. From there, he just continued." Asked if his father holds the record for the largest number of velodromes built, Hughes said, "In the U.S., probably. There are really only three or four others in the world who do this."
Hughes himself has a passion for cycling that began with both his dad and his grandfather. "I grew up in a bike shop. Oddly enough, my grandpa is my mom's dad, but my dad happened to like cycling, too. That's how my parents originally met. I've been doing this for a long time. Running the shop is a labor of love." He said of his grandfather, "My grandpa built a velodrome at a park out at Mound and Outer Drive, and he trained three women from Royal Oak. They all went to Olympics and won multiple world championships."
In fact, Hughes explained, "Bike racing was more popular than baseball around the turn of century until the 1930s or '40s. There are accounts of Babe Ruth coming up and asking for the riders' autographs. It's still well-known as an Olympic event. There are more Olympic medals in cycling than any other sport. China and Russia, especially, spend lots of money on cycling."
Prior to the Lexus Velodrome, the Hughes designed the International Velodrome at Bloomer Park in Rochester Hills in the early 2000s. They felt there was a need to provide Detroiters with the same opportunities as competitors in warmer climates. "We have a pretty solid base of riders and racers there," he said, adding that the Lexus velodrome won't cost the City anything to operate. "It was paid for primarily by an angel donor, and there is no cost to the City of Detroit. The complex is run by the Detroit Fitness Foundation," a non-profit entity.
Hughes said riders and sports enthusiasts of all ages are welcome. "Patrons can purchase a daily pass or a membership. Kids under 18 will be free and there are special programs for seniors." He added, "There will be bike racing, and there will also be a track for walking and rollerblading. Once a month we will have rider competitions. Riders can sign up and sign a waiver. Initially, they'll have to take a safety class that runs about an hour long, just teaches them track etiquette. After that, we can fit them with a rental bike, special shoes, helmets, and all the proper safety gear. We'll walk them through the whole process. If they really get into it, we can help them at the Bike Shop, too."
The primary goal of the facility is to train new riders. "We want to teach people how to race, or even just be a better rider," Hughes explained. "We are recommended by the UCI, which is the governing committee for cycling, for riders preparing for a major event like the Olympics," and teaching new riders is what he does best. "I tell everyone, to be in the NFL you'll work super hard and dedicate your entire life to the sport. Still, there's a slim chance, one in a million maybe, you'll play professionally. With cycling, you still need to train and dedicate your time, but there's not as big of a pool to get into. It's a great opportunity for those aspiring to be in the Olympics. There will be open track times at the new velodrome. I encourage everyone to come down and try it out!"