Church's 'New To You' Shop Raises Money for Community Outreach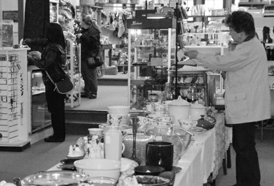 Story By : Sara E. Teller
Photos By : Bernie Laframbiose
THE NEW TO YOU SHOP, located inside of St. John's Episcopal Church off of Woodward Avenue in Royal Oak, offers low-cost donations and consignment items with the purpose of raising money to support community outreach and various charities within the church as well as in the community at large. The shop has been in business for 37 years, originally opening its doors back in 1980.
"The New To You Shop went into business after a recommendation was made by a church member," explained the shop's manager, Kathy Williams. In the fall of 1980, the store was established by the Vestry at the recommendation of Ruth Ewing. The original purpose was to supply low-cost clothing and articles, offer an opportunity for profitable recycling of usable clothing, and to use the profits to aid other ministries all while welcoming people in the community.
"We sell clothing for infants, children, ladies and men, jewelry, accessories, collectibles, books, household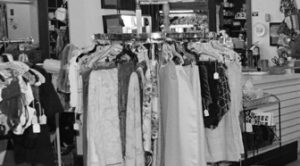 items and more," Williams explained, adding that "proceeds from the shop help to support the Open Hands Food Pantry located within the church (which is the largest emergency food bank for Oakland County), the Open Hands Garden, support groups that meet at the church, and a variety of organizations in the community such as Mariners Inn, Haven, SOS, Furniture Bank of Southeast Michigan, Common Ground and many more." In addition to the items above, bedding, linen, DVDs and CDs and other goods are also accepted.
St. John's established a Corporate Mission Committee to provide assistance for various types of outreach programs, and funds for the Committee come directly from profits of the New to You Shop. In 2015 alone, the store generated a total of $7,050 for this effort.
Although there are currently no volunteer opportunities available within New To You according to Williams, donations are always welcome and consignment is available on an ongoing basis. "We accept donations any time the shop is open, which is Monday through Friday 10:00 A.M. to 4:00 P.M., Saturday 10:00 A.M. to 1:00 P.M., and Monday evenings 6:30 P.M. to 8:30 P.M.," she said. "We do not place limits on donations, but those interested in consignment should call the store to discuss as this is by appointment only."
A consignment contract which outlines the terms of sale is available at the church's website. These types of sales are slightly different from those made from donated items. Dropoff appointments are offered Monday through Friday only, and made by the manager. The maximum accepted per appointment is six manageable boxes with closed lids, or a two-foot span of hanging clothing. The shop sets all pricing.
New To You is located inside of St. John's, with parking behind the church off of 11 Mile Rd. It is closed on snow days for Royal Oak School students, as well as throughout the summer from mid-June through Labor Day and major holidays throughout the year. All items are reduced once they have been on the floor for more than two months.
For more information, interested parties may visit the church's web site at www.stjohnro.org, call 248.546.1722, or email newtoyou@stjohnro.org.