Johnny Cervantes: Life Behind the Wheel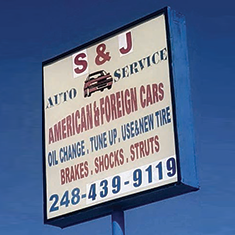 By Jill Hurst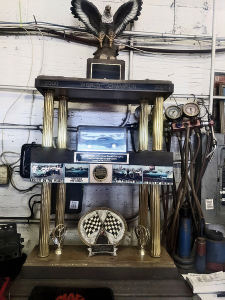 JOHNNY CERVANTES WAS DRIVING A '66 SEAFOAM GREEN CHEVELLE WHEN HE WAS CROWNED DRAG RACING'S WORLD CHAMPION IN THE YEAR 2000.
But he had his head under the hood of a red Corvette the day I met up with him at S & J Auto, his repair shop in Hazel Park. As a non-driver, my curiosity about cars ends with "what color is it?" but my time with Johnny gave me a little window into the romance people have with cars.
Over a late lunch (best onion rings I've ever had) at House of Shamrocks in Hazel Park, Johnny talked about the business, his family of amazing women and his lifelong passion for driving. He was born in Tucson, Arizona. His family moved to Michigan when he was young.
RAISED IN HAZEL PARK, he (like a lot of other boys back in the day) was driving way before he was legal. At age 13, Detroit Dragway was the setting for the beginning of his life as a professional drag racer. He was hooked, traveling the country during the spring-to-fall racing season, often with first wife Sherrie and their two daughters.
He spoke fondly of life on the road, special events like July's "Night Under Fire" and the end of season "Halloween Classics" which just happened to coincide with his birthday.
Has the racing world changed much over the years? Well, there are a lot more women driving these days. Johnny: "I'll tell you what. They're damn good, too."

Johnny knows his cars. He went to Lincoln Tech in Indianapolis for an applied science degree in automotive service management and a masters in automotive and diesel truck technology. He would love to see more kids get into auto mechanics. He laughs, "Kids are in no hurry to get a driver's license these days, much less a mechanic's license."
HE TALKS ABOUT ALL OF THE GREAT JOBS HE HAD AS A KID, including "the coolest one" at Vette Shop East in Roseville. His dad told him "you're only as good as your word and your credit" and he carried that with him going into the business of auto repair.
The key to success? Good work and good relationships. Word of mouth keeps a business going. And a great staff.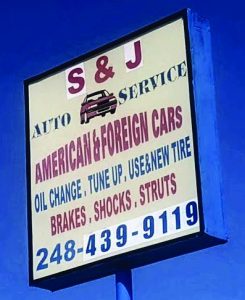 At S & J, Bob, Sam and Anthony keep things rolling, making it possible for Johnny to work on his own projects. He laughs. "I can leave and things get done."
One of his projects right now includes working on a 36 Chevy. And then there's the Dream Cruise. This August he'll probably be driving a 98 Camaro or a 57 Chevy. He'll also be enjoying the annual BBQ with wife Cheryl, friends and family in the parking lot behind his old friends Lou and Gus' law firm at 12 and Woodward.
JOHNNY CERVANTES FOUND WHAT HE LOVED DOING AT A YOUNG AGE and made a life for himself. There have been ups and downs, of course, but he's happy. He loves looking back, and forward. His dream is to build a car and get back on the race track. "I want to feel it one more time." But no matter what the next chapter, Johnny Cervantes is a happy guy. "I've got no complaints". He smiles. "It's been a blast."
S & J Auto Service is located at 311 W. 9 Mile Rd in Hazel Park. 248-439-9119. Open Mon-Fri 8-5, Sat 8-12. Closed Sundays.