Eric Blaine: Growing a business to benefit everyone.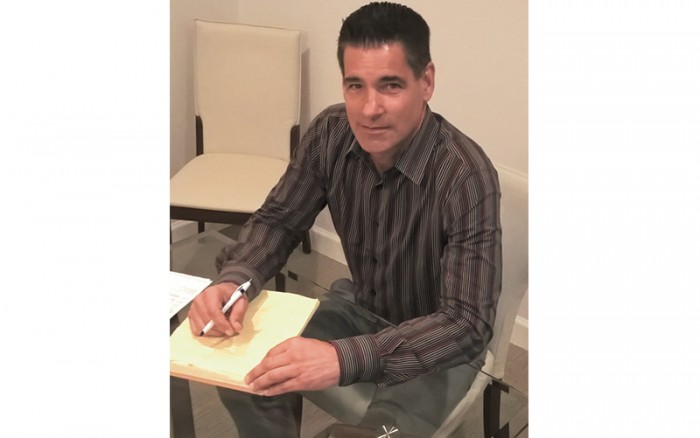 Story & Photos by Jennifer Goeddeke
FOR ERIC BLAINE, CHOOSING A CAREER with Real Estate One was a total leap of faith!
Coming from a successful background in construction-related sales, involving extensive travel, Eric Blaine's career switch to real estate entailed a complete lifestyle change. As it turns out — a welcome change!
In early October, I paid Blaine a visit at the luxurious Royal Oak location (26236 Woodward Ave) of the Real Estate One offices. Dressed to impress, in a crisp striped shirt and slim-fit suit pants, Blaine greeted me with a warm smile. From first handshake I could sense his strong focus and determination. After a brief office tour, we took our conversation 'on the road' and drove to a local coffee shop.
Blaine discussed with me how providence had intervened in 2012, when he was debating which real estate company to work for. At the time, he did not know much about the business, but felt a strong desire to learn more. Blaine was attending a charity event for the Leukemia & Lymphoma Society with his partner, Paul Beasley. The President of the Society stood uptomakea speech, and later, as he went to introduce himself, Blaine found out this was Stuart Elsea, co-owner of Real Estate One. Shortly afterwards, Blaine was taking classes at the Real Estate One Academy, to become an agent.
Having completed the training, Blaine started out in the back of the office, as he recalls: "…lost, and thinking, 'now what do I do?'" Leaning on solid work ethics previously learned, he began working full days, from 5:30 A.M. to 6:00 P.M. Encouraged by total home-front support and encouragement from partner, Beasley, Blaine quickly began to see the positive results of his hard work. He attributes much of his ability in getting ahead and developing a good team, to his passion for helping people. Blaine describes himself as, "…a fairly demanding boss," but only because he believes in setting high standards for himself and others alike.
The enthusiasm to succeed, Blaine believes, starts at the top and should infuse the whole company. At Real Estate One, owners Dan and Stuart Elsea show genuine interest in the agents — even sending out personal letters of encouragement and congratulations. Blaine feels the training tools and support offered are excellent; the Southfield location is the 'hub' and provides various continuing education classes. In addition, Blaine describes himself as "very thankful" to be around top-notch office staff: Jan Britton (office manager) has at least 25 years of overall experience, and Suzanne O'Brien (social media/marketing) also offers valuable knowledge and feedback.
In a tough economy like the one we are experiencing in Michigan, the tough really need to get going! Blaine's goal of $100 million in sales before retirement may seem lofty, but I would have to say after meeting him is definitely achievable. Clearly Blaine has found his niche at Real Estate One, and is forging ahead with his ambitions.
Eric Blaine can be reached at:eblaine64@gmail.com, or by phone: 248.548.9100. Also, check out his website: www.blaino.com!
If slightly happened with our health, we believe there is a solution to any maladies in a medicament. What medicines do patients purchase online? Viagra which is used to treat impotence and other states coupled to erectile disfunction. Learn more about "sildenafil". What people talk about "viagra stories"? The most vital aspect you must look for is "sildenafil citrate". Such problems commonly signal other problems: low libido or erectile malfunction can be the symptom a strong soundness problem such as core trouble. Causes of sexual dysfunction include injury to the penis. Chronic disease, several medicaments, and a condition called Peyronie's disease can also cause sexual malfunction. Even though this medicine is not for use in women, it is not known whether this curing passes into breast milk.