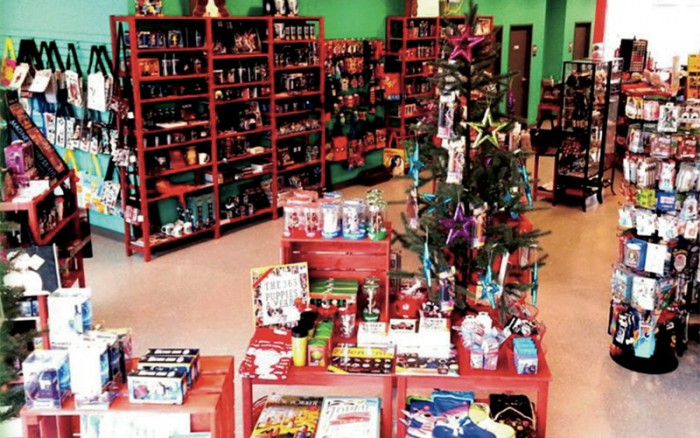 Story and Photos by Jeff Milo
When you're shopping for "the perfect gift," what you're really hoping for is something that's not boring. Maybe you want something with some humor, some edge, and maybe a dash of nostalgia. Stop searching and just go to The Rocket. "We're really a toy and gift store for adults," admits owner Eli Morrissey.
The Rocket, which opened last December on Woodward inside the new strip mall at the corner of Cambourne, specializes in novelties, toys, gifts and candy. "Kids like our candy selection, as well as our collectibles, like Adventure Time, Minecraft, and Nintendo and Atari themed merchandise," Morrissey said. But, he admits, most Rocket shoppers are grown-ups.
"We set ourselves apart from other novelty shops because we sell to all age groups. Grandparents can get lost in a world of nostalgia, while their 5- year-old grandchild can look over our Teenage Mutant Ninja Turtles department all while Dad is looking at the Doctor Who coffee mug. And then Mom can buy a pair of Frida Kahlo socks. "
The Rocket's first location, on Michigan Avenue in Ypsilanti, opened in 2006. Morrissey said that area's downtown was fairly empty back then, just an underwhelming mix of hair salons and tax-prep businesses. "Ypsilanti needed some type of business to bring locals and visitors into the downtown." Co-owner Paul Balcom worked with Morrissey at another larger retailer through the early 2000's but finally decided to go out on their own nine years ago.
Opening up a novelty brick and mortar store in a post-Internet era of smartphone and gadget-obsessed consumers seems bold and risky. Morrissey agrees. "20 years ago, opening a record shop to primarily sell vinyl would have been a crazy idea. Especially after we were able to download our music. But retail is constantly evolving and the one thing that will never change is the need of wanting to experience your purchase."
Novelty toys, kites, books, lunch-boxes, coffee-mugs, vintage t-shirts, jewelry, magnets, key chains, pens, coasters, gift cards, calendars, stickers…wait, did we mention the t-shirts? Those bear repeating, particularly the "Love Michigan" section of the store, where you'll find irresistible designs of pride-boosting swag featuring various tributes to the Mitten State and all its characteristic charms. Then there's the candy: a substantial selection of wrapped and unwrapped bulk and individual candies, chocolates, jumbo peanut butter cups, malt balls, coated pretzels, chocolate covered cherries, some sugar-free choices and so much more.
"Our job is creating a memorable experience, while staying ahead of the big specialty chain stores," said Morrissey. "They're selling to the masses. They're buying for hundreds, if not thousands of stores. But we're buying for two. We can react faster to local needs while introducing novel products."
Running a store like The Rocket, despite the implied frivolity of its toys, candy and quirks, is hard work. "It's a combination of good sales reps traveling the country, checking out quirky shops and gift shows and getting ideas from employees and customers while being turned onto both pop-and sub-culture trends," Morrissey said.
The Rocket crew are thankful that Ferndalians helped them kickstart their business here, last December. "Helping to make Ferndale a regional destination is our number one priority."
Downtown shoppers wistful for the gasp-inducing treasures once found in a store like Naka should visit The Rocket; you'll be just as delighted. "We were attracted to Ferndale's mix of small businesses and its diversity. It was apparent that the businesses here were locally rooted and residents took pride in that."
—-
The Rocket Ferndale is located at 23147 Woodward Avenue. Phone 248-556-5084. Check out their website at http://shoptherocket.com
If slightly happened with our health, we believe there is a solution to any maladies in a preparation. What medicines do patients purchase online? Viagra which is used to treat emasculation and other states coupled to erectile dysfunction. Learn more about "sildenafil". What men talk about "viagra stories"? The most substantial aspect you should look for is "sildenafil citrate". Such problems commonly signal other problems: low libido or erectile malfunction can be the symptom a strong heartiness problem such as heart trouble. Causes of sexual dysfunction include injury to the penis. Chronic disease, several medicaments, and a status called Peyronie's disease can also cause sexual dysfunction. Even though this medicine is not for use in women, it is not known whether this curing passes into breast milk.