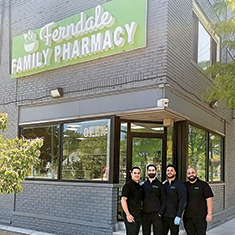 By Jill Hurst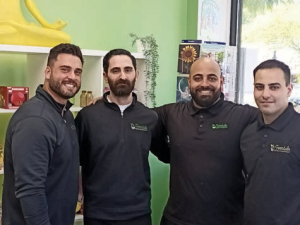 FREE DELIVERY. A SERVICE OFFERED BY THE KHRAIZAT FAMILY OF FERNDALE FAMILY PHARMACY. BUT MOST FOLKS SHOW UP IN PERSON TO VISIT WITH AMIN, SAM, ALIE AND ABE, THE GUYS WHO MAKE FFP ONE OF THE MOST BELOVED BUSINESSES IN TOWN.
I recently grabbed Sam for a quick Q and A.
Jill: You opened almost seven years ago, right down the street. I was at the ribbon-cutting. You were a "Ferndale Family" from Day One. What I remember most was your mother's delicious food!
Sam: Mmm…I just got hungry. The ribbon-cutting was a fun night. Definitely a memory we'll forever cherish.
Tell me about the new space.
We moved into the new joint in late March of 2022. We are enjoying it and there is much more room to maneuver and explore new services. We understand the historical significance the building holds in town. We're honored to operate out of "Joe's" as many still refer to it.
FFP is a pharmacy that encourages healthy living, preventative medicine. Did you come in with that philosophy?
We opened in 2016 not knowing what to expect, but kept a positive attitude and excitement on ways our company would be able to assist the community. We sort of morphed our philosophy as we got a better understanding of what our clientele and community members appreciate.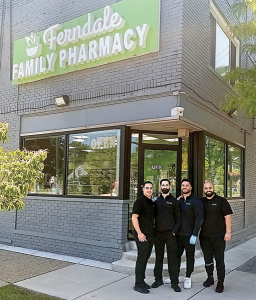 Life during the pandemic?
We did not shut down during the pandemic. There were times when we actually brainstormed safety and access protocols late into the night and made adjustments throughout the following weeks. The pandemic experience was not easy. At the time, we were actually in our old location, and had just made the purchase of Joe's, before the world was shaken. It was an exciting time to say the least! In all honesty, the appreciation and support displayed by the city and the wonderful people around definitely alleviated much of the burnout in such a distressing time. Reflecting back on it, we are proud that we were able to execute the adjustments we made and that many found comfort in using our services.
Are people more careful about health now?
Definitely. As a neighborhood pharmacy, an untold secret is that there is nothing we appreciate more than when someone pops in and inquires about the various ways to improve their health, whether through pharmaceuticals, preventive products, or just through daily activities…
Biggest challenge? Best thing?
The biggest challenge currently is inadequate staffing, identifying licensed professionals. Providing a quality experience is our highest priority that we will not deviate from, but we're currently brainstorming new ideas and offerings. Our goal is to hire and train a few more amazing people prior to launching some super cool things. The best thing is when you get to sit back and reflect on the different stages of maturation. I am privileged to have watched Ferndale Family Pharmacy grow, and understand that all the community support, everlasting relationships and hard work have guided us throughout the highs and lows of our first seven years. We hope to be here for many more years.
Every time I mention you guys, people's faces light up. You provide comfort and continuity during these uncertain times. Ferndale loves you all so much.
We appreciate all the support!
733 West Nine Mile, Ferndale | 248-565-8031
Mon-Friday 9:30 AM-6PM. Sat 10AM-2PM. Closed on Sundays.
www.ferndalefamilypharmacy.com