By Ryan R. Ennis
Photos ©2021 by David McNair
IT HAPPENS ALL THE TIME: ON A CHILLY NIGHT, HURRYING TO A DESTINATION, a driver hits an unexpected pothole on a poorly lit road. Suddenly, a loud pop is heard, followed by the hissing of a deflating tire. Within moments, a warning light appears on the dashboard. The distressed driver scowls and abruptly pulls off onto the shoulder.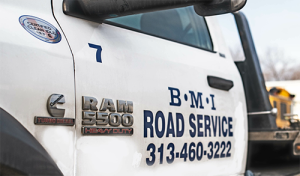 In Metro Detroit, a man who can turn a distraught motorist's grimace into a smile is Mohamed Majhed, owner of BMI Road Service. His dispatchers are on call 24-hours and seven-days per-week "to get you off the road and home safely," he assures his customers. Some of BMI's services include tire changes, air delivery, jump starts, assistance with lock outs, as well as local and out-of-state-towing. Working with AAA and other insurance companies, BMI offers unlimited towing coverage.
MAJHED HAS MANY YEARS OF EXPERIENCE IN THE FIELD. Unsure about which path to pursue in college, he took a job at a Southfield auto repair and gas station 11 years ago because he has "always loved automobiles." At the Southfield shop, he ran the gas station and helped with towing, believing he was "making a difference in people's lives by providing an ambulance for cars."
After five years at the station, he felt confident enough to strike out by himself, and found a suitable location for his own business at 13380 Capital Street in Oak Park.
In the beginning, it was just Majhed responding to stranded motorists' calls with his own van. After a year, he expanded by offering towing services. Before long, he amassed a fleet of nine tow trucks and a staff of 12 employees.
In doing so, his job responsibilities have increased. In addition to handling daily operations at the shop, he heads out on the road when duty calls. Despite the long hours, he is "happy to be an important helper in the community."
HIS ADVICE TO MOTORISTS, to keep them from becoming stranded, is to "not use their cell phones while driving." He estimates that 70 percent of the problems drivers incur while operating their vehicles are from cell phone use. "When drivers are on their phones," he says, "they (often) don't pay attention to the gas level is in their tank, the curves ahead in the road, and naturally the potholes and debris in their paths that could damage their tires and undercarriage."
To avoid potential accidents, some insurance agents recommend storing your phone in the glove box or another compartment, out of sight, when you are behind the wheel.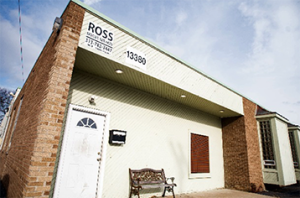 Because of the Covid-19 pandemic, Majhed and his employees follow strict safety protocols. Wearing masks, he and his staff strive to keep a safe degree of distance between them and their patrons during their inter-actions. All BMI Road Service employees also frequently sanitize their hands and do not enter other vehicles unless necessary. Additional guidelines are that only one tower is assigned to a specific truck, and that the truck's interior is frequently disinfected throughout the worker's shift.
Like other towing companies, BMI Road Service has adopted another procedure to protect its staff and you: If your vehicle must be towed, you will not be able to ride in the cab with the driver. You will need to make your own arrangements to be taken home or to the repair shop.
"All my employees are well-trusted family members," says Majhed. "When they arrive on the scene to assist you, expect to be treated with a high level of care and respect."
To contact BMI Road Service, call 313-460-3222. Cash, check, and all major credit cards are accepted.