By Maggie Boleyn
IF YOU'VE NEVER SEEN AN EPISODE OF TruTV's reality show, "Hardcore Pawn," you may not know that pawn shops are a quick way to obtain cash, either by taking a loan against valuable items or by selling those items. Low interest loans are made by the shop, holding the item as security. When the customer repays the loan, the item is redeemed.
American Jewelry and Loan (AJL), featured in "Hardcore Pawn," opened in 1978. The 50-thousand-square-foot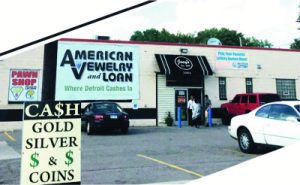 main location in Detroit serves more than 250 customers every hour. AJL has also opened branch locations, launching a Hazel Park shop in June of 2016.
"Hazel Park is a great community of closely-connected people, and we're thrilled to be a part of the exciting things happening here," says Les Gold, founder and president of AJL. He is the author of the book, "For What It's Worth: Business Wisdom from a Pawnbroker."
"Our Hazel Park customers know that they can come to us for the cash they need when they need it," adds Seth Gold, AJL's Vice President. "Our core business is writing loans against gold, coins, jewelry, tools, game systems, equipment, and other items of value."
Essentially, pawnbrokers are lenders. "Pawnshops provide access to quick cash for individuals who use their property as collateral," continues Seth. "Of all of the alternative lending options available, pawnshops are the only 'non-recourse choice'; meaning that pawn loans do not impact the borrower's credit score or ability to borrow in the future," he explained.
ACCORDING TO THE NATIONAL PAWNBROKERS ASSOCIATION (NPA), customers come from every part of society, and have an unexpected need for short-term cash. Pawn loans typically range from 30-90 days. Approximately 80 percent of pawn customers repay their loans and redeem their collateral. NPA says about three-quarters of pawn customers take out a pawn shop loan two or more times a year. NPA says, "Pawn loans keep the electricity on, rent paid, and cars running."
"Most of our customers pay the interest, and return to pick up their merchandise," Seth Gold said. "Sometimes items are forfeited and become available to sell." As a result, he says a pawnshop is also "a great place to shop." He says, "You never know what you'll find at American Jewelry and Loan."
There's no guarantee, but you could find one of the Golds in the store. As third and fourth generation pawnbrokers, the Gold family still manages AJL's day-to-day operations, working at the stores nearly every day. They do work at the Hazel Park store occasionally, which is located one block north of 8 Mile and John R, at the northeast corner of Muir and John R, in the former home of Joey's Pawn Shop.
AJL is celebrating their 40th Anniversary by partnering with Junior Achievement of Southeast Michigan. Through the "Gold Bank," young people can obtain low-interest loans to set up their businesses. "The hardest part of getting a business off the ground is finding start-up capital,"  said Les Gold. "With the Gold Bank, I am pleased that these young entrepreneurs will have one more options to build their companies and their futures."