Thru Luna's Eyes: From Fairy Hair to Classic Bobs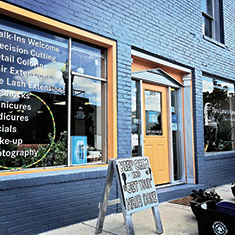 By Lisa Howard
WITH A 20TH ANNIVERSARY COMING UP IN THE FALL and a grand opening happening on June 11, Luna Calley is one busy lady.
"I need ten of me," she says. That's no exaggeration: Luna runs Thru Luna's Eyes Salon & Healing Arts on top of providing hairdressing services and teaching classes ranging from reiki to meditation. She changed the salon's name to include Healing Arts two years ago after she had ramped up her class offerings.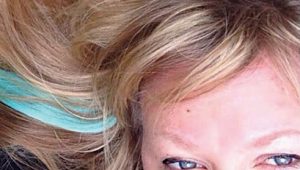 And she just opened Luna's Lemuria in Birmingham, where she sells everything from hair jewelry and wigs to crystals and gemstones. She sells those items in the salon, too, but when the opportunity to snag a new space popped up, she seized it. Now she has ample accommodations for her retail items, classes and hair services.
"We're always growing and expanding," Luna says. "New people come in with fresh ideas. We keep up with trends, and do continuing ed for our staff."
Extensions have gotten really popular, she adds that's her personal specialty — and that's a service her salon has long offered. Dreadlocks and creative color are two more of their top niches. Luna has been providing the latter for almost 30 years, dating back to when she co-owned the Dungeon Hair Studio in Clawson.
SHE TOOK A YEAR OFF BETWEEN RUNNING THE DUNGEON and opening Thru Luna's Eyes and re-immersing herself in the world of hair. Since then, she's done several hair balls (winning a Best Of award in the process) and worked with designers at various venues to put on her own hair shows.
"The city has grown so much since I first opened!" she says. "There were only a few hair salons back then, and now there are what – 20? But I don't mind, because we have a different kind of niche. Besides, one of the reasons people come to Ferndale now is because we do have so many salons."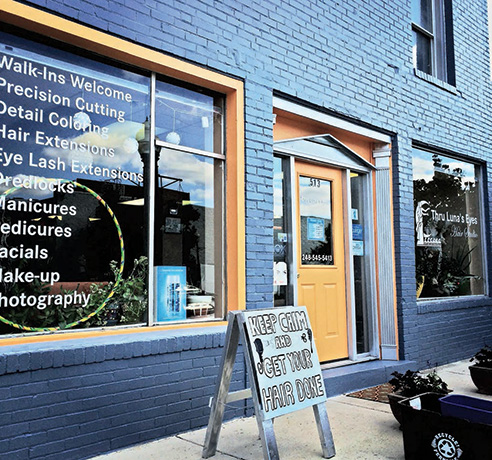 Although many of her clients are fellow Ferndalians, some come from other states. The reverse also happens — one of Luna's staff was recently flown out to do dreadlocks. And, perhaps not surprisingly given the salon's artistic bent, back when the film industry was hard at work in Michigan, her staff was in demand on sets. One actually went with the industry when it decamped and headed back west.
Most of her staff have come and gone throughout the years, Luna says, but her staff has always consisted of people who have created a fun, energetic environment for themselves and their clients. That atmosphere is one of the highlights of Luna's multi-decade career.
ANOTHER IS SOCIETY'S GROWING ACCEPTANCE OF CREATIVE HAIR. "When I started doing those styles, sometimes certain cuts or colors would cause people to lose their jobs; sometimes schools wouldn't let students have pink hair or attend prom with certain hair colors. Now, though, society has really embraced the more creative side of hair."
She points out that even workplaces are more accepting, especially retail establishments and bars and restaurants. That said, she caters to everybody from all walks of life — her slogan is "conservative to alternative." She caters to Ren Fest goers, too, offering fairy hair and mermaid braids.
That kind of hair art will be showcased during Luna's 20 anniversary party on September 3rd. Fall will also see her offering crystal and gemstone classes in addition to her movement, meditation and mantra programs. While Luna will still be styling hair, she's planning on moving more into teaching. Life is too short to not pursue passions! Even if there's only one of her instead of ten.
513 W. Nine Mile Rd, Ferndale | 248.545.5413 | Facebook