Five-Star Treats for Our Four-Legged Friends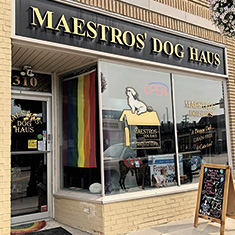 By Lisa Howard
PETS AREN'T JUST ANIMALS THEY'RE FAMILY MEMBERS. And family deserves the best!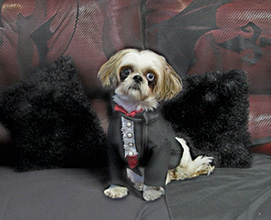 When Janet Platt first brought home a shih tzu named Maestro, she quickly realized that commercial dog treats were far from the best. Most weren't even good. It didn't take her long to start making Maestro treats from scratch, using fresh and mostly meat ingredients.
Other people wanted to feed their furry family members better too, so she opened her first store in Bloomfield Hills in 2012 and called it Maestro's Dog Haus. Four years later, she opened a second location in Ferndale.
"We have people who stop in almost every day," says Drew McLenon, the manager at the Ferndale store. "Especially people with puppies. They'll be out for a walk and come in to get the puppies more socialized and used to being in stores. We love to see them!"
Four-legged visitors are offered treats, while their two-legged companions can browse the day's freshly made offerings. The chicken chips are the most popular — they're 100 percent chicken breast that has been dehydrated and baked, resulting in a potato-chip-like texture. For those picky eaters who may shun chicken, exotic choices like emu jerky and dehydrated ostrich necks are available. Drew says those are also excellent picks for pets with allergies or sensitive stomachs since emu and ostrich are hypoallergenic meats.
ONE INGREDIENT THAT YOU WON'T SEE in Maestro's handcrafted treats are grains. The Maestro bakers do make a handful of items with veggies like sweet potatoes and lentils, but the vast majority of their products are 100 percent meats that have been alternatively baked, dehydrated, and/or freeze-dried.
Their freeze-dried salmon bites are another customer fave, and the bakers also make cupcakes that are also salmon-flavored. Chews and grain-free bones (including peanut, beef, and chicken varieties) are toothsome treats, while the cupcakes and freeze-dried options are soft. Maestro's also offers four- and five-star commercial kibbles and wet foods.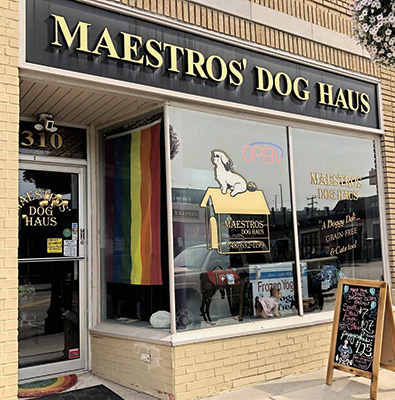 Along with their edible treats, Maestro's is stocked with pet toys for dogs and cats. Drew says that aside from getting to meet so many friendly faces (furry and otherwise), finding fun new toys is her favorite part of the job. She has a cat at home, so she's well aware of how valuable intriguing toys can be.
She knows the cross appeal of Maestro's treats, too – Kiki, her brown tabby, loves the chicken chips as much as her barking brethren do. And Kiki also gets to enjoy the filler-free cat food that Maestro's has in the store. Commercial cat food tends to have even more fillers than commercial dog foods, which is all the more puzzling (and distressing) given that cats are obligate carnivores. Many of Maestro's customers come into the store looking for foods that don't contain fillers, byproducts or added colors, either because their dog or cat is experiencing chronic health issues like skin disorders or because they just want to improve their pet's overall health and energy levels.
IN HER FIVE YEARS AT THE FERNDALE STORE, DREW HAS SEEN more and more pet owners come in to make the switch to better quality foods. Being on West Nine Mile just off Woodward, Maestro's gets tons of foot traffic in their small but well-provisioned shop. (The Bloomfield Hills location is where the bakery is located; it's more of a stock-up-here store.)
The three-person staff has their hands full, especially during the summertime months when their ever-popular frozen yogurt reappears. Made with raw goat's milk and offered in an array of pet-favorite flavors like strawberry, beef bone broth, and peanut butter, Maestro's is an essential stop for any dog and their human!
Maestro's Dog Haus | 310 W. Nine Mile, Ferndale
248.632.1199 | https://maestrosdoghaus.com