Aver Sign Company: 24 Years Creating Epic Signs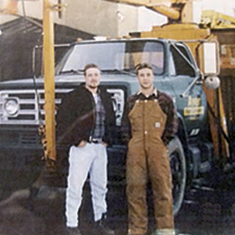 By Jenn Goeddeke
AVER SIGN COMPANY WAS FOUNDED IN 1998 BY THE ULCH FAMILY: Terry Sr., Diane, and their two sons: Terry Jr., and Vance.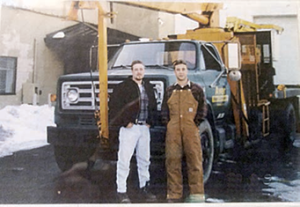 They started with a great idea by Terry Jr., an older truck, and lots of hard work. Now in their 24th year of success, they humbly describe themselves as a "work in progress, with a lot of team effort – where we have learned to handle each situation as it comes up!"
Currently, they own a fleet of 20 trucks and manage 26 employees. They purchased the building at 359 Livernois (which they originally rented) 20 years ago. Additionally, they own another site across Hilton (at 1280 Wordsworth) which is about the same size, but with more yard space for storing signs.
MANY OF THE COMMERCIAL SIGNS THEY MANUFACTURE CAN BE TECHNICALLY COMPLEX; for example, the Toledo Mud Hen's scoreboard, or a high-rise building sign, like Citizens Bank in Southfield.
"Everything is certified. It is imperative to get permits, and then there aren't any problems. We have key people around us and we think of them all as family. These people are vital and they're the reason we are still here," said Terry.
Some signs, especially for corporate clients, are pre-manufactured, and then Aver Sign handles the details. Signs weigh up to 700-800 lbs, and often enormous machinery is needed. Sometimes, substantial holes are dug – 24 feet or even deeper!
The biggest challenges they have faced have been financial. For example, newer trucks cost around $150k each. "We started from dirt! Every dollar we made was reinvested for quite a while because it takes three-four years to get established for financing. The years 2008-2010 were particularly hard-going. Banks kept a tight cap on funds, and we had many fixed costs to pay. It was a tough two years."
BUSINESS HAS FORTUNATELY FLOWED THEIR WAY since those difficult times. "We have since bought out three other smaller sign companies, and we have steadily grown. We have been blessed."
"Our two sons are workhorses!" Terry emphasized. "There are no Saturdays and Sundays with them. For example, they have just been to Grand Rapids for a trade show. They had to prepare, set up, tear down and stay the night. The next day, they were right back to their regular work. We were very strict in raising the boys and it seems to have paid off!"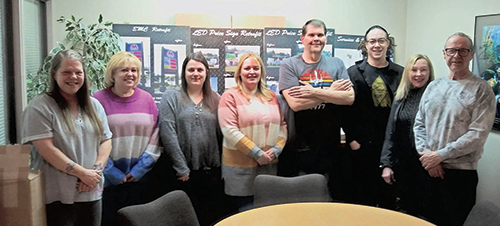 Overall, the business has brought huge rewards for the Ulchs and their loyal staff: "The upside to our business is growing from a tiny thought process and entity into a beautiful organization, with a great group of people! We frequently see our signs as we are driving in Michigan or Ohio, and story-telling within our social gatherings is always entertaining."
Diane and Terry Ulch are also in the fitness industry together. They own the award-winning gym 359 Fit above Aver Sign. They have competed together in 11 bodybuilding shows for 11 years in a row! Terry's last show was in Las Vegas at age 71. Their boys were introduced to the gym at 12 years old and both keep active in their home gyms.
I ASKED THE ULCHS FOR ANY SECRETS TO THEIR SUCCESS STORY. Firstly, Terry stated, is to treat others with respect. "I usually reflect on what I'm getting and I set firm boundaries. Overall I emphasize politeness." Secondly, Diane mentioned joining forces with a good accountant and lawyer, as there can be some tough lessons to learn and a few growing pains along the way.
The Aver Sign Company is located at 359 Livernois St in Ferndale. Contact them at 248.542.0678 or visit their website at: www.aversign.com. For inquiries, email: info@aversign.com.
Check out their Facebook page: www.facebook.com/AverSignCompany.