Toly Ashkenazi: Hard Work Pays Off!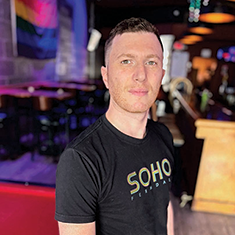 By Sara Teller
TOLY ASHKENAZI IMMIGRATED TO THE U.S. IN THE EARLY 2000s WHILE STILL IN HIGH SCHOOL. Always ambitious at heart, he immediately secured a job at a family diner, eventually working his way up to running two of Ferndale's well-known businesses.
"I started waiting tables while attending high school," Ashkenazi said. "The work was fairly straightforward, and I quickly realized that the pay was based on quality of service. I learned a lot at that job, and it motivated me to try working in other areas of customer service. I stayed at that same diner for a few years, until I got out of high school and heard that a nearby nightclub called Q was looking for a bar-back."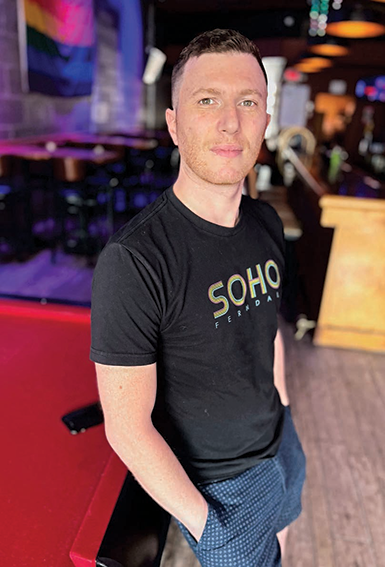 He had no idea at the time that it would be his 'big break.' There, he met Tom Pearlman, of Pearlman Premier Properties, and the rest is history.
"I started working for Tom as a bar-back at Q in 2003," he explained. "About a year later, Tom started building SOHO and I had the opportunity to work on the construction team. Afterwards, I was offered a position bartending at the newly built SOHO. As time passed, and I got more experience at various aspects of the business, Tom provided me opportunities for advancement and professional development as a leader."
ASHKENAZI EVENTUALLY BECAME PEARLMAN'S PARTNER, and now he runs SOHO and the 215 West.
"Tom has been an incredible mentor and leader of the organization and I am truly grateful for his partnership," Ashkenazi said. "He has shown me how to be a successful bar operator and given me a chance to build a career in this industry."
The feelings are mutual. Pearlman said, "In 35 years in the bar and nightclub business I had never previously brought in a partner. Toly has earned my confidence and trust by his hard work, business sense and integrity."
Ashkenazi called SOHO "a place where anyone can be themselves, a place of openness, connection and diversity. While the challenges of a busy bar setting can sometimes be overwhelming, it's still a labor of love and a very fun place to work."
Of 215 West, he said it would become a support structure for SOHO during the early months of the COVID-19 pandemic with more space for social distancing indoors and out. Since that time, it has grown into a flexible community gathering space which, occasionally, hosts parties. Ashkenazi said, "This wasn't what we set out to do with 215 West in the beginning, but I am happy with the changes and its current trajectory."
HE IS ALSO A DOWNTOWN DEVELOPMENT AUTHORITY (DDA) BOARD MEMBER and active with the Ferndale Community Foundation, saying, "The Ferndale community has been amazing. They have been supporting us for years, and especially during the pandemic. They come to our special events, parties, fundraisers, and often stop by just to chat at the bar. I can't thank the Ferndale community enough for everything they do for all of us here."
Pearlman said "I was a DDA board member for 12 years and a founding board member of the Ferndale Community Foundation. Toly brings common sense, fiscal responsibility and concern for the community to these organizations. At SOHO and now 215 West we have always felt the responsibility to make every effort to host and sponsor community events and fundraisers."
Ashkenazi loves getting involved with local events and activities, explaining, "I have been working in Ferndale for close to 20 years. I love the city and sense of community. Serving on these boards gives me the chance to do my part to support the city and the people who live here."
And, for this, Pearlman can't thank Ashkenazi enough. He said, "Toly is much more attuned to the needs and requirements of our new generation of patrons and employees. He makes me proud every day to call him a friend and associate."
For more information about Ashkenazi, SOHO and 215 West, visit @SohoFerndale and @215WestFerndale on Facebook or Instagram or Ferndalesoho.com and 215westferndale.com.