By Jill Hurst
Farewell to Ferndale's Beloved Bubble & Bark
MY EIGHT YEARS AT BUBBLE AND BARK WERE A SOAP WRITER'S DREAM: CORE FAMILIES, COMPLICATED HEROES, MISUNDERSTOOD VILLAINS, SEXY ESCAPE ARTISTS AND "ROOT FOR" SUPER-COUPLES.
With characters named Miracle Curry, Lola Lapierre and Porkchop Skillman, and life, death and everything in between, who wouldn't want to watch?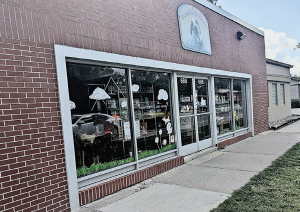 In 2006, our "root for" super-couple, Kelly McKinstry and Julie Andrews, had a "long-term story objective." To build a place they'd be comfortable bringing their own dogs. They did some location-scouting before settling on the space at 686 Livernois.
Kelly: "From the minute we walked into the building, I knew. It always felt like home." This was a good thing, because they lived at Bubble for the first three-and-a-half years!
At the beginning, it was just "the girls" as J. and K. are known around town, along with groomer Robin Serrano. As they built the business from the ground up, welcoming dogs (early cast included Coogi, Peanut Butter and Sunshine, Ernie, Cooper S, Daphne, Opal, Bruiser) and parents into the Bubble family, they realized that they needed to expand the "supporting cast," and started to hire staff. We all arrived with different "character motivation" but we had one thing in common: The dogs.
A FEW FLASHBACKS FROM STAFF:
Matt Webb: "Bubble & Bark was a really special place for me. Kelly and Julie hired me at a time of life when so many others wouldn't and that allowed me to build the life I wanted. There were so many dogs I loved being able to spend my days with and I still think about and miss to this day," including Dexter S, Samson K, Bailey C, Cooper S., Rodney Dean, whose back story included a long stint at an animal hospital.
"I drove in horrible snow conditions to Bubble & Bark for a job interview and they hired me on Christmas Day 2008. The best part of the job was that at Bubble & Bark the dogs were actually happy to see me. One of my favorite moments was when I realized that one of the 'non- human friendly' boarding dogs finally accepted my love after about a week of me laying on the floor and talking to the dog. Working for BBark also heightened my love for little dogs, as I was a big-dog kinda' guy."
Then, from the last two workers cast;
Maggie Kozma: "Julie and Kelly welcomed me into a family when they hired me. Working there felt like being part of a team of 'star seeds'."
Seth Kalis: "My favorite memory would be the time Kuma's mom told me how Kuma doesn't typically like men he doesn't know but he loved me. That really made me feel I was helping make a little bit of difference in Kuma and his mom's life…I learned what it's like to have a job I'm truly proud of."
Me? I have so many favorite memories: The Christmas tree, the smell of Oats-for-Coats shampoo, the sound effects of the Friday dance party…but my favorite thing about Bubble and Bark was a recurring storyline that involved dogs who needed a place to be in times of trouble or transition.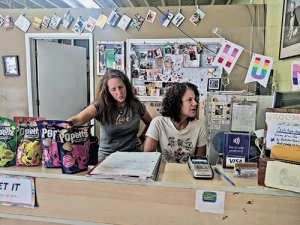 Megan Roby: "Julie and Kelly were always willing to be a resource to those in need." Sometimes they were dogs we'd known for years, sometimes they made their entrance after a house fire or days of living in their parents' car because of sudden homelessness. Sometimes the owner could pay at the end of their story arc. Sometimes they couldn't. No matter. "Where else would they go?" said Julie.
The first time I experienced this, I knew the Bubble & Bark show was a show worth watching. The joy and tears and laughter it brought to its family of dogs and the audience of staff and parents was something we were all lucky to be a part of.
When you let yourself love with all your heart, there's a chance your heart will break at some
point. That is what happened when Bubble got their "cancellation notice" in 2022. We had to figure out how to write our final episode. I'll never forget the faces of the parents as the girls delivered the news.
CALLS WERE MADE, CLEANING HAPPENED. The daycare staff handed out tiny index cards with the dogs' friends written on them, so that best friends could stay in touch. People came in to get some final bench chat time with Julie. The dogs played, blissfully unaware.
On Friday, September 30, 2022 the dogs had their last dance party and Bubble & Bark pulled the shades and locked the door for the last time. Most of the daycare cast had Covid the last week, so Julie and Kelly ended as they started, working together from open-to-close.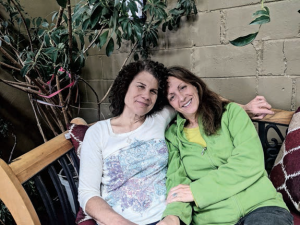 Looking back, Julie talked about meeting and falling in love with the dogs, following them through their lives and watching them get old. The parents? "They trusted us with their dogs. That was huge. An honor."
Kelly recounts the end of the move out. It was 4:00 A.M. "There was such an amazing moon, the building was glowing. I looked at it and thought, 'Goodnight Bubble'."
In the Fall of 2006, Julie Andrews and Kelly McKinstry opened Bubble & Bark. They created more than just a terrific dog show. They created a gathering place, a sanctuary. On behalf of the Bubble & Bark community (two- and four– legged) thanks, girls.