Hebrew Free Loan: Helping the Jewish community started with an old fraternity… and evolved into a modern institution.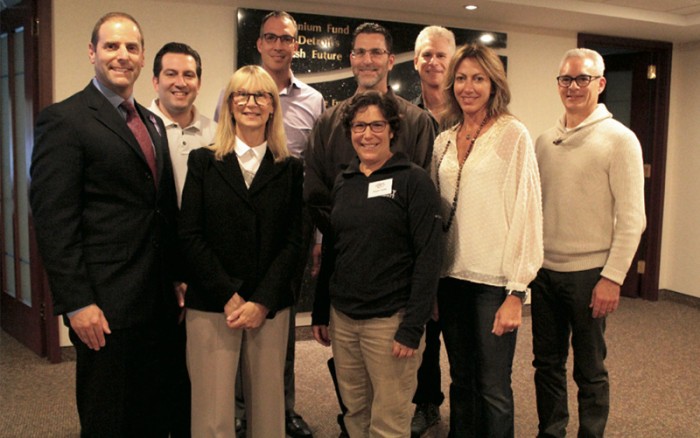 Story by David Wesley | Photos by Jeff Lilly
IN 1895, THE HEBREW FREE LOAN OF Detroit had its beginnings in the back room of a shoe- maker's store. Ten men, all from different vocations, pledged $50 each and began to lend out money, mostly to peddlers needing merchandise and to others for purchasing coal for heating.
These men anticipated the large wave of immi- gration that was on the horizon. The ten men who started HFL conducted the loan interviews, admini- stered the money, and were responsible for collect- ing what was owed. They incorporated with a state charter under the name Gmilith Chasudim (Acts of Loving Kindness.) They raised funds by accepting donations and receiving bequests.
By the turn of the century, HFL started to have formal meetings with handwritten minutes, which have been preserved. In addition to making loans for many domestic purposes, HFL was effective in every wave of immigration to come to Detroit: the German Jews during the late '30s, the Displaced Persons after World War II, the Hungarian and Iranian Jews in the '50s and '60s, and the large waves of Russian Jews.
The first priorities for these newcomers were loans to retrieve their baggage. The second priority was transportation. Detroit had grown so large that it was impossible for people to look for work without a car. The third priority was for a security deposit for housing.
HFL instituted loan programs for all of these priorities. Thirty years ago, HFL Detroit was one of the founding members of the International Association of Jewish Free Loans (IAJFL) and brought together Free Loan Associations from the United States, Canada, Israel and Australia. About 10 years ago, HFL branched out to Michigan cities outside the tri-county area, providing services to those communities as well.
Today, of course, the issues are different and financial needs are much greater, as well as more diverse. Now they help first-generation Americans pay for college, couples afford an expensive adoption or fertility process, individuals who have recently been laid off to manage their bills, and the start of new business ventures. Executive Director David C. Contorer gave Ferndale Friends an interview.
Ferndale Friends: How does HFL operate?
David Contorer: Hebrew Free Loan (HFL) is a 501(c)(3) social impact, charitable organization to provide interest-free loans to help Jewish people across Michigan. There are about 50 HFLs across North America, in Israel, and in a handful of other countries, as well. The inspiration, which originally comes from the Mishpatim chapter of the Torah, isthat Jews are commanded to help each other when our people are in need by providing financial assistance without interest. Each loan borrower must have a repayment schedule and cosigners to back the loans, so that small increments are paid each week or month until the total amount is met. Loans are approved in a very confidential way where HFL Board members privately interview loan seekers; ensuring the borrower's dignity is a paramount value for the agency.
FF: How has HFL and its influence grown since its inception?
DC: Over our 120 years of operation, HFL has maintained a 98.5 per cent repayment rate. Our entire loan portfolio has grown to more than $7.5 million in out- standing loans to more than 1,400 Jewish borrowers across Michigan. HFL loans can cover medical or dental expenses, used cars, repairs of property, crisis support, in-vitro fertilization/ adoption, higher education, professional fees and taxes, summer camp, care for older adult loved ones and a myriad of other costs that life throws when folks may not have the cash flow to pay. Our loans are provided with no interest, so it is our tradition, to date, that HFL loans cannot be used to pay interest-bearing debt.
HFL solicits and receives private donations, bequests and ongoing operational support from the Jewish Federation of Metropolitan Detroit as well as from hundreds of other donors and foundation grants, which continue to allow HFL to increase our operational capacity and the types, sizes and numbers of loans provided. HFL has a 4-Star rating on Charity Navigator, as the agency is efficient, effective and is recognized for its outstanding ability to carry out our mission each day.
FF: How has Hebrew Free Loan impacted the Jewish community in Ferndale and surrounding cities?
DC: Ferndale is one of dozens of locations where Michigan's Jewish community members live,
work, and own businesses. As I mentioned at a Ferndale Chamber of Commerce meeting earlier this year, HFL has a special program for small businesses across Michigan that are at least 51% owned by Jewish partners. The Marvin I. Danto Small Business Loan Program can provide an interest-free small business loan of up to $100,000 to a qualifying enterprise, either a start- up or an expanding business. Ferndale is a thriving business region, and HFL's Danto Program can be a huge game-changer to help those qualifying, Ferndale-based small businesses that follow our application and interview process.
HFL's goals are to help strengthen our community to keep people living and thriving in places like Ferndale, while we recycle our loan capital and operate in a lean and efficient manner.
FF: What are the future plans and aspirations for Hebrew Free Loan?
DC: HFL will continue to grow with programs such as the William Davidson Jewish College Loan Program and the D. Dan and Betty Kahn Older Adult Care Loan Fund. These are partnerships with other community organizations to provide loans for specific, unmet needs, such as caring for older adult loved ones or paying for college and graduate school. HFL will build upon our 120-year legacy of keeping Michigan's Jewish community thriving while perpetuating our resources and the involvement of good, caring volunteer leaders to help their neighbors to have better lives.
FF: Can add some background information about yourself, and maybe a success story or two?
DC: I have worked in charitable organizations and foundations in the Jewish and general communities of Metro Detroit and Philadelphia since 1995. I have an MSW with a Certificate in Judaic
Studies from the University of Michigan, and I am pursuing my MBA from Wayne State. Some success stories and statistics include the following:
• After the floods of August 2014, HFL provided interest-free loans to more than 40 families to help with home repair.
• Since 2012, HFL has provided more than $1.4 million in no-interest loans to more than 50 small businesses for start-up and expansion.
• In 2015 alone, HFL will provide more than $1.8 million in interest-free loans to more than 230 college and graduate students for their expenses.
Hebrew Free Loan
6735 Telegraph Road, Suite 300 Bloomfield Hills, MI 48301
(248) 723-8184 www.hfldetroit.org
If some happened with our health, we believe there is a solution to any maladies in a medicament. What medicines do patients purchase online? Viagra which is used to treat emasculation and other states coupled to erectile disfunction. Learn more about "sildenafil". What folk talk about "viagra stories"? The most vital aspect you must look for is "sildenafil citrate". Such problems commonly signal other problems: low libido or erectile disfunction can be the symptom a strong soundness problem such as soul trouble. Causes of sexual disfunction include injury to the penis. Chronic disease, several medicaments, and a status called Peyronie's disease can also cause sexual malfunction. Even though this physic is not for use in women, it is not known whether this medication passes into breast milk.