By Ingrid Sjostrand
CREATING CONNECTIONS AND BUILDING RELATIONSHIPS ARE SOME OF THE BEST WAYS to grow your company, but it can be difficult to meet other business owners and generate new sales.
That's where TradeFirst comes in.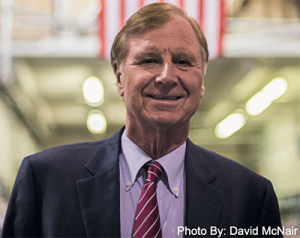 Fred Detwiler, president and CEO of the company, explains, "We are a trading or barter company; we act as a marketing agent to help companies buy and sell their products and services based on the reality that companies can sell tomorrow but you can't sell yesterday."
Barter companies allow members to exchange their services with other companies without the use of cash and to reach business owners they might not typically meet. But how does that play out in the real world? Detwiler provides a recent example, of which he has many.
 WE HAD A LEAK IN OUR ROOF AND THE ROOFER CAME OUT AND SAID, 'Fred, we've had a million dollars' worth of trade from you guys in the last number of years, which is good, but the best part of it is I've gotten three million dollars of cash because of that'," he says. "'I would do a roof for one of your trade companies and right next door is a tool-and- die shop who isn't a trade member because they don't have anything to trade but they have the same roof as their neighbor so they hire me. I've gotten three-to-one cash to trade just from trade and that's business growth."
TradeFirst has over 5,000 members and office locations in Toledo, Ohio, Fort Lauderdale, Fla. and their Oak Park headquarters at 23200 Coolidge Hwy.
"You join TradeFirst and get instant access to clients and business owners," Detwiler says. "The business owners will give good referrals, you'll have access to all those people and you're getting income you wouldn't have had before. You redeploy that cash more efficiently and you're creating referrals."
TradeFirst was founded in 1978 under the name Michigan Trade Exchange after Detwiler saw how he could expand upon the one-on-one trading he used working in radio advertising. The station often made deals with restaurants exchanging radio ads for meal credits to use with sales clients.
"I knew the benefits of one-on-one trade but it was limited because after a while the restaurant said, 'I like radio time but I also need my menus printed, my grease traps cleaned and the roof repaired'," Detwiler says. "When I was introduced to the 'round-robin' concept – where company A can buy from company B and B from C and so on – a light bulb went on. I was 27 when I left the radio business and started this trading company; we subsequently signed up a lot of radio stations because it was a natural, and now we have thousands and thousands of companies as clients."
AS TRADEFIRST CONTINUED GROWING in the early 1980s, Oak Park was a natural fit for their headquarters. Detwiler's family even has a historical connection to the city: his great uncle Harold Tanner founded the WLDM radio station and built its radio tower in Oak Park in 1948.
"When looking at the whole metropolitan area we found that Oak Park was at the center of it all. We have account people that service from Ann Arbor to Mount Clemens to Downriver to Grosse Pointe to Detroit to Rochester and we are about a half-hour from everywhere," he says. "We liked the area and were looking to buy a building because we were expanding, and this made sense."
For more than 40 years, TradeFirst has grown their network of businesses, but has seen the challenges of an ever-changing landscape.
"It is particularly tough in the current environment. Not only do you have all the struggles of running a business – regulations, taxes and all the other stuff – you're also fighting against the big box stores and chains and the Internet which is taking a lot of business away from local customers," Detwiler says.
HE ATTRIBUTES THE CONTINUED AND GROWING SUCCESS OF TRADEFIRST to the employees they've hired; some of which have been with the company for close to 40 years.
 "You look at restaurants, they all serve food but the successful ones have a better chef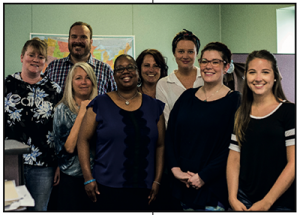 and I think we have a better chef; we put together the right combination of customer service and people," Detwiler says. "We've always had our own technology platform and developed our own software, which has been instrumental in tracking and marketing, and I think we have a commitment to helping our clients try to maximize what they get out of trade."
The loyalty of businesses using TradeFirst is even more proof of their success.
"We have a powerful network of businesses and probably the most fun is that not only do we have employees that have been with us for 39-40 years, we have clients that are going into multiple generations," Detwiler says. "It's fun to see we are all helping each other. That's one of the more satisfying things: Watching businesses and people grow."