PM Environmental Expands Its Berkley Operations, Setting Up Shop In Oak Park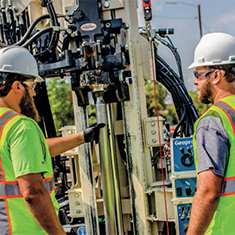 By Sara E. Teller
PETER BOSANIC AND MICHAEL KULKA STARTED PM ENVIRONMENTAL in Lansing, Michigan in 1992 after graduating from Michigan State University and working as project managers at a large Midwest geo-environmental firm.
The company began with "a single truck and business cards" as Bosanic and Kulka explained to area gas station owners the benefits and state incentives for underground storage tank manage- ment and removal, and started offering these services. The company quickly expanded, adding service lines, staff, and equipment, and branching out well beyond the Lansing area.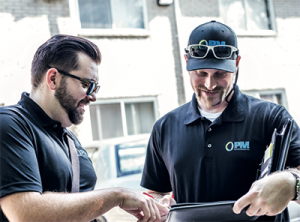 Since its inception, PM has continued to expand and is now ranked number one by EDR ScoreKeeper in Michigan. It is also nationally recognized as a top-20 environmental consulting and engineering services provider, with 15 offices nationwide and seven in Michigan.
PM OPENED ITS OAK PARK LOCATION THIS YEAR after having outgrown its office and warehouse space right across the street in Berkley. The Oak Park location was able to offer an additional 9,000 square feet for its Industrial Hygiene and Site Investigation Services departments, which the company desperately needed. And having the two facilities close to each other is "a huge plus," according to Wieber, who added, "The new space provides ample storage space for PM's specialized sampling drill rigs and other equipment, including 15 vehicles and four trailers and creates a secure and controlled environment for crews to dispatch from each morning."
She said PM Environmental serves a wide range of clients, helping both businesses and individuals. She states, "We serve banks and credit unions, lawyers and developers, petroleum and industrial clients. Anyone who is investing in or redeveloping commer- cial real estate requires our services. Having an expansive amount of services allows us to be involv- ed in many aspects of a single project and see a project through from start to finish."
The company currently offers environmental site assessments, site investigation services, remediation, underground storage tank management, economic incentives consulting, property condition assessments, and industrial hygiene services, and has been responsible for securing brownfield grant funding for major projects, including up to $6.5 million in reimbursable costs for the Iron Ridge development in Pleasant Ridge and Ferndale.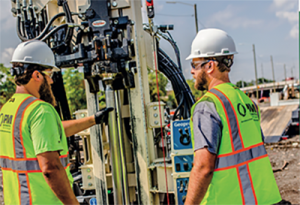 Wieber said, "PM prepared the approved brownfield and 381 Work Plan, securing up to $6.5 million in reimbursable costs associated with environmental assessments, due care responsibilities, demolition, asbestos abatement, site preparation, and infrastructure improvements."
Four of PM's clients were also recently awarded Environmental Project Agency (EPA) brownfield grant funding totaling $1.5 million, which only a very small percentage of projects are able to do each year. Wieber explained, "The process is highly competitive, with only 149 communities selected by the EPA this year. PM assisted these clients with their brownfield grant applications, which included collecting stories of the communities, researching data, visiting potential sites, interviewing stakeholders, and performing community engagement activities."
WIEBER HERSELF HAS BEEN WITH PM ENVIRONMENTAL for four years, saying, "I started off as a Business Development Coordinator after working as a manager in retail for over five years. I eventually moved over into PM's marketing department as the Assistant Marketing Director. A year later I took on the role of Marketing Director."
She said the staff loves the community involvement of Oak Park and are amazed with the number of engagement activities the City offers. PM's Oak Park location is part of the area's up-and-coming Eleven Mile Rd. corridor, which is a prime spot to set up shop, and Wieber said, "We look forward to the upcoming developments."
The Oak Park office is located at 15431 West Eleven Mile Rd. For more information, call 800-313-2966.