Cutters Studios: Providing Creative Services Around the World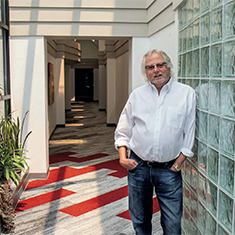 By Ingrid Sjostrand
Photos By Brita Brookes
MANY RESIDENTS PROBABLY DON'T REALIZE THAT OAK PARK IS HOME to one of the most internationally-recognizable creative collaboratives.
Through many different iterations and rebrandings since the 1970s – including General Television Network and most recently Ringside Creative – the address of 13320 Northend, off Coolidge Hwy between 8 and 9 Mile, houses the creative media company now known as Cutters Studios.
Steven Wild, CEO of Cutters Studios Detroit, provides an explanation of services they offer.
"Our skilled staff provide a wide range of creative and technical media content creation and delivery services to advertising agencies, businesses (including education and government) and the sports/entertainment industry," he says. "We offer concept through delivery. Some examples include traditional broadcast advertising accounts; new digital media marketing (including apps, web, point-of-purchase, digital signage); documentary production; sports and other live event coverage; broadcast studio 'live shot' services for local, regional, national and international news organizations; high-speed/high-resolution photo imaging for automotive and other technology testing and analysis."
Cutters Studios is made up of six brands, including Ringside Creative which was absorbed in April 2017 when Cutters took over the Oak Park office. Ringside Creative is best known for running sound stages and handling technical services for on-site production and videos. Other Cutters brands include Cutters Editorial, Flavor Design, Another Country, Dictionary Films and Picnic.
"Our Cutters Studios brands are all headquartered in our Oak Park office; however, our services are provided on location throughout the world depending on the project. We also maintain sound stages in Ann Arbor, Southfield, and Detroit," Wild says. "Our partners, Cutters, Inc., maintain their primary office in Chicago, and have satellite facilities in Tokyo, Los Angeles, New York City, and Kansas City."
Businesses both throughout the United States and internationally are clients of Cutters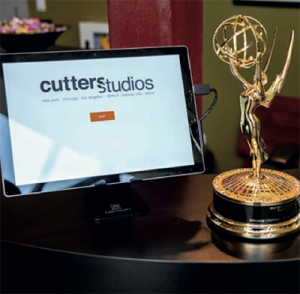 Studios Detroit, including many Fortune 500 companies. Cutters has received many national and international creative awards. Some of their more considerable projects include Super Bowl commercials and work for the United Services Automobile Association (USAA) that's received award recognition.
"We service hundreds of clients in Detroit and throughout the Midwest, including all major automotive manufacturers directly, along with their advertising and marketing agencies and suppliers," Wild says. "Additionally, other large and small businesses, advertising/marketing companies, and sports teams including the Detroit Tigers, Lions and Red Wings."
Even with renowned success and opportunities around the world, Cutters Studios is happy to call Oak Park home and has a laundry list of reasons why it's the best place to headquarter their business.
"Our commitment to Oak Park has been maintained over the years for a multitude of reasons, including the irreplaceable facility improvements we've made over the past 40 years, our expansive dedicated parking lot, reasonable taxes and strong support from local government agencies – building, fire, etc. – along with a desirable central location convenient to access highways to Detroit, the airport, in-state clients and service locations, and those out-of-state including Ohio, Indiana, Illinois," Wild says. "We're proud to be part of the Oak Park community and appreciate the opportunity to continue our support."