Pick Up Some Alaska Fish & Chicken Right In Oak Park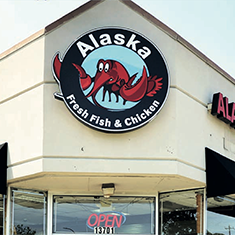 By Sara E. Teller
Photos By Bill Gemmell
ALEX WASEL OPENED ALASKA FISH & CHICKEN in Oak Park in 2012. "I had a dream to open my own place after working in a fish market with a friend of mine," he said. "I got to know how to manage everything then and I knew I wanted to have my own business."
Right from the beginning, Wasel and his staff worked hard to keep their customers happy, and they now have many regulars who stop in "six or seven days" a week, according to the owner. This has to do in part with Wasel's customer-oriented, close-knit team who truly understands the market. The food is cooked-to-order and served fresh daily, too, which makes Alaska a unique experience for those who appreciate high quality chicken and seafood.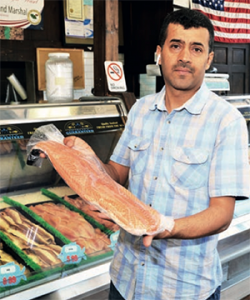 "All of our seafood and other dishes are always fresh," Wasel said. "And everyone loves working here – we're like a family, and we take care of our customers. We've gotten the hang of everything here in Oak Park and have our operation under control. We are very busy."
SOME FAN-FAVORITES INCLUDE Alaska's jumbo shrimp, snow crab, and fried lobster tail. There are many types of fish available, too, either separately or in combos, including tilapia, cod,perch, catfish, whiting, pickerel, bass, and orange ruffy, among others. Chicken options include wings and tenders along with breasts, legs, things and even gizzards. Family combos are available, and Alaska offers a tempting dessert menu. There are ten cheesecake options to choose from, including specialty slices such as peach cobbler, sweet potato, and superman, as well as six traditional cakes by the slice, including chocolate, caramel, velvet, lemon, pineapple, and coconut. Overall, Alaska Fish & Chicken has something for everyone and is able to cater to a wide variety of dietary preferences.
"When people come in here and try our seafood, they don't want to go anywhere else," Wasel said. "They love how fresh it is and how we're able to make it just the way they like."
He added, "I had some friends come in here from out of town and when they left, they told others about it. Now, the people they told now come here all the time. I also have someone who comes in every morning to get chicken." Wasel laughed fondly, "He says he needs my chicken! We're always busy."
WASEL LOVES OAK PARK IN GENERAL. He first started in Highland Park in 2008, but said he wasn't in a good neighborhood and decided he would need to relocate. When searching for a new spot, he stumbled upon Oak Park and knew that's where he wanted to be.
Four years later, that dream would become a reality. And even though Wasel still currently resides in Hamtramck, he hopes to relocate in the near future to be closer to the community he serves. He said, "I love this city. It's safe and everyone's friendly. The City of Oak Park is great. They're good neighbors to have."
Wasel is quick to show his appreciation to both his staff and customers, too, understanding they are responsible for Alaska's success. "I really appreciate all of our customers in Oak Park. And, I really appreciate my staff," he said. "They know what they're doing and work hard every day to ensure we're taking care of our customers."
Alaska Fish and Chicken is located at 3701 W Nine Mile Rd. and is open Mondays through Saturdays 9:00 A.M. to 12:00 A.M. as well as Sundays 10:00A.M. to 10:00 P.M. Online delivery is available viaDoordash.com. For more information about the menu, call 248-556-0000.