By Sara Teller
JEREMY POSNER IS A MAN OF MANY IDEAS. As his graduation date neared at the University of Michigan where he was enrolled in the Mechanical Engineering program, the toy-and-game inventor quickly realized he would not be following a traditional path. While much of his graduating class was planning work at the Big Three, he was applying for internships at game makers.
"I didn't care about cars. So, I thought, 'What other industries could be fun?' I've always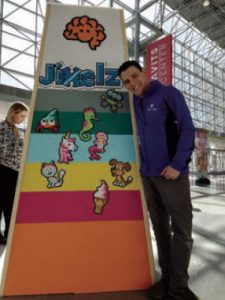 liked toys and games – I mean, who doesn't? So, I thought I'd give that a shot," he said.
Posner put a few applications out there and, as fate would have it, he landed a gig at Mattel. "It was in a neighborhood outside of Los Angeles. I went down there and got to see how the sausage was made, so to speak. But I was given one project to focus on, and I just kept thinking I wanted things to move faster. I was on the manufacturing side of things and there were so many pieces that went into getting the product to market," he explained.
So, Posner was left once again considering what path would be more aligned with his interests. Soon, he realized he needed to be on the inventor side. "I met a mentor there who invited me to brainstorming meetings and he said, 'You probably want to be an inventor,'" Posner recalled. The rest is history.
AFTER COLLEGE, POSNER LANDED A GIG at Rehkemper Invention & Design, then Big Monster Toys. In 2016, he won the Game Innovator of the Year award at the Chicago Toy & Game Fair, TAGIE Awards, for his work on Jenga Quake (Hasbro), Smackies (Goliath), Stratos Spheres (ThinkFun), Twangled (Mindware), Gravity's Edge (Mindware), and Brynk (Winning Moves). "These [concepts] were all team efforts, but I was a key player," he said. 
Posner met the love of his life, Allison, while in the Chicago area as well. It was a chance meeting. "We met at the Anti-Cruelty Society, an animal shelter. She was working there. I went in to play with the puppies and my friend really wanted to see the cats," Posner reminisced. "I'm not a cat person, so I decided to talk to this cute girl for about two hours instead. I left my number with the receptionist and she called later that night."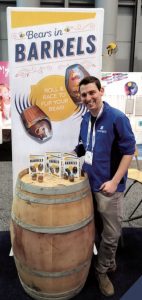 The couple was recently married, and they now live in the Detroit area near Jeremy's family with the newest member of their family, a rescued mutt named Kiwi. Posner said he chose to start his company in Detroit because, "my family is here, and the rent is more affordable." After being in the business for a little over six years for different firms in Chicago, he really wanted to see if he could make it on his own.
Having friends and family nearby certainly has its perks, according to the inventor, who said, "I have game nights. My older brother, Alan, helps me a ton with my company." Often, he has family and friends over to play test prototypes, so he can get their feedback.
Currently, Posner has a number of projects in the pipeline awaiting licensing and expects to have his products out by next Spring. He is constantly coming up with new, innovative ideas. "My inspiration comes from everywhere," he said. "My brain is on all the time."
For more information on Shenanigans Toys and Games LLC, please visit the company's web site, www.shenaniganstoysandgames.com.