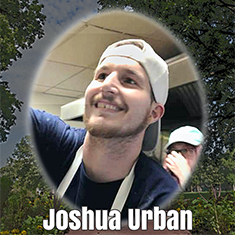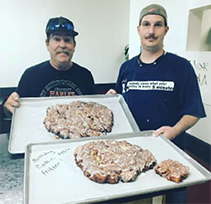 IT IS ALWAYS DIFFICULT SAYING GOODBYE TO SOMEONE WE LOVE AND CHERISH. Family and friends must say goodbye to their beloved Joshua S. Urban of Ferndale, Michigan, who passed away at the age of 38 on May 9, 2021.
He was loved and cherished by many people including his parents Stephen Urban of Ferndale and Marie Cardona (Joseph) of Hazel Park; his brother Jeremy Urban of Ferndale; his girlfriend Dawn Porter of Hazel Park; and his sons, Trevor and Hunter.
In lieu of flowers, memorial tributes may be made to the charity of choice.
---
JUST THINKING ABOUT YOU,  WONDERING IF YOU ARE WATCHING ME,  thinking about us, or maybe hanging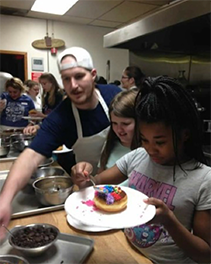 with our past loved ones. I miss you already, planned to stop at the donut shop before the airport, like in the past, to say goodbye and grab a coffee, but had to stop myself in tears and make my Keurig. No one is there.
When I saw you Saturday, you were in great spirits, felt great, I asked you to come with me to Vegas. We would have had the best time, but I guess you had other plans. It's not the same out here, knowing what I have to come home to.
My heart hurts. I stop myself from looking at Facebook, because I don't want to cry out here. Gotta' keep a game face.
Remember when we would go to the casino to play poker together? I just keep waiting to wake up from this nightmare. After mom and dad, it's just me. I am always gonna wonder what could have been. I love you Joshua… Rest tight little bro…
---
"IT'S AN UNBELIEVABLE LOSS. JOSH WAS THE CENTERPIECE,  the driving force and the reason we woke up every day. He was the staple, the cornerstone. He made it the way it was. We want to fulfill everything we talked about with him (such as the donut ideas)! We are literally "in his shoes" back there (inside the store) and even seeing his chair brings back memories.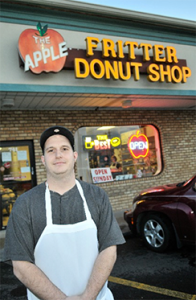 It's hard sometimes to come here every day, but we do it anyway. Joshua worked hard, seven days a week. He was here from the moment the store opened until it closed, typically by himself, until we walked in to help. We were the "Three Amigos," the "A-Team!"
Joshua knew everybody, and he had worked here since he was six or seven-years-old. From around 2008, Josh helped his dad bake the donuts. Then in 2013 he took over more. We could count on him for everything because he was a loyal friend. And kind to everyone, from the smallest baby to the oldest customers. Josh took the time to get to know people; he would even deliver donuts himself to the older ladies. For example, a lady named Guinevere would come in on Tuesdays and Josh would immediately stop what he was doing and take her items out to her car.
Josh was great at finding ways to build the businesses by expanding our vendor accounts with gas stations and different stores. Josh loved making donations of donuts for many worthy causes, and he really cared about the community of Ferndale. He did everything with such passion! Some customers still don't know that he is gone. Others share memories so we still get to talk about him while we work.
He had many interests, such as football and history. He enjoyed watching Ancient Aliens, The Goldbergs and The Golden Girls on TV. Music was also a big part of his life; he would dance around in the back to his favorite songs. It was hard hearing those songs after he was gone, but now we enjoy hearing them because of the memories they bring back. Traveling up North to a family home way his favorite way to re-energize before returning back to work. Also, he loved spending time out boating with his brother, Jeremy.
Josh's father,  Steve, now trusts us to keep it going, which we truly appreciate. That took a lot of courage and he trusts our judgement, but it's hard to fill Josh's shoes. Steve had a vision of Josh taking over the business; now he has a bunch of women to deal with! We can't make things run like he did, and the speciality Joshua Donut is gone forever. But we will always try hard to do it his way, the way he showed us. His presence is with each of us, every day. We see little signs of him all the time. We were privileged to have him in our lives."
Memories of Dawn Porter, Colleen Pank & Cyndi Heys
Transcribed by Jean Goeddeke
---
Happy Heavenly Birthday to my dear best friend Joshua. Not a day goes by that I don't think of you or speak your name. I truly, deeply miss you every single day. I wish you were here so you would be able to celebrate your birthday and us having a house soon, and Shaylyn's sweet 16th birthday. I know you will be watching and we will feel your presence. I love you with all my heart. Til we meet again…
– Cyndi Heys
---
We love The Apple Fritter and Josh would always treat us the kindest every time we went to The Apple Fritter and nobody can ever make better donuts than him.
– Abby, age 11
---
I'll miss you Cousin. I'll miss our adventures and working together and having a riot. You were the best friend a cuz could have. You would do anything for anyone. That was your kind heart. I love you, Joshua. R.I.P., my cuz.
– Martin Downs
---
Steve and Jeremy; my heart goes out to you and your family. Josh had a good heart. Like many others in the community I'll miss him.
– Kris Lieber
---
Oh my. This is incredibly sad. His family and the whole community have suffered a terrible loss. I celebrate his life and the joy he brought to everyone who knew him. Hugs to his family.
– Merri Busch
---
Josh was always so nice and took great care of us. Very sad. Keeping Dawn and the rest of Josh's family in our thoughts and prayers.
– Mike Hickey
---
The last time I saw Josh at the shop, he remembered that I worked for the Fisher Theater, and asked me how we were doing and we chatted for a bit. It lifted me up that he remembered. Back when we had The Book of Mormon at the Fisher, Josh helped us give away a bunch of maple-glazed donuts for a promotion (if you know the show, you know the connection.) He was always so very nice. My heart goes out to the staff, family and friends. I feel like this is a big loss for all of Ferndale.
– Scott Myers
---
My sincerest sympathies to your entire family. I believe it was Josh I gave the original artwork for my Vern Dale of Ferndale comic that featured The Apple Fritter. He and Colleen helped us out quite a few times. Great people.
– Josh Ryals
---
I am sad about this news. I saw him Saturday morning and only had a chance to wave hello. Our old pastor used to say: "We all are on the same path, and some will be there first and will just wait for the rest of us."
– Laurie N Charles DeNoyer
---
My grandma and Josh used to talk all the time about football, and she would often go to The Apple Fritter only to see him and Dawn. She loved him and it was very obvious he had a good heart. My heart goes out to everyone working at The Apple Fritter and to Josh' family and loved ones.
– Karly Natin
---
I went to The Apple Fritter donut shop on Tuesday morning at 7:30 AM. I then saw the wreath and the flowers on the door and said to myself "Oh no… not Josh!" I was very sad. I did not know what was going on. After being completely shocked for a few minutes, God put a peace over my heart and made me remember. The last time I saw Josh was last month, when I came to get a donut all the way from Eastpointe. I told him that I loved him and I would see him soon. He knew my favorite donut when I walked in the store. He would have it ready for me with a smile. I miss you guys and love you all! Steve, stay strong and stay safe. Apple Fritter has the best donuts in Michigan. Josh made every donut better. He will really be missed!
– Taleisha Jones
---
R.I.P. Joshua Urban, you and I have been through so much together. Our friendship was so strong. You tried to teach me how to cook smothered pork chops and then kicked me out of the kitchen. You have made me smile, you have made me sad, I always said I would always be by your side through anything. You had a rough time with stuff. I was always there for you, now you will be our guardian angel. I will forever be your best friend. Til we meet again, love and miss you so much.
– Cyndi Heys