Bernie Laframboise 1957-2021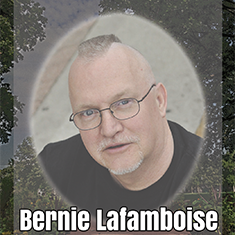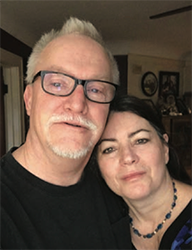 BERNARD J. LAFRAMBOISE, AGE 63, OF HAZEL PARK, died on Tuesday June 1, 2021. Loving father of Crystal (Josh Wilhelm) Put. Adored grandfather of Damien Wilhelm. Dearest brother of Mary Jo Ortiz, Roger Laframboise, Mary Lou (late Leonard) West, Vincent (Deborah) Laframboise and the late Mary Rose Laframboise. Also survived by numerous nieces and nephews. Beloved friend of Cynthia Douglas. Loving Son of the late Henry and the late Betty Laframboise.
Bernard sponsored and mentored numerous individuals throughout his life. Family suggests memorials to AA: www.aa.org
I AM SO VERY PROUD TO BE KNOWN AS BERNIE LAFRAMBOISE'S LITTLE SISTER. I always knew what a kindhearted, loving, unselfish, knowledgeable, spiritual, giving person he was, who had touched so many people's lives in many different ways. But I didn't realize to what extent, until recently. Wow! So, in remembrance of Bernie: Let your light shine bright every day!
Bernie's little sister, Mary Lou Laframboise West
---
THE FIRST TIME I MET BERNIE LAFRAMBOISE WAS A LOVELY JUNE EVENING IN 2010. While taking pictures with my Nikon in downtown Ferndale, Bernie noticed there was a man pestering me to take his photo, who didn't appear to accept my explanation that I preferred to shoot things like the interesting reflections in the puddles from the nightclub lights.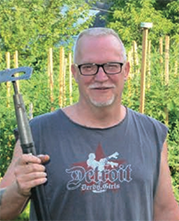 I wasn't sure what this nice man on his bicycle had said to the obnoxious guy, as he placed himself between me and mister "Hey, take my picture!" but the vaguely threatening fellow finally moved on. I found out later that Bernie had surreptitiously showed the man his gun. (He acquired a permit to carry after a near-fatal carjacking some months before.) Apparently, Bernie had seen a little more than I had in the alley that night, and helped me out of an uncomfortable (and possibly dangerous) situation.
We spoke of Nikon, life, the world, and one another's experiences of it for a long time that evening at the Java Coffee Hut. This man had been through so much, yet was still so open-hearted. Remarkable!
As was often the case with not only hundreds but likely thousands of people: To talk with Bernie Laframboise was to find a new friend. We would meet up to play with our Nikon cameras again.
Over the years that followed, I learned that helping his fellow man was something Bernie did quite naturally. His myriad of interests kept him busy and engaged in diverse circles of people, so he had connections from photography, roller derby, equestrian, boating and ships, the United Auto Workers, AA, gardening, food and cooking as well as creative communities. He would often try to draw me out to join him in his adventures, as I was recovering from agoraphobia and he was not the least bit shy. His company was good for me.
Bernie was the kindest person I have ever known.
I eventually learned to trust that I was safe going places further from home than I ever imagined I could handle, because Bernie was at my side. Not only was he infinitely trustworthy, he was fun. You literally never knew what he'd do next. Heck; even he didn't know what he would find himself doing next! How cool is that for a man in his '50s and '60s?

We grew very close in the last few years and I learned a lot from him that I would be honored to share with you:
• Be kind to every shopkeeper, all the wait staff, every clerk and office worker you meet. It makes both of you have a better day.
• If you get nervous or anxious, reach out and be loving to others and it settles your nerves down nicely.
• Ask your God (as you understand Him) for guidance for your life and watch for the opportunities to do as you are guided.
• Be humble. Never blow your own horn.
• Be there for people.
• Communicate; even if it's difficult.
• People don't have to agree on everything to be loving and kind to one another.
• Put yourself out there, even if you're afraid. God will help you.
• You don't have to be alone if you don't want to.
• Be forgiving.
• We're all human. Enjoy yourself!
• Always keep a childlike wonder in the world around you.
– Cynthia Gallagher
---
BERNIE: IT WAS HARD FOR ALL OF US TO SAY OUR EARTHLY GOODBYES to you at Mass today. I wept like a baby pretty much the whole way through, knowing what a great, nurturing guy you were.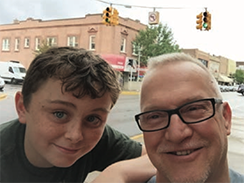 As it has been said, "Losing our loved ones is like losing colors of the rainbow."
We met around 2005 in the local music scene, and then we were co-workers at Ferndale Friends for well over a decade. I admired your huge talent in photography, and was grateful that you took time to include me in a couple of photoshoots.
You were extremely vibrant, with a wonderful soul, and your departure is a huge loss for everyone who knew and cared about you. You made a positive, inspiring impact on the lives of so many! I never got to see your garden, but I hear it is amazing.
Until we meet again, down the road, wishing you great peace and happiness in Heaven.
-Jenn Goeddeke
---
I HATED HAVING TO GO TO AA. I AM GRATEFUL FOR THE MANDATORY MEETING, THOUGH, because I met two people that are very special in my life, a best friend and the fun-spirited photographer Bernie. I didn't know then how amazing his work was but he wanted me to model for him. He told me if I shoot with him that I had to believe I am the most beautiful woman in the world!
Everyone loved the pictures he took, even more than any other photographer. We ran around Detroit and Ferndale taking pictures. He even called me early in the morning to run out. We took pictures at his house inside and out. He had a beautiful garden that he loved. We started a calendar of body parts and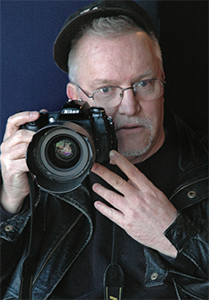 unfortunately are unable to finish it. He picked the perfect head shot of me with his white button-up shirt and another in his garage wearing a white "wife-beater" of his and holding a lit blow torch. It wasn't always easy but definitely fun!
I wish to be on that side of the camera also, so he taught me stuff I did not know about photography. I told him to contact the paper he works for because I wanted a job writing, so here I am honored to tell my experiences with such a happy and thoughtful man, unfortunately after his passing.
I'M HERE TRYING TO TELL YOU SOMETHING that you didn't know about this awesome man, but everyone already knows how talented, funny and kind he was. What I can tell you is that he helped, pushed and believed in me.
I was so excited to start taking photos again, and then one day another friend from AA told me that Bernie had died. I do not attend the meetings anymore so I had not heard. I missed the funeral!
He really helped the community. He was proud to be sober and so am I. I am happy that I went back to that particular meeting because I got to live my dreams through sobriety and friends.
It was a pleasure to know you, my talented friend and mentor. I am extremely sad to know you will not be behind that camera again. I did not know that week would be the last time that I'd see him.
Bernie told me he made Jack Aronson's first outside stove. R.I.P., Bernie!
– Amy Mitchell
---
BERNIE, YOU WERE SO MUCH MORE THAN JUST ANOTHER BRILLIANT PHOTOGRAPHER. Your camera and photography were just a metaphor for your real genius and artistry which was your gift and talent for making everyone around you feel uplifted. It's hard to think of anything that will seem more pride-worthy, when it comes time to take account of our own lives in dread perhaps that, too late, we have wasted it. You did not waste a minute of yours.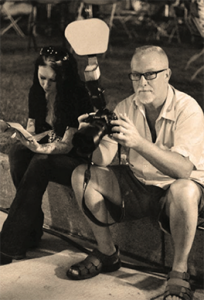 To spend a minute with you was to be relieved for a while of the silly, stupid burdens I carry around like boulders in a sack: my jealousies, grudges and insecurities would suddenly seem like a dreary waste of time, and evaporate in your presence.
You were a genius with the camera and you knew how to take the pounds off, hide the bald spot and make us look a lot better than the mirror. But those are skills you learned, from experience and from others. So much more profound was your innate genius in what you did for our inner selves.
Not just for me, but just about everyone in Ferndale. You're pretty much the perfect example for all of us.
THERE'S BEEN A LOT OF LOSS IN OUR WORLD RECENTLY, but losing you feels like having my guts ripped out. Oh, how I miss your voice and face. This is going to hurt for a while. And it's nothing compared to the pain your family endures.
I'm not a religious person but there's plenty of reason to believe our souls are eternal. Maybe our bodies really are just like old cars that get rusty and run like hell, and pretty soon you just have to get rid of them. But if it's true that our souls live on, then I know you are still alive – still with us inside of Crystal right now. And she is better for it, just as I am better to have my father living on inside me.
I just hope you know how much we all love and admire you, Bernie. Thanks for so very, very much!
– Stephanie Loveless, Grateful friend
---
My sincere condolences to Bernie's family. The man was a solid mentor of mine and a huge part of my finding the peace and serenity he showed every day. He touched so many of us, and my hope is that he continues to watch over us as we use the lessons he taught to move forward in our mortal lives. God Bless.
-Gary W.
Bernie was the best derby photographer and a very kind man. He took his time and shared his talents with all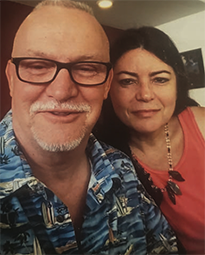 of us. I will miss him dearly. Sending my prayers and condolences to his family and friends.
-Akilah Edmondson Aka Rapture
A great photographer and even greater human being.
-Mark Boone
What a man for others! Kindness, character, humility, humor and love are just a few of Bernie's blessings that he so willingly shared with us. He lives in all he touched.
-Rick Seefelt
Bernie was an awesome, generous man. I met him in roller derby. He was wonderful, donating his time for photos. Bernie and I "pal"-ed around for maybe a year or so. We would go to a roller derby race and I'd try to help him with his photo stuff, carrying items etc. Bernie was a pillar of his community. A wonderful, generous person who helped many people. Love and miss you Bernie, rest in peace.
-Theresa Rogers
Oh Bernie, you were such a wonderful pal. Our youth was filled with so much fun and I'll never forget your smile and our silly pranks. May you rest in peace, my dear friend.
-Paulette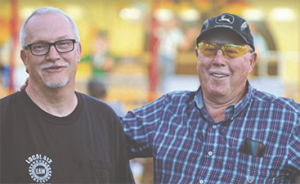 I served as Bernie's UAW Steward at Chrysler for three terms. Bernie was one of the most positive individuals I have ever known. Always smiling and always had a kind word. I will miss his radiant smile and all of our chats, whether it was about union business, fishing, gardening, and especially his true passion, photography. I will miss him dearly. R.I.P. my union brother.
-William G. Panagos
Bernie, I am going to miss our good morning messages. Send me a message from Heaven. Thanks for taking care of my brother Bill Barr. I will let my light shine.
-Susan Davis
Many moons ago we were first communion partners at St. James, number 19 in line. Rest in peace, Bernie. Condolences to your family and friends.
-Theresa Bucy
I will always remember Bernie and the first time I met him so many years ago at a mutual friend's house. He had a great smile and a huge heart for others. The world won't be as beautiful of a place without you. Rest In Peace, my friend.
-Gina G.
I worked with Bernie for a brief but memorable time. Always reliable and fun to work with, and an excellent photographer as well. Gone far too soon.
-Jeff Lilly
Bernie was like a brother to me. He would be there if you needed him. I'm glad we talked in his garden the other day. He loved and was loved by many. He will be missed.
-Tom & Kathleen Dowd
Bernie very graciously met my son and I Downtown Detroit before sunrise to take skateboard pictures for my son's graduation. That was about seven years ago. I knew Bernie through the Ferndale Friends, which we both worked for. He was always kind and gently upbeat. I send love to his family and friends.
-Shannon O'Brien
Bernie, I will never forget you! I am so honored to say we have remained friends for 46 years! I know you are still shining bright! IWBYDF
-Tammy Howard (Roberts)
My deepest condolences to you and the rest of Lafambroise family. I'm so sorry and saddened to hear the passing of your brother Bernie. A great family man and friend to me and, oh! An awesome gardener. I looked forward to stopping by at least two or three times every year for some vegetables from him. God bless you all through these sad times and may his memories be a blessing. R.I.P. Bernie. "Fly High Eagle."
-Michael W. Grabke
He touched me. I hope he knew how much he helped me be what I am today. Funny, I didn't really think about it much until these last 24 hours. There are the Bobs, the Johns, the Heathers, Tims and Daves who showed me the mechanics and the how tos, but it was Bernie who taught me the things I'm using most now. By his words and examples: The garden and plants wouldn't be what they are; my trusting in God to put someone in front of me to love; my home's aura; the gratitude and spiritual sobriety; the things I'm finding matter the most in maintaining my strength. God Bless him.
-Gary W.
I remember being new at a WARM meeting, Spring 2014, and thinking: "this guy sounds wise!" I also had the opportunity to hear a talk he gave in front of the group about his life. It's an incredible story and I left that meeting feeling both fortunate and hopeful for my own recovery. I loved sitting at tables with him. He will be missed.
-Stephanie G.
He helped me through many life situations. Bernie was like a brother to me and he would be there if you needed him. Words can't adequately express the gratitude for this man. I am glad we recently talked in his garden. He loved, and was loved by, many people.
-Tom D.