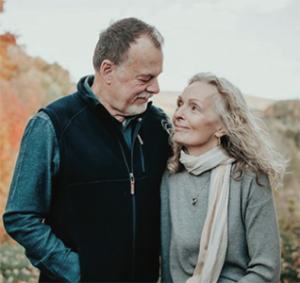 ROBERT WILLIAM FOSTER, KNOWN AS "BOB" OR "FROSTY," died unexpectedly Saturday, August 14, 2021, at the age of 69 in Boyne City, Michigan. Born in Petoskey, Michigan on March 14, 1952, Bob lived a devoted life, raised in a large, loving Catholic family.
Bob is survived by his wife of nearly 48 years, Kristine (Campbell) Foster, four daughters: Nicole and husband Casey Sulak, Michelle Foster, Katie and husband Aaron VanLandschoot, and Kim Foster, and four grandchildren: Landen, Jameson, and Austin Sulak, and Veda VanLandschoot. He is also survived by three brothers, six sisters and a large extended family. He is preceded in death by parents Donald and Betty (Stark) Foster.
Bob met the love of his life, Kris, while serving in the Armed Forces in Germany shortly after graduating from Pinconning High School. Together they traveled across the country, until they settled in Boyne City to raise their "four angels." Bob worked tirelessly to support his family operating a tool and die shop with his father. His hobbies included woodworking, photography and endless home improvement for himself and others.
He was known in the community for his volunteer work and willingness to serve. Others knew him by the sound of his orange Roadrunner. His recent years of retirement were spent enjoying simple pleasures with his family and friends like kayaking, playing cards, or relaxing on his deck overlooking the Boyne River. There was always music, and you could often find him dancing, singing, or playing along.
Family, friends and neighbors celebrated Bob's life and the joy it brought to them with a memorial and luncheon on Monday, August 23 at Veteran's Memorial Park in Boyne City. In lieu of flowers or donations, in his spirit please pay it forward and assist a neighbor or friend in need.
---
MY DAD IS THE STRONGEST GUY I KNOW. It is through him that I find strength daily – and hope to channel that strength to get through this today without crying too much, knowing I'll likely fail.
Dad always taught us to do our best and failing was never really an option. He was so proud of all our accomplishments and encouraged us to be our best, always. Get good grades; make captain of the team; wear a dress not sweats to the grocery store; go to college – don't work in a dirty tool-and-die shop. He always wanted better for us and taught us to be independent, intelligent, talented women.
He taught us by example the value of hard work, education, community and family, above all else. He worked tirelessly to provide for us – working hard days but always home at 6:00 PM for family dinner, even if it meant having to go back to the shop to work all night. He made tennis matches and basketball games while doing home improvement projects in any spare moment. He'd often surprise us with them. Like the time we got home from trick-or-treating to find the roof ripped open to vault the ceiling – while it was snowing. How he did it alone, and without giving my mom a heart attack, is a mystery. He always managed to pull it all together and get it done. He once drove all the way downstate on his birthday just to be with me during a home inspection while I was buying a house. He was hardworking and dedicated, but managed to balance it with good times. We had a bourbon and burger before he drove (responsibly) all the way back home.
IT WAS HARD FOR HIM TO NOT HELP. THE MAN COULD DO ANYTHING. He was a machinist and mold-maker by trade. His house is a testament to his beautiful woodworking skill, and the woodworking garage is a testament to my mother's generosity. Not only has he kept up and repainted his Roadrunner and F150, he was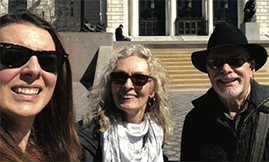 also our stand-in mechanic for countless repairs and oil changes. As an amateur photographer, he had a dark room in our basement allowing us to process negatives and create our own art growing up. One of my favorite talents was his musical inclination. He could play my flute before I could, having a talent for picking up and nearly mastering any instrument just by ear.
But his greatest talent was that of loving. He was full of love…and opinions, most would add. When I look back on all my memories of him and my family, what is most present is love. Of course, as daughters, that's not always how we saw it. His love was sometimes expressed by throwing a CD out the car window or tickling my knees so hard that no one can touch them to this day. We didn't always see eye-to-eye, naturally. When I tell someone I have three sisters and no brothers, they typically respond, "Your poor dad." I'm sure it
was tough being surrounded by girls all the time, but he didn't seem to mind. He would buy a gift for all the "girls" for Christmas each year: a drum set, monster trucks, racetracks, a BB-gun. Probably a bit selfishly, just hoping to connect with us. I think he always wished he could connect more.
As an adult, I've grown closer to my father, learned that his obnoxious comments were jokes, his annoying gestures and requests were acts of love, and I've learned that it is okay to fail, because he'll always be there – even when he's not. He taught us that family and community are so important, to rely on each other. He's gone, and already my sisters and brothers-in-law have stepped up so much. Dad would be proud. We will never fill the void, but we can rely on each other so that we each can reach for the stars, knowing we have each other when we may fall.
In his memory, I encourage us all to live each day fully with love, laughter, family, and passion.
– Michelle Foster, August 2021