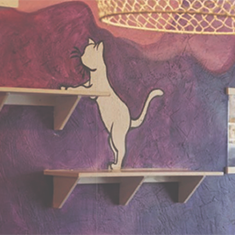 By Kevin Lamb
The words "Jazz" and "Cats" have long been synonymous, but these days, it's being taken to a whole 'nother level. Mostly started in Korea and South Asian countries, cat cafes have been a popular trend throughout the world for some time.
"Jazz. What cat doesn't like jazz? It's as though jazz was created as a soundtrack for a cat's life: John Coltrane, Duke Ellington, Thelonious Monk, the usual suspects. We also play a lot of Brazilian jazz from the 1960's and the cats seem to dig it," Executive Director of Ferndale Cat Shelter, Deanne Iovan says.
But don't be fooled, you can't actually bring your cat to the Catfe Lounge, enjoy a coffee, and groove to some Coltrane while contemplating your mutual place in the cosmos.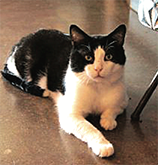 "Many people don't realize that we have been open for six years on Livernois in Ferndale. Some people also think they can bring their cats there to play with other cats, like a dog park. Not a good idea! Cats are very different from dogs and all of our cats are rescues who need forever homes. We are a part of Ferndale Cat Shelter and as such, licensed with the Michigan Department of Agriculture as a cat shelter."
Turns out, it's jazz for cats who need homes! Can you dig?
"WE KNEW WE COULDN'T AFFORD to build out a proper coffee shop right away since we were just in our first year as a non-profit. So we decided to offer self-serve coffee and tea instead. I pitched the idea to our very small board of directors and they surprisingly agreed. We did a small kickstarter fundraiser and opened on a shoestring. Since then, we have grown and taken over the space next door."
Since I don't believe in coincidence, it's probably not one that Catfe Lounge on Livernois is just a half-a-mile away from the longest continually running Jazz establishment in these United States, Baker's Keyboard Lounge.
"We always need dedicated volunteers. Animal rescue work succeeds on the backs of people who volunteer their time and energy to helping animals in need. Without volunteers, most rescues would not exist."
YouTube alone assures me y'all are cat crazy…while history itself speaks for jazz, making this a classic "twenty nine or two-for-fifty" (Mr. Alan's commercial) type of volunteering opportunity, people! Have I mentioned how healthy helping others and Ferndale felines is for an anxious mind?
"Our biggest obstacle right now is finding the space, time and veterinary care for all of the animals who need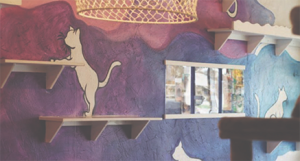 it. The pandemic quarantine brought many new fosters into rescue since they were staying home. Now that number has dwindled because everyone wants to get out and get back some normalcy in their lives. Veterinarians have been scrambling to catch up with the demand for spaying and neutering since many clinics closed or could only perform emergency surgeries during the pandemic. The veterinary profession is a hard road and requires an enormous amount of education and training. The financial payoff is meager compared to human doctors, yet veterinarians have to learn the physiology of so many species. It's a thankless job most days. I feel their struggle."
THE CATFE LOUNGE IS EXCITED to start having events again! "We have yoga classes twice a month and will be bringing back the ever-popular Cat Bingo in September. As always, we are looking to expand our footprint in the community and that means finding a larger facility to move forward with a coffee shop to create a sustainable non-profit business model. It's always better when you don't have to beg people for money!"
Each of us has an opportunity to show up for community in a unique way; different gifts bring different passion but indifference always ends the same. Perhaps you're looking to show up in your cat's pajamas to connect and engage with Ferndale in your way, maybe this could be it.
"Our volunteers and fosters! There are so many to be grateful for. And our veterinarians who step up to help even when they are overworked. We are very lucky to have so many good people helping our organization. On that note, building relationships in the community and fostering those relationships is so important to succeed in our mission. Each one of us plays a vital role."