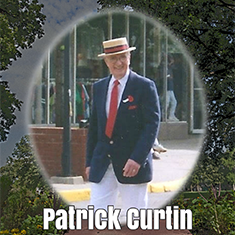 PATRICK J. CURTIN, AGE 90, DIED ON SUNDAY,  JULY 25, 2021. Beloved husband of 61 years to the late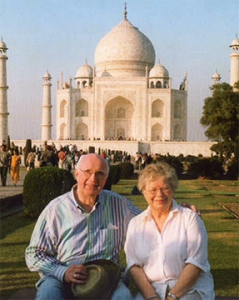 Carolyn G. (Spaulding). Patrick was born to Margaret (Brady) and Edward Curtin in Detroit. He was raised in Ferndale and graduated from St. James High School in 1950.
In 1951 he joined the firm of Spaulding & Son Funeral Home while he pursued his education in Mortuary Science, graduating in the class of 1953 from Wayne State University.  He then served two years in the U.S. Army in Kokura,  Japan during the Korean War. He returned home to marry the boss' daughter and the love of his life, Carolyn Spaulding. They were married in June, 1956.
In the late '80s and early '90s, Patrick served on the Downtown Development Administration. While on the DDA he was on the planning committee for the first Dream Cruise, which was organized as a fundraiser for the Field of Dreams Soccer Park to be built at Martin Rd. Park. He was a lifelong member of St. James Parish where as a student there he served as an acolyte (alter boy) and later on the Parish Council with a stint as President.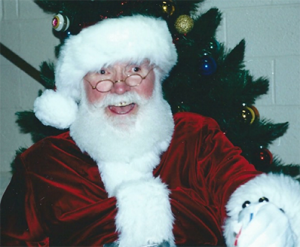 In retirement, Patrick grew a full, white beard and was employed as a naturally-bearded Santa, donating all his wages to children's charities. He had several antique cars which gave him a lot of joy, and he and our mother could ofter be found cruising Woodward in one of them, driving up to Birmingham for ice cream. He also enjoyed traveling and especially with his family, both as a young father and as a grandfather. He loved the Tigers, long road trips, and photography.
Patrick is survived by daughters Lynn O'Meara (Kelly), KellyAnne Ruda (Charlie) and daughter-in-law Patricia Curtin. Loving grandfather to Conor O'Meara M.D., Cait O'Meara (fiancé Steven Eby), HM2 Maura Curtin-Stubblefield, USN (HM1 Jerry Stubblefield, USN) and Charlotte Ruda. Dear brother to Aileen Littlejohn (late Ernie). Predeceased by son Kevin Curtin, sisters Mary Margaret Morgan (late Howard) and Sr. Rebecca Curtin, CSJ, brothers, Rev. James Curtin, Thomas Curtin (late Nina).
Patrick, with Carolyn by his side, was an avid traveler, having visited every continent. He was active for many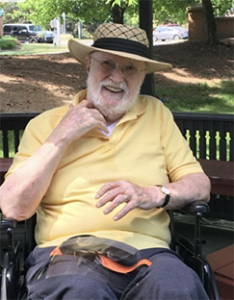 years in St. James parish, Michigan Funeral Directors Association, Ferndale Kiwanis Club and various other organizations. He was a kind and generous man, supporting many charities to help improve the lives of those less fortunate. He was a true Irish gentleman with a quick wit and a loving heart.
Family suggests donations may be made to Pope Francis Center, 438 St Antoine Street, Detroit.
popefranciscenter.org/donate
Or the Ferndale Historical Society, 1651 Livernois, Ferndale MI 48220
www.ferndalehistoricalsociety.org
---
MY DEEPEST SYMPATHIES to you and your family with the loss of your dear Dad. He was the kindest and sweetest man there was. His love for his family, faith, and friends made a significant impact on many. I loved his laugh, humor and his mischievous ways of finding ways to have a little more fun. He will always be "my favorite godfather" and think, or believe anyway, that I was "his favorite goddaughter." Thanks for sharing your Dad will all of us. The line to greet him in heaven will be long and know my Dad will be so happy to have his lifelong best friend with him and Are will have an apple pie waiting for him. Love you, Uncle Pat. My love to you and your families.
– Ann McNamara Knight
---
MR. CURTIN WAS THE NICEST MAN I've ever met besides my dad. I loved Mr. Curtin. It was an honor to assist him. I will always have fond memories of time spent with Mr. Curtin and his family. Kelly Anne and Lynn. I will miss Mr. Curtin forever.
– Shanell Farris
---
FROM THE MOMENT I met Patrick he was incredibly kind and warm towards me. Within ten seconds of meeting him, he sat me down and began to teach me backgammon before then stopping the game to offer me a rusty nail. A memory I will never forget.
– Dan Field
---
WHEN I WAS INTRODUCED to Carolyn and Pat quite a few years ago, I knew immediately what a sweet and charming man Pat was. They also exuded such love between husband and wife that I really believed them to be role models for any married couple. Carolyn's death was a huge loss but now losing Pat is truly a multi-magnified loss for everyone who knew him. He joins Carolyn and other family members in the marvelous "Angel Brigade" of our dear Lord Jesus Christ. They're all watching over every family member and all of their friends.
– Terry Toman
---
SWEET MR. CURTIN was the father of one of my closest friends, Kelly. I got to know him when he became my landlord. He treated me like another daughter and spoiled me with a beautiful scarf he brought back from Ireland, which I still have. And then there was the champagne he gave me at Christmas. Above all, he was one of the kindest souls that I ever met. He had a big heart, and a great sense of humor. Kelly and Lynn, you are in my thoughts and prayers.
– Robin Francis
---
OUR SINCERE SYMPATHIES to the Curtin family. Pat was such a gentleman and highly respected by his peers. We have only fond memories of him and pray for comfort in the loss of this patriarch.
– Mart and Mary Hollebeek
---
I FEEL VERY FORTUNATE to have had a 70-year-plus friendship with the most loving, very generous, spiritual, kind, person I ever knew: Pat Curtin; a delight to be around. His ability to not worry and greet almost any life event with a very positive & supportive attitude was admirable.
– Dick McEvilly
---
I WOULD LIKE TO OFFER my sincere condolences to the family for your loss. When I think of Mr. Curtin, I remember his pleasant demeanor, his friendly smile and genuine concern for the other person. Pat will be remembered professionally as a compassionate funeral director who had very high standards of professionalism. Funeral service has lost a remarkable colleague.
– David A. Kesner
---
PATRICK WAS A CLASS ACT. My memory will always hold that twinkle he would get in his eye, his signature giggly laugh and hearty hugs.
– Kathy Onderbeke